Loony Blox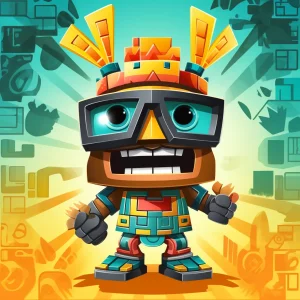 Bugs Bunny's at it again in Loony Blox! This slot game brings the Loony Tunes' iconic characters to life, featuring hilarious favorites like Elephant, Rabbit, and Wolf as they run wild across the reels. Plus, the colorful cartoon theme makes playing this game feel like a blast to the past–no time-traveling DeLorean necessary.
Experience the Wildness with Cactus Wilds!
Get ready to embrace the desert and its riches with the incredible Loony Blox game's Cactus Wild symbol. The only cactus that you will be hugging for a good reason should be this neon-green fellow's expanding wilds. It is not just there for the looks but can also substitute for the three primary characters, leading to big wins.
Worried about it being hard to spot? Fret not! This cactus is larger than life and opens up over several positions on the reel like a thirsty traveler seeking a well in the scorching sun. However, this generous bonus isn't just handed out to everyone as it refuses to replace the coveted bonus symbols, reminding us that life is all about balance.
Get Ready to Spin for Free!
Loony Blox gives players a chance to rev up their engines with its exciting Free Spin Bonus rounds – triggered by landing one of the zany racing cars on the green point on the map. And let's be real, who wouldn't want to spin for free? During these rounds, the Elephant, Wolf, and Rabbit characters become more active, resulting in more payouts. It's like giving your game a shot of adrenaline (but without the risk of heart palpitations). Bonus: Winning combinations for these three animals make the game even more wild and unpredictable. So buckle up and get ready to race to those Free Spins!
Explore the Map Feature
The developers of Loony Blox have come up with a unique Map feature that is triggered whenever one of the character symbols appears in a winning combination during the base game. It's like going on a road trip with Wolf, Elephant, or Rabbit and adding more miles to your journey with every win! You'll feel like you're in a race as the racing cars move forward one point for each character symbol, creating an exhilarating gaming experience.
Even better, the decision on which direction to go is entirely random, so you never know where you'll end up. This feature is a perfect way to add more excitement to the game while competing with your friends to see who can reach the finish line first. So buckle up, and let the Map feature take you on an unforgettable adventure!
Return-to-Player or RTP
Are we talking about a new cryptocurrency or your odds of winning in a casino game? Well, folks, we're indeed talking about the latter as Loony Blox offers an RTP ranging between 98.02% and 92.06%. This online slot game boasts 5 reels and 243 paylines with high volatility, but don't worry, the wins are paid out almost as often as you put the coins in your piggy bank.
That's not all, folks! The game features three epic characters that every cartoon-loving gambler will adore. We're talking about Benny the Builder, Dolly the Digger, and the main man, Mario the Architect. These guys will help you construct a solid fortune in no time.
Let's talk numbers, shall we? Loony Blox gives you a chance to win up to 1,000 times your bet, which is insane, considering how much film tickets cost these days. Playing this game is a surefire way to have some fun and potentially earn enough cash to buy yourself a house… made of bricks, of course.
FAQ
What are the gameplay features of Loony Blox?
Loony Blox has 5 reels, 243 paylines, high volatility, and an RTP of 98.02%. It features Expanding Wilds, Free Spin rounds, and high and low symbols.
Which symbols pay the most?
Cactus Wild is the highest-paid symbol. It can appear for up to 250 spins and substitute for Elephant, Rabbit, and Wolf symbols.
How does Loony Blox's Map work?
The Map feature is triggered by one of the character symbols. The racing cars with Wolf, Elephant, or Rabbit will advance one point for each triggering character symbol – Cactus Wild is not used. If there are multiple directions, the choice is random.
What is the Loony Blox Free Spin Feature?
If one of the three racing cars lands on the green point, you receive 12 Free Spins. The Free Spins activate the corresponding character symbols of Wolf, Elephant, or Rabbit.
Why choose the registration-free slot Loony Blox?
Loony Blox offers a fun and carefree gameplay with extra features and an RTP that makes the games more exciting. The cartoon factor combined with high winning possibilities is a winning combo for novice players.
What is the RTP of Loony Blox?
The RTP value ranges from 98.02% to 92.06%.
What's the biggest win available on Loony Blox?
The maximum value of the win in this slot is 1,000 times your bet.
Does Loony Blox have a Free Spin Bonus?
Yes, there are three different Free Spin Bonus rounds that can be activated.
What we like
Expanding Wilds
Free Spins
Map feature
Iconic characters from Loony Tunes
What we don't like
High volatility
RTP can drop to 92.06%