Hula Hula Nights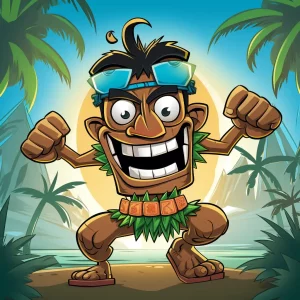 Are you ready to experience an island adventure on the reels? Hula Nights is perfect for novice players or those who want to keep things simple. The game is played on a 5×3 grid with 10 paylines and features symbols that are full of aloha spirit. You've got colorful playing cards (A, K, Q, and J) that are just begging to be a part of a winning combination. The real excitement comes from the symbols that transport you to Hawaii like hibiscus flowers, lotus plants, gardenias, and two gorgeous hula dancers.
It's ready to take the place of any other symbol to create a winning combination. Keep an eye out for the Scatter symbol too, which is represented by the words 'Hula Hula Nights' and a coconut. When you get three or more of these symbols, you'll trigger the free spins bonus round. During the bonus round, you'll see additional symbols with palm trees. These Collect symbols can help you accumulate winnings on the green reels. But don't worry, you don't have to be in the bonus round to see those beautiful green reels. They can appear randomly during a regular game and are the only place you'll find the Collect symbols.
Hula Nights isn't looking to change the game here, but that's what makes it so special. It's the perfect game for when you just want to kick back and hula in the comfort of your own home. So grab yourself a Mai Tai and give Hula Nights a spin!
Special Symbols
Get ready to go loco with the special symbols in Hula Hula Nights! We have the Wild symbol (aka the smiling tiki) to help you make those winning combos and the Scatter symbol (aka 'Hula Hula Nights' accompanied by a coconut) to get you free spins for days. During these free spins, you'll notice some new symbols strutting their stuff on the reels – the Collect symbols with a palm tree. These sneaky symbols will help you collect even more winnings. Before you know it, you'll be dancing the hula with all your extra coin!
Graphics
Hold onto your grass skirt and lei, because the graphics in Hula Hula Nights are a tropical treat for the eyes. The game exudes a laid-back, aloha vibe with its simplistic design and bright, vibrant colors. As you spin the reels, you'll be transported to the beaches of Hawaii, with swaying palm trees and cascading waterfalls in the background.
While some may find the design to be too basic, we appreciate the attention paid to the symbols. Even the playing cards are jazzed up with fun, tropical fonts.
The music in Hula Hula Nights is also on point. With the sounds of ukuleles and drums, it's like having your own personal luau right in the comfort of your own home. Just be careful not to spill your mai tai while you're grooving to the beat!
Paylines: How Many Ways To Win In Hula Hula Nights?
In this game, you'll be shimmying to the beat on a 5×3 grid, with a total of 10 playful paylines available. It's like a tropical island getaway without the airfare! You can bet on all ten paylines with a single click, or customize your bets to your liking. Either way, these paylines have the potential to sprinkle some petals of winnings on any lucky player.
And with the festive Hula Hula Nights theme, it'll be hard not to feel like you're on vacation while you're spinning those reels. In fact, if you listen closely, you can almost hear the sound of steel drums in the distance and feel the warm breeze brushing against your face. That's the magic of Hula Hula Nights – it's not just a game, it's an experience!
Get Your Tropical Fix with These Similar Slots
Still craving that sweet Hawaiian vibe? Luckily for you, there are plenty more slot games with a similar tropical feel:
Hawaiian Dream – a dream come true for any beach lover
Hawaiian Vacation – for when you want to feel like you're on a never-ending Island getaway
Island Heat – this one's perfect for those who like it hot, hot, hot!
Waikiki Heroes – join the heroes on a quest for treasure in this exciting slot adventure
The Real King Aloha – who says you can't mix Hawaiian vibes with a little bit of rock and roll? Join the King himself in this unforgettable experience
With all of these tropical options, you'll be feeling like you're sipping a Mai Tai in Maui in no time!
FAQ
How many paylines are there in Hula Hula Nights?
Hula Hula Nights has 10 paylines.
What are the special symbols in Hula Hula Nights?
The special symbols are the Wild Tiki and the Scatter Hula Hula Nights symbol with a coconut.
What do Collect symbols do in Hula Hula Nights?
Collect symbols allow you to accumulate winnings on the Green Reels.
What are Green Reels in Hula Hula Nights?
Green Reels are reels that can randomly appear outside of free spins, making symbol combinations starting from low to high wins.
What is the theme of the Hula Hula Nights slot game?
The theme of the Hula Hula Nights slot game is Hawaii with hula dancers and typical Hawaiian symbols like flowers and palm trees.
What is the graphics style of Hula Hula Nights like?
The graphics style of Hula Hula Nights is simple and essential, with a Hawaiian beach background, few details on the grid, and symbols that recall Hawaii.
What is the music like in Hula Hula Nights?
The music in Hula Hula Nights is what you would expect with a Hawaii theme, with ukuleles and drums.
Are there any similar slots to Hula Hula Nights?
Yes, there are many other online slots with Hawaiian themes, such as Hawaiian Dream, Island Heat, and The Real King Aloha.
What we like
Simple and straightforward gameplay
Additional Green Reels feature
Music and sounds match the Hawaiian theme
Free spins feature with Collect symbols for accumulating winnings
What we don't like