Hot Hot Halloween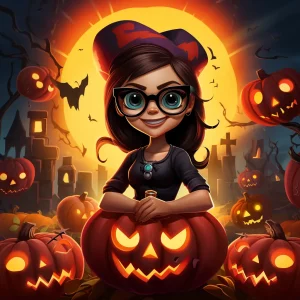 Are you ready for a spooky adventure? Hot Hot Halloween is a five-reel slot game with a unique horizontal game mechanic that pays anywhere. Trust us, this game is too hot to handle with its 96.62% RTP and high volatility.
Get ready to be mesmerized by the cascade of candies that fall onto the reels to create winning combinations and trigger free spins, double symbols, and wild wins. To get a payout, simply land 3 or more matching symbols on adjacent reels. But be careful, the horizontal wins on certain lines pay out 2x or 3x multipliers for even greater potential.
Don't be scared of the grinning Jack O Lantern Wild that replaces all other symbols and also functions as a scatter. It awards 6 or 12 free games so your Halloween might just get more exciting. Plus, since it was created using HTML5 technology, you can play it on both PC and mobile! Perfectly compatible on Android or iPhone.
Get Spooked with Hot Hot Halloween Slot
Hot Hot Halloween is a thrilling casino slot game that is easy to play without any registration required. To start, take a peek at the Paytable by clicking on the left side of the interface. Don't worry, there won't be any pop-up ghosts that will haunt you!
If you're unsure about the rules and how to play, simply click on the menu at the bottom. You'll be guided through everything you need to know. And if things get too scary for you, don't hesitate to adjust the volume using the slider control at the bottom right corner of the screen.
Want to speed things up and make it less haunting? Just click the turbo play icon for faster spins. And if you want to make the game more immersive, you can always go full-screen!
Ready to let the slot game play itself? Click on Autoplay to the right of the Bet Selector button and choose between 10 and 500 Autospins. Be sure to set win and loss limits to take control of your bankroll!
Finally, choose your bet based on the number of spins you want to play. You wouldn't want to be spending your whole bank account on this game, right? Use the Paytable to calculate your potential payout. And if you're feeling extra bold, tap the Max Bet button to the left of the Bet Selector button and let it ride!
With all that set, all that's left is to brace yourself and spin the reels! Who knows, you might just get lucky and get a treat instead of a trick!
Bet Big or Small: Hot Hot Halloween Has It All
If you're feeling frugal and just want to dip your toes in the water, you can place a bet for as little as $0.01. Or, if you're feeling confident and want to go for the big bucks, you can place a bet up to $25.00 per spin! With multiple bet levels of 1, 2, 5, 7 and 10, there's something for every risk-taker out there.
And the best part? The potential payouts are spook-tacularly high. With doubled and tripled symbols, you could strike it lucky and win up to 11,250 times your bet in a single spin. That's enough to buy yourself a whole truckload of candy corn and still have some spare change left over!
Unleash the Winning Potentials of Creepy Symbols
Are you brave enough to take on the challenge of Hot Hot Halloween? You better be because this high volatility slot game is not for the faint-hearted. Don't freak out yet, the game makes up for its spookiness by offering big wins.
The star symbol pays 22.5x, the green hand pays 25x, and the blue ghost pays 40x. If you think that's creepy, wait till you get to the eyeballs that pays 50x and Macabre Bare that pays 75x. And if you're feeling lucky, hit 5 triple pumpkin symbols on a payline and win 1250 times the bet!
Warning: don't expect the maxi wins to come easily. So before you go trick or treating, arm yourself with patience and keep spinning those reels.
Get Ready to Heat Up with Hot Hot Bonus Feature and Free Spins Feature!
Are you ready to spice things up? The Hot Hot Bonus feature is hotter than a ghost pepper, randomly transforming all single symbols into doubles that count as two symbols. And don't be scared of the number 7, because it triples to count as three symbols – talk about hitting the jackpot!
If you thought that was cool, wait till you hear about the Free Spins feature. All it takes is three pumpkin symbols from left to right or right to left, and you'll be dancing the Monster Mash with locked symbols that can double and triple. Warning: may cause spontaneous Halloween costume changes.
My Verdict on Hot Hot Halloween Slot
Calling all Halloween enthusiasts and lovers: Hot Hot Halloween should be on your must-play list!
Habanero has cooked up a spooky treat that satisfies both thrill-seekers and risk-takers alike. And while the game's volatility may keep you on edge, the rewarding payouts and incredible graphics make it all worth it. Play this game any time of the year to experience the chills and thrills of Halloween!
But here's a warning: if you're the type to get caught up in the festivities, you may find that Hot Hot Halloween's spooky soundtrack and supernatural visuals will have you wanting to wear a costume and go trick-or-treating in the middle of summer!
Overall, Hot Hot Halloween is a great addition to any slot game selection. And if you're looking for more festive fun, be sure to check out Habanero's Naughty Santa slot game for a Christmas-themed treat!
FAQ
Can I play Hot Hot Halloween with real money?
Yes, you can, but if you're a beginner you also have the demo version.
Does Hot Hot Halloween have additional Bonus Features?
Yes, there is the Hot Hot feature that is randomly activated to double and triple symbols for huge potential wins.
Does Hot Hot Halloween include Free Spins?
You can win 6 or 12 Free Spins, with locked symbols that can double and triple.
What is the biggest win available on Hot Hot Halloween?
The biggest win is 11,250 times your bet.
What is the RTP of Hot Hot Halloween?
The RTP of this game is 96.62% with high volatility.
What are the main symbols and their payouts?
Stars pay 22.5x, The Green Hand pays 25x, The Blue Ghost pays 40x, Eyeballs pay 50x, Macabre Bare pay 75x.
Is Hot Hot Halloween available on mobile?
Yes, it can be played on both PC and mobile with its 5×5 grid that's perfectly compatible on Android or iPhone.
How do I play Hot Hot Halloween without registering?
Set your bet based on the number of spins you want to play and use the + and – symbols to adjust the bet level and the coin value according to your preferences. Then press the Spin button and enjoy the spooky Hot Hot Halloween!
What we like
Unique horizontal game mechanic
Free spins, double symbols, and wild wins
High RTP of 96.62%
Compatible on both PC and mobile devices
What we don't like
High volatility
Max bet of $5,000.00 may be too high for some players