Hey Sushi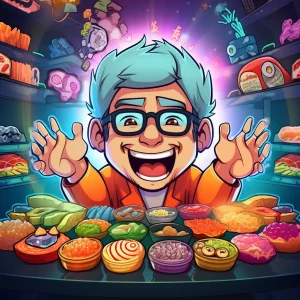 Do you have a craving for sushi and big wins? Look no further than Hey Sushi slot game! With 3 rows and 5 reels spinning on 25 always-active paylines, this food-themed game boasts high variance and a theoretical return to player of 96.71%.
To win big in Hey Sushi, all you need to do is land three or more matching symbols. But this isn't your average California roll – with mouthwatering graphics and animations, this slot game is sure to have you drooling over your screen. And with a maximum payout of 1304x your winning bet, you might just have enough cash to treat yourself to a real sushi feast!
Hey Sushi: The Ultimate Sushi Experience
Get ready to be transported to a sushi stand like no other in Hey Sushi, where the seafood is fresh and the atmosphere is electrifying. This game successfully brings together the best of both worlds – delicious sushi and thrilling slot action. And the best part? You don't have to worry about chopsticks!
The graphics in Hey Sushi are a feast for the eyes. The attention to detail is impeccable, from the playful octopuses and crabs running the sushi stand, to the vibrant neon signs flashing with each win. It's like stepping into a sushi joint on the streets of Tokyo, but with the added excitement of slot reels spinning.
The symbols are all beautifully crafted with the highest-paying ones being sushi dishes and rolls. Not only do they look great, they'll also be music to your ears with every successful spin. Who knew winning big could sound like a maki roll being sliced?
Place Your Bets and Get Your Sushi Fix with Hey Sushi Slot
Are you ready to roll? You better be, because Hey Sushi Slot is serving up some big wins and spicy gameplay. To get started, simply press the play button located at the bottom of the reel set. And don't be shy with your bets – this is your chance to go big or go home!
Configure the amount and level of bet that you feel is appropriate for this oriental adventure, keeping in mind that the minimum bet is 0.25 $. Want to go all out? The max bet is a whopping 500.00 $ per spin. We won't judge if you need to take a break after that kind of sushi splurge!
Hey Sushi Slot: A Mouthwatering RTP
If you're looking for a slot game that won't leave your wallet feeling raw, then Hey Sushi is the way to go. With a theoretical Return to Player (RTP) of 96.71%, you'll have more than just wasabi in your pocket: cold, hard cash.
In the world of online slot games, a 96.71% RTP is nothing to scoff at. You'll be hard-pressed to find a game with better odds… unless you're at an all-you-can-eat sushi buffet trying to win a chopstick challenge.
All You Can Eat: Bonus Features of Hey Sushi Slot
Hey Sushi really delivers on the bonuses. The only catch is that there's only one extra feature – the classic Free Spins Bonus. But don't worry, it's still a lot of fun! You just need to get three or more Sushi Roll rich cutter symbols to activate it.
Once you're in the free spins mode, prepare to be blown away. With the help of multipliers, potential payouts are sushi-sational! Each cascading win activates the multiplier bar in the upper right corner, with values ranging from 3x to 10x depending on the number of consecutive wins. It's a great way to rack up your winnings like a plate at an All You Can Eat sushi buffet.
The Ins and Outs of Hey Sushi's Jackpot
Are you hoping to hit the jackpot while dining at Hey Sushi? Well, it's all up to chance! Just like when you're deciding between a classic California roll or something a little more adventurous like a Dragon Roll, the right combination of symbols is what you need to snag that big win. Unfortunately, these symbols won't make an appearance in the base game, so you'll have to get lucky! But when you do hit the jackpot, you could be rolling in even more dough than you would be after a successful night at the tables in Vegas. In fact, the maximum payout for Hey Sushi is 1304x your bet! That's enough to help you splurge on even the most luxurious sushi rolls. So, roll those dice and see if luck is on your side at Hey Sushi!
The Mouth-Watering Ingredients of Hey Sushi Slot!
If you're a fan of sushi, then you'll adore Hey Sushi's scrumptious symbols, featuring Sashimi, Fried Egg Shrimp, and of course, delicious sushi rolls!
But the tastiest symbol of all is the wild crab, which can substitute all other symbols on the table. In terms of cash, bigger combinations of four and five matching symbols will land you the biggest wins. However, be warned that three matching symbols won't cover the cost of your next meal, or may only do so by a hair's (fish)tail.
FAQ
What is the Return to Player (RTP) of Hey Sushi?
The RTP of Hey Sushi is 96.71%, which is considered normal for online slots.
Can I play Hey Sushi on mobile?
Yes, you can play Hey Sushi on your mobile browser without having to download any app or file. The game can be played in demo mode as well.
What are the gameplay features of Hey Sushi?
Hey Sushi is a food-themed slot game with 3 rows and 5 reels. It has 25 always-active paylines, cascading payout system, and a free spins bonus function that is triggered by a scatter symbol. The game also has a wild symbol and a jackpot prize.
What symbols should I look out for in Hey Sushi?
The highest-paying symbols in Hey Sushi are sushi dishes and rolls. The game also has a wild symbol represented by a crab that substitutes for all regular symbols except the scatter symbol.
What are the betting options for Hey Sushi?
The minimum bet for Hey Sushi is 0.25 $, while the maximum bet is 500.00 $ per spin. Players can choose their desired bet amount and level before spinning the reels.
What is the Free Spins Bonus feature in Hey Sushi?
The Free Spins Bonus feature in Hey Sushi is activated by landing three or more sushi roll scatter symbols. During free spins, players can potentially win large prizes with the help of multipliers that increase with each cascading win.
What is the maximum payout in Hey Sushi?
The maximum payout in Hey Sushi is 1304x the winning bet.
How can I win the Jackpot prize in Hey Sushi?
The Jackpot prize in Hey Sushi is awarded randomly and requires a specific combination of symbols that do not appear in the base game. To learn more, players can check the game's paytable.
What we like
Detailed and realistic graphics with neon signs
Free Spins Bonus feature with potential high payouts
Large Jackpot prize of 1304x
25 always-active paylines with high variance
What we don't like
Only one extra feature, Free Spins Bonus
Minimum winning amount for 3 symbols is low