Generous Jack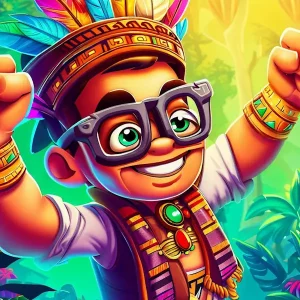 Have you ever felt like you were just one spin away from becoming a millionaire? Well, in Generous Jack, you can feel that way for just $1,000. That's right, this game offers a maximum win of $1,000 – which could either cover your rent for the month (if you're boring) or buy you hundreds of cheeseburgers (if you're cool and like fast food).
Not only is the potential payout exciting, but the gameplay itself is engaging and easy to follow. With just four reels and 20 paylines, the game keeps things simple while still offering plenty of opportunities for winning. The graphics and overall design are top-notch, which is what we've come to expect from casino game providers these days.
But let's get down to the numbers – the game boasts an RTP of 96.23%. Now, we're no math experts, but we're pretty sure that's a good thing. It means more chances for you to win big, which is what we all want, right? And hey, even if you don't end up hitting the jackpot, you can still have a blast playing the demo mode or trying your luck with real money after signing up with a secure casino.
Symbols Galore in Generous Jack
Get ready to be dazzled by a host of exciting symbols in Generous Jack, the latest online casino slot sensation!
The game features an array of numeric symbols, each with different bet multipliers ranging from 0 to 9. But beware of the black symbols – they're worth nothing!
Land Jack symbols on the reels to unlock the game's special features. Generous Jack proudly uses the Win What You See method for payouts, meaning that if a 9 and a 1 land in the active area, the payout is a whopping 10 times the bet! And if you're lucky enough to land a 9 and 1 next to each other on the same row, sit back and watch as you receive a payout of 91 times your bet!
But that's not all! The elusive Jack symbol is your ticket to unlocking the free spins meter and initiating the much sought-after respins feature. Collect all the Jack symbols and watch in awe as one row is unlocked, giving you even more chances to win big.
With so many symbols and exciting features, Generous Jack is the perfect online casino game for those looking to strike it lucky. Give it a spin today and remember – always bet responsibly!
Explore the Special Features of Generous Jack
Generous Jack is a slot game that offers some amazing special features that can skyrocket the chances of hitting the jackpot. One of the most interesting features is the Free Spins Meter, which acts as a gateway to a free spins frenzy. As you start collecting the Jack symbols, they are added to the meter, and once you have three Jack symbols filling the first three positions, you get awarded three free spins. It's a sweet deal that can quickly stack up some serious cash.
And the best part about the Free Spins Meter is that you can add even more free spins to your winnings as the meter fills up to the sixth position. It's like being at an all-you-can-eat buffet, but instead of food, it's free spins!
If you're feeling lucky and adventurous, Generous Jack offers you the Bonus Purchase feature. Now, this might sound crazy, but you can actually purchase free spins for 150 times the base bet. Yes, you heard that right. You can buy your way in for a chance to get 3-10 free spins in one go. And the cherry on top is that the RTP for the Bonus Purchase feature is an incredible 96.55%. So, it's definitely worth the investment.
Overall, Generous Jack is a fantastic game that offers some fun and unique features that will keep you entertained and engaged for hours. So, why not give it a try today and see if you can strike it lucky with Jack!
FAQ
How can I win at Generous Jack?
You can win by activating the extra features in gameplay and being lucky. Check the paytable for details on how to win and how much you could win.
Can I play the Generous Jack slot for free on my phone?
Yes, you can play this mobile-friendly slot on any iOS or Android device for free.
Can I play Generous Jack for free?
Yes, you can try the free demo version for your entertainment without risking any real money on our platform, or bet with real money at one of the recommended casinos.
What is the maximum payout for Generous Jack?
The maximum payout for Generous Jack is $1,000.
What is the RTP for Generous Jack?
The RTP for Generous Jack is 96.23%.
What are the symbols in Generous Jack?
The symbols in Generous Jack include numeric chips with different bet multipliers and black symbols that are worth nothing, as well as the important Jack symbols.
What are the special features of Generous Jack?
The special features of Generous Jack include the Free Spins Meter and the Bonus Purchase, which allow you to win free spins and activate a random number of spins respectively.
How much does the Bonus Purchase cost in Generous Jack?
The Bonus Purchase costs 150 times the base bet in Generous Jack, and the RTP is 96.55%.
What we like
Visually appealing design
Free Spins Meter feature
Bonus Purchase feature
High RTP of 96.23%
What we don't like
Only 4-reels
Limited maximum win of $1,000