Garden of Riches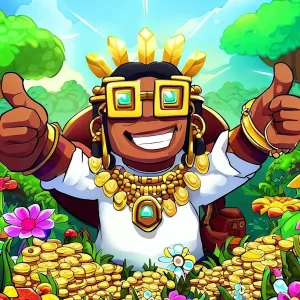 If you're looking for a slot game with high-volatility and the potential for big payouts, Garden of Riches is your new favorite game. With an RTP of 94.25%, you'll have plenty of chances to spin the reels and win big.
The game features a 5×3 grid with 15 symbols available on the active paylines. Just how many paylines are active? That's all up to you! You can choose anywhere from a minimum of 1 to a maximum of 10 paylines to bet on in each spin. Oh, the power of choice!
Now, let's talk about the ladies. You can trigger free spins by finding three female scatter symbols on the reels. Not only will you be rewarded with free spins, but the female symbols will act as locked wilds during these rounds. That means even more potential for rewarding play. Who knew a few ladies could be so generous?
Finally, Garden of Riches offers a simple gamble feature where players can potentially increase their winnings. Take a chance and go for it – you never know what kind of splendors the garden has in store.
Volatility and RTP
Garden of Riches is like a rollercoaster ride – it's highly volatile and can leave you feeling dizzy with excitement. The game is not for the faint-hearted, as players may need to invest more before seeing potentially larger payouts. But hey, no risk, no reward.
However, players should be aware that with an RTP of 94.25%, Garden of Riches falls below the average for contemporary online slot games. It's not a deal-breaker, but it's something to consider before diving in headfirst. Best to approach the game with caution and get a good feel for its mechanics before putting all your eggs in one basket.
Symbol Features
The symbols in Garden of Riches reinforce the game's romantic and nostalgic themes. But let's be honest, we're all here for the bag of gold symbol. Who doesn't love a little bling? And of course, we can't ignore the diamond ring symbol. I mean, what's a garden of riches without some serious bling?
But it's not all about the riches. The woman and man symbols remind us that love is priceless. Although, let's be real, a bag of gold is a nice consolation prize if you can't find love.
And speaking of the woman symbol, she's the star of the show. She's the scatter symbol and can trigger the free spins bonus round. Once activated, the women become locked wilds. It's like they're saying, 'I'm not going anywhere until you win big, honey!' Talk about dedication.
Theme and Graphics
Garden of Riches takes inspiration from the romantic fairy tale genre, with a storyline that centers on a couple in love. Well, love may not be the only theme here, as it appears that gardeners can get rich too! Visually, the game evokes a sense of nostalgia, using basic and bright illustrations that create a classic look and feel. The colors are predominantly yellow and gold, connoting wealth and richness. It looks like someone's been digging for gold at the garden and found it! Well, we can't guarantee that you'll get rich playing this game, but at least with its pretty graphics, you'll have something nice to look at while you spin the reels.
While the graphics may seem dated compared to other contemporary online slot games, let's not forget that classics are timeless. It's like watching Casablanca or reading Pride and Prejudice; they were made years ago, but their charm remains. The nostalgic feel of Garden of Riches may appeal to those who appreciate retro aesthetics and classic gameplay. Now, excuse us while we go grab our gardening tools, who knows, maybe we can find some riches too!
Other Similar Slots
If you're a fan of wealth and riches-based slot games, you're in luck! There are plenty of other slot games out there that share the same theme. For example, there's That's Rich by Play'n GO – it's like playing a virtual visit to Kim Kardashian's house. And who doesn't want that? And then there's Riches of Atlantis by DreamTech, where you can swim with mermaids and search for lost treasure. It's like The Little Mermaid for grown ups.
Players might also want to try Dragon Riches by Tom Horn Gaming, where you can spin the reels of your own virtual dragon hoard. But, while these other slots may share a similar theme with Garden of Riches, it's important to remember that each game has its own unique gameplay mechanics and features. So, if you're a true slot connoisseur, be sure to give each of them a try and see which one suits you best!
FAQ
What is the Return to Player (RTP) of Garden of Riches?
The RTP of Garden of Riches is 94.25%, which is lower than the market average.
What is the game grid of Garden of Riches like?
The game grid consists of 5 reels and 3 rows, and it shows 15 symbols arranged on the winning lines.
What is the volatility of Garden of Riches?
Garden of Riches is a high volatility slot, which means that you may need to invest more to earn potentially higher wins.
What happens when you get 3 scatter symbols on Garden of Riches?
Getting 3 scatter symbols on Garden of Riches will trigger the free spin bonus round, where you can win more coins.
What other slots are similar to Garden of Riches?
Some similar slots to Garden of Riches are That's Rich by Play'n GO, Riches of Atlantis by DreamTech, and Dragon Riches by Tom Horn Gaming.
Can I try Garden of Riches for free?
Yes, you can try Garden of Riches for free on many online casino websites without any registration or deposit required.
Is Garden of Riches available on mobile devices?
Yes, Garden of Riches is available for mobile devices such as iOS and Android.
What kind of theme does Garden of Riches have?
Garden of Riches has a romantic fairy-tale-inspired theme in which a girl meets a gentleman and a love story begins.
What we like
Free spins with locked wilds for potentially more lucrative play
Simple gameplay mechanics suitable for new players
Symbols reinforce the romantic and nostalgic themes
Classic look and feel may appeal to those who enjoy retro aesthetics
What we don't like
High volatility may require larger investments to see potentially larger payouts
Below-average RTP compared to contemporary online slot games