Fat Santa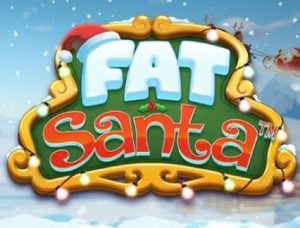 Fat Santa slots is more fun than eating a gingerbread cookie in one bite (yes, we've tried it). This festive game takes place in the heart of Santa's Village, where you'll find all the holiday trimmings you could want. Get ready for some serious Christmas cheer!
The slot features five reels, five rows, and fifty fixed paylines – just enough to keep you on the edge of your seat. And speaking of seats, we suggest you get comfortable before playing because this game is as addictive as Netflix. The background soundtrack sets the perfect holiday mood, complete with bells jingling and a choir singing joyfully in the background. Even Ebenezer Scrooge would have trouble not tapping his toes.
The control panel offers all the usual options, including bet amount, max bet, and fast spin mode. Plus, there's an option to set up to 100 automatic spins – perfect for those who want to enjoy the holiday festivities without having to click a button every time! Trust us, there's nothing like sitting back with a cup of cocoa and watching the reels spin on their own.
Bonus Features
If you're like me, you're always on the lookout for a slot game with some awesome bonus features to keep things interesting. And boy, does Fat Santa deliver on that front! First up, we have the Santa's Sleigh feature, which can trigger randomly at any time during the base game. That's right – it's like Santa himself is dropping some presents down the chimney for you. Except instead of presents, it drops a random number of wild symbols onto the grid. Which is even better, to be honest. More wilds means more chances to hit those sweet, sweet multiline wins.
We also have the Free Spins feature, which is triggered by landing Santa Claus himself on the reels, together with at least one wild cake. Because, you know, even Santa likes to indulge a little bit during the holidays. Anyway, you start off with five free spins, and every time a cake appears during those spins, Santa gets a little bit bigger and awesomer. He'll also award you three extra spins each time he grows, and he'll stick around as a wild symbol for the remainder of your free spins. That's what I call a truly sweet deal.
All in all, the bonus features in Fat Santa are some of the most entertaining and rewarding that I've seen in a while. So if you're looking for a way to spice up your holiday season (or any time of year, really), give this game a spin. And who knows – maybe you'll end up with a fat wallet to match Fat Santa himself!
Design and Graphics
Fat Santa slots take place in a place where most of us would love to be – Santa's Village. With vibrant graphics and a lively atmosphere, it's hard to not get excited about this slot game. The visuals are cheerful and spot on for wintertime. You'll encounter symbols such as an elf, a reindeer, a snowman, a gift, and Christmas tree baubles adorned in red, orange, and two shades of green. These will certainly put you in the holiday spirit.
The catchy soundtrack ties the graphics and game together nicely. It's the perfect background music to go with the festive atmosphere, and it certainly adds a touch of joy to the game. In short, it's a complete sensory experience that's hard to pass up.
If you think you've seen enough Christmas graphics, think again. Fat Santa brings something new and fresh to the table in a genre that's already saturated with Santa Claus revellers. So, kick back and immerse yourself in this game and let its joyous aesthetics warm your heart like hot cocoa in a snowstorm.
Payouts
Are you here to win some serious cash? Well, you've come to the right place! Let's talk payouts.
Okay, okay, let's not get too excited just yet, the baubles are the lowest paying symbols in Fat Santa.
The gift symbol and snowman are middle-of-the-road symbols. But if you're looking for some real cash, the reindeer, elf, and Santa Claus symbols will do the trick. If you're lucky enough to get five Santas, you can win up to 20x your combination!
Now, the real question that players want to know – what's the Return to Player (RTP)? I hate to disappoint, but the provider does not disclose this information. That's okay though because we're here to have some fun and win some crazy cash!
So, let's stuff some cash in our pockets and spin those reels!
Theme
Ho, ho, ho! The Fat Santa video slot is the perfect game to play during the holiday season. If you happen to be a fan of chubby jolly men in red suits, then this game is a treat that will keep on giving. The game has a unique storyline that follows Santa Claus as he indulges in all the delicious cakes and treats on his sleigh, causing him to expand his waistline even more.
The graphics are an empowering representation of Christmas, featuring symbols that embody the holiday feeling. The reels are decorated with gingerbread, a snowman, a beautiful Christmas tree, and, of course, Santa himself. The game's soundtrack sets the tone with cheerful notes and jingles to help you get into the Christmas spirit. Overall, the game creates a magical and joyous atmosphere that's perfect for the holidays.
I think it's impressive how the developers were able to effectively create a theme that reflects the essence of Christmas without it feeling cliché. The Fat Santa slot game is more about the spirit of the holiday rather than the religious aspect, making it an excellent choice for players of all backgrounds and beliefs.
In conclusion, if you're looking for a slot game to play during the festive season, look no further than Fat Santa. The game is full of Christmas cheer, has an exciting storyline, and offers the chance to win big. You'll be entertained, and your belly will be full of laughs (sorry, no cake included). So, wrap up warm, grab a mug of hot cocoa, and get spinning!
Get Your Game On-The-Go with Fat Santa's Mobile Compatibility
Who said you need to be stationary to get hooked on slot games? With Fat Santa, you can take the thrill with you wherever you go! That's right, you can satisfy your sweet tooth for gaming and get a chance to win big bucks while waiting in line for your eggnog latte, sitting on a bench at the park, or lounging in bed with your pajamas on. And we're not just talking about smartphones. This slot game is compatible with a broad range of mobile devices, such as tablets and laptops.
What's more, the game runs effortlessly on different screen sizes and operating systems, so you don't have to worry about technical difficulties that might hamper your progress. You can enjoy the same bonuses, perks, and features that desktop users have access to, including the chance to trigger the Santa's Sleigh Bonus and get extra free spins. Whether you prefer to use your fingertips or a stylus, Fat Santa promises fast-paced action, high-quality graphics, and smooth animations on-the-go.
So the next time someone tells you that sitting in your house playing slot games is boring, remind them that there's a happy man out there who scooped up millions while sitting on his toilet! With Fat Santa's mobile compatibility, the odds are in your favor, and convenience is at your fingertips.
FAQ
How many paylines does Fat Santa slots have?
Fat Santa slots has 50 fixed paylines.
What are the high-value symbols in Fat Santa slots?
The high-value symbols in Fat Santa slots are an elf, a reindeer, a snowman, and a gift.
What is the Santa's Sleigh feature in Fat Santa slots?
Santa's Sleigh feature can be randomly triggered at the beginning of any spin in the base game. Once activated, you'll see Santa elegantly driving his sleigh full of Christmas cakes across the screen and dropping a random number on the game grid. Each position where they land will turn into a wild symbol for the testacoda to provide more chances to hit big multiline wins.
What is the Free Spins feature in Fat Santa slots?
If Santa Claus lands on the reels together with at least one wild cake, you activate the Fat Santa slots Free Spins feature. You initially receive five free spins, but be sure to keep an eye on the counter on the right-hand side. Santa Claus remains on the reels during spins, and every time a cake lands, he rushes to eat it – each consumed cake is then marked on the counter. When the cake part of the counter is full, Santa Claus increases in size and awards three extra spins. The bigger Santa Claus still counts as wild and will help you win more often.
What is the price of purchasing free spins in Fat Santa slots?
To the left of the reels, there is a red button showing a value of 80 times your stake – this is the price of purchasing free spins if you want to dive right in.
Is Fat Santa slots a simple or complex game?
Fat Santa slots is a simple but fun interpretation of Christmas-themed slot games.
What is the RTP of Secrets of Christmas slot machine?
Secrets of Christmas, the famous slot machine produced by NetEnt, offers an RTP of 96.72%.
Can you activate autospins in Fat Santa slots?
Yes, you can set up to 100 automatic spins in Fat Santa slots, with loss and single-win limits.
What we like
Festive Christmas theme
Randomly triggered Santa's Sleigh feature
Free Spins feature with increasing wild symbols
Cheerful graphics and catchy soundtrack
What we don't like
RTP not specified by the provider
Limited number of initial free spins