Deadly 5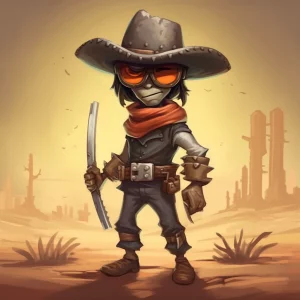 Deadly 5, the newly released online slot game from Push Gaming, is a wild ride for players seeking some Western-themed action on the reels. With its traditional 5-reel and 3-row layout and 20 fixed pay lines, you'll feel like you're in the heart of a dusty old town with a soundtrack that will transport you to another era. Who knew spinning reels could be this exhilarating?
The game design is straightforward, easy to navigate, and is set in the center of a dusty Western village complete with a cactus and wooden barrel with handcuffs attached. With intricately crafted graphics that bring the Wild West to life, you can almost taste the stale whiskey in the saloon.
One of the unique features of the game is the Tumble Trailhead feature which triggers on every winning spin. It is like a tumbleweed rolling through the game and wiping out symbols that you don't need. The new symbols then drop into their place, giving you a chance to win even more. It's like watching a Western movie when the bad guy goes down in a hail of bullets.
Overall, Deadly 5 sets itself apart from other online slot games by immersing players in a Western-themed virtual world where they get to spin the reels of fate and hope Lady Luck is on their side. So saddle up, partner, and spin those reels!
Pay Lines and Betting Options
If you're looking for a way to make some serious cash while risking absolutely nothing, might we suggest buying a money-printing machine instead of playing Deadly 5? However, if you're like the rest of us who enjoy a little bit of risk and excitement, read on!
Deadly 5 offers players the chance to win big by matching identical symbols from right to left on the 20 fixed pay lines. And with a minimum bet of $0.10 and a maximum bet of $100, the game caters to a range of players, from novice to expert.
Of course, as with any slot game, the more you bet, the higher your potential payout. So, go ahead and shoot for the stars if you're feeling lucky.
The Volatile (Not Explosive) World of Deadly 5
Come one, come all and witness the world of Deadly 5. With a medium volatility rating, you're not going to experience the extreme highs and lows that come with playing a game that's either too hot or too cold – kind of like your favorite cup of joe at that one coffee chain you like (you know the one). Deadly 5's balance is perfect for players who want to stay on the safe side, without sacrificing on the fun factor.
If you think getting a decent amount of rounds played is exciting, try the game's RTP. With a rating of 96.39%, the game's theoretical return to player is an impressive sight to behold. It's like having a shirt that looks average from far away, but up close, you can see the quality stitching and feel the superior fabric. When it comes to RTP, this game is definitely a cut above the rest.
All in all, Deadly 5's medium volatility and above-average RTP make it a killer choice for anyone looking for a solid, fun slot game. Just be sure to keep some snacks handy, because you won't want to take a break from spinning those reels. After all, you never know when you might hit the jackpot.
Symbols and Wilds
Get ready to saddle up, partner, because we're heading straight into the Wild West with Deadly 5. This game has got more symbols than a cattle ranch, but don't worry – we'll break them down for you.
Starting with the low-value symbols, you've got the horseshoe, boots, whiskey flask, and colt revolver. It's like a cowboy's starter kit! Then, we've got the high-value symbols – the four outlaws. These bandits are so tough, they'll make Clint Eastwood look like a city slicker.
The sheriff's badge is the wild symbol, and it's not just any ordinary badge. This thing can substitute for all other symbols except for the scatter. Talk about a shiny deputy! Plus, it's the highest paying symbol, so you better hope it's on your side. It can pay up to 250x the wager, which is enough to make even the toughest outlaw cry like a baby. This means that players have a better chance of hitting winning combinations with this symbol, so keep your eyes peeled for that badge.
In conclusion, the symbols in Deadly 5 are like a barrel of moonshine – strong and potent. With the sheriff's badge on your side, you might just survive the harsh wilderness of the Wild West.
Bonus Features
Hold on tight, folks, because the Bonus Features of Deadly 5 are sure to keep you on the edge of your seat. The scatter symbol in this game is represented by none other than a safe, and with just 3 of these symbols appearing on the grid, you can enjoy some free spins. And who doesn't love something that's free?
During the Bonus feature, an extended wild will appear on the grid and above every reel, you will see a poster of one of the outlaws. If the symbol of that outlaw falls beneath his poster, it will transform into an extended wild. It's almost like these outlaws are doing you a favor by participating in your win.
And now, let's get into the details of the number of free spins that you can enjoy depending on how many scatters you hit. With 3 scatters, players can receive 10 free spins and multiply their bets by 3. With 4 scatters, players are in for a treat. You will get 15 free spins and multiply your bets by 10! And then there's the ultimate-winningest scenario: hitting 5 scatters. If you do that, you will receive 20 free spins and multiply your bet by 50! Just imagine the possibilities.
All we can say is, Deadly 5 surely knows how to entice their players with thrilling Bonus Features. We can't wait to see what they have in store for us next.
FAQ
What is the minimum and maximum bet in Deadly 5?
The minimum bet is $0.10, and the maximum bet is $100.
What is the RTP of Deadly 5?
The theoretical return to player of Deadly 5 is 96.39%, which is above-average compared to most slot games.
What is the highest paying symbol in Deadly 5?
The sheriff's badge is the highest paying symbol and can pay up to 250x the wager.
Is Deadly 5 available on mobile devices?
Yes, Deadly 5 is also available on smartphones and tablets.
Does Deadly 5 have an automatic spins function?
No, Deadly 5 does not have an automatic spins function.
What is the volatility of Deadly 5?
Deadly 5 has a medium volatility, which means that there is a perfect balance between the number of rounds played and the amounts won.
What are the symbols in Deadly 5?
The symbols in Deadly 5 can be divided into two large groups: low-value and high-value. The four outlaws belong to the high-value group, while the horseshoe, boots, whiskey flask, and colt revolver are low-value symbols.
What happens during the Bonus feature in Deadly 5?
During the Bonus feature, an extended wild will appear on the grid, and above each reel, a poster of one of the outlaws will appear. If the symbol of the bandit falls beneath his poster, it will transform into an extended wild.
What we like
Traditional Western theme with spectacular graphics and attention to detail
Medium volatility creates a balanced gameplay experience
Impressive 96.39% RTP offers higher average payouts
Bonus features provide opportunities to win big
What we don't like
Limited betting options for players
May not appeal to players who are not fans of the Western genre