Colossal Gems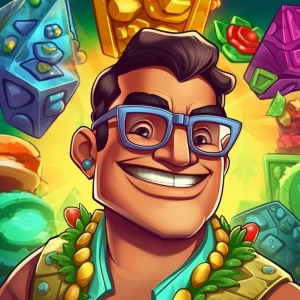 Get ready to be dazzled by the gems in Colossal Gems! This 6×5 slot game features 30 paylines and giant gem symbols that are bigger than my bank account. Seriously, I wouldn't be surprised if they put the Hope Diamond to shame.
The cartoon-like graphics of this game make it perfect for both seasoned slot players and beginners. The brightly colored gems are sure to catch your eye and keep you entertained for hours on end. And with its low volatility, you can expect to see small but frequent wins that add up over time. It's like finding loose change in your pocket every time you play!
But don't be fooled by the cuteness of the gems – this game is still a force to be reckoned with. With 30 paylines, there's plenty of opportunities to hit it big. And with those giant gem symbols, you never know when you might strike it rich. It's like playing a game of Russian Roulette, but with jewels instead of bullets.
So whether you're a seasoned slot player or a newbie looking to dip your toes in the world of online gambling, Colossal Gems is the game for you. Just be prepared to be blinded by the sparkly gems.
Disclaimer: We are not responsible for any dental bills incurred from grinding your teeth while watching those gems spin endlessly on your screen. Play at your own risk.
Get Some Bling with Colossal Gems' Bonus Features
Hold on tight, because Colossal Gems is not your average online slot game! Its Bonus Features are as shiny as they come. The game features both Respins and Free Spins. And boy, do they make the gems grow and shine.
When playing Colossal Gems, every base game win translates into a cluster of shining gems. Each winning block adds to the cluster until new wins occur or three consecutive Respins are reached. These Respins are what turn the game into a real gem. They guarantee giant gems with each respin, in the following sizes: 2×2 gem (first respin), 3×3 gem (second respin), and 4×4 gem (third respin).
Activate the Free Spins feature by triggering three consecutive Respins. Then enjoy six free spins with the wild purple gem. How cool is that? This feature makes sure that the gems pile up, promising the player a glitzy big win. And we all know what big wins mean: more bling, more fun!
Volatility And Rtp
Are you someone who prefers frequent wins over big paydays? Then the Colossal Gems slot game might just be your jam! With its low volatility and an RTP of 96.72%, this game ensures you won't be left empty handed, even if you don't hit the jackpot.
In other words, you can think of Colossal Gems as that friend who may not be the most exciting person in the world, but is always there when you need them. And just like that dependable friend, this slot game will keep you engaged and entertained without ever breaking the bank.
So, if you're looking for a relaxing and easygoing online casino experience that promises frequent payouts without breaking your bank, Colossal Gems is definitely worth a spin.
Autospin Function
Looking for an easy way to keep the fun going when playing Colossal Gems? Look no further than the Autospin function. Simply click the button to the right of the selection button and select anywhere between 10 and 500 Autospin options. Perfect for those who need a break from all that spinning!
Autospin is also great for multitaskers who want to play while doing something else, like cooking dinner or even running on a treadmill. With so much flexibility, Colossal Gems Autospin function makes it easy to keep the reels spinning and the wins rolling in, regardless of what you've got going on.
Just be sure not to forget about the game entirely, otherwise, you might return to find that you've hit the jackpot 500 times over while you were busy folding laundry or taking the dog for a walk. But hey, that's a good problem to have, right? So give Autospin a spin today and see how much fun it can be!
Get Ready for the Progressive Jackpot Race in Colossal Gems!
Hold on to your hats, folks! Colossal Gems is about to take you on a thrilling ride with its Progressive Jackpot Race. If you're anything like me, you love the thrill that comes with competing for a big prize. And this game has it all! With each spin, you'll see the progressive Jackpot Race growing in the top left corner of the screen. It's like watching your own personal bank account skyrocket.
This game not only offers a chance to win big but also has stunning visuals that will leave you dazzled. The graphics are so impressive that I caught myself staring at them instead of playing the game. It's like looking at a crystal-clear diamond, but even better.
One of the things I love about Colossal Gems is that it's so easy to get started. All you need to do is select your bet, and you're ready to go. It's a no-fuss game that even beginners can play with ease. And with the chance to win a massive jackpot, it's an ideal game for those looking to strike it rich.
All in all, Colossal Gems is a game that I would highly recommend to anyone looking for a great time. So, what are you waiting for? Join the race for the progressive jackpot now and get ready to be dazzled by the beautiful gems!
Accessibility and Compatibility
Are you tired of being restricted to a desktop computer to play your favorite slot games? Well, fear not my fellow gamers! With Colossal Gems, you can pull out your trusty mobile phone and play this game from anywhere with internet connection. The days of having to sneak away to a computer to get your gaming fix are long gone.
And the fun doesn't stop there! Colossal Gems is ready to be activated in your browser, so even if you're too lazy to download the game (we've all been there), you can still get in on the action. This game truly caters to all types of players, whether you're a tech-savvy millennial or a classic desktop computer enthusiast (we won't judge).
Slot Game Collection
If you're a fan of Colossal Gems, then you'll definitely want to check out some of the other gem-themed slot games available at this casino. You can try your luck with Gems Gems Gems from WMS, where triple the gems means triple the chances of hitting a big win! Or, if you're feeling like adding a little spice to your gameplay, give Sizzling Gems from Novomatic a try.
But don't worry, if gems aren't your thing, there are plenty of other fantastic options available as well. From new releases to classic favorites, the slot library has it all. With thousands of the best slot titles, you're bound to find something that catches your eye!
And remember, even if you're not a fan of the gem theme, there's still plenty of opportunity to strike it rich with Colossal Gems. With its unique gameplay and massive potential payouts, this game is sure to keep you entertained for hours on end!
FAQ
What other Bonus features are there?
Both the Respin and Free Spins are equipped with Mega Gems of 2×3, 3×3, and 4×4.
Does the game have a free spins round?
Yes. Six free spins are awarded after three consecutive respins.
What is the maximum bet in Colossal Gems?
The maximum total bet is 6000,00$.
What is the minimum bet on Colossal Gems?
The minimum total bet is 0.30$.
What is the biggest win available on Colossal Gems?
Five purple games pay x1800.
How volatile are the Colossal Gems?
The game is not very volatile – it has low variance.
What is the RTP of the giant gems?
The game has an RTP of 96.72%.
How can I activate Autospin?
Players wishing to execute Autospin can choose the button to the right of the selection button. You can select between 10 and 500 Autospin.
What we like
Cartoon-like graphics appeal to slot players of all levels
Low volatility provides frequent winnings
Autospin function for convenient gameplay
Compatible with all devices
What we don't like
Limited bonus features
Progressive Jackpot Race is not available in all regions