Chunky Fruits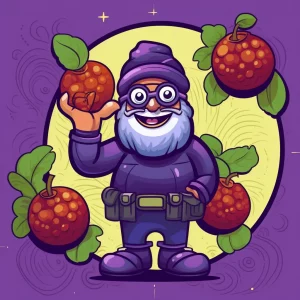 Prepare yourself for some juicy fun with the Chunky Fruits slot game! The game's modern gameplay experience is enhanced with a 5×3 game grid, enabling players to increase their chances of winning big. But let's face it, the best part of the game are the Chunky Fruits themselves, with their squishy and adorable appearances. It's almost as if they're cheering you on as you spin the reels!
But don't be fooled by their cuteness, these Chunky Fruits mean business. The expanding Wild symbols in the game act as wild cards, increasing the chances of creating winning combinations. And if you're lucky enough to land on a winning combo, the wild symbols will trigger free spins, with the added bonus of locking the symbols in their position for even more chances to win!
Playing Chunky Fruits is like having a fresh bowl of fruit salad in front of you, tempting you with luscious prizes and the satisfaction of biting into a tasty fruit. So come on, spin those reels and enjoy the fun-filled flavor of Chunky Fruits!
Symbols and Design
Are you ready to go back to the basics? Chunky Fruits takes you on a trip down memory lane with its classic fruit symbols like plums, cherries, and lemons. It's like your grandmother's fruit basket, only with the added thrill of other common slot symbols like the BAR sign, diamonds, and number 7.
But don't let the nostalgia fool you, the design of this game is anything but outdated. The symbols are suspended in an ethereal fog that gives them a heavenly glow. The purple background provides a stark contrast that makes the symbols pop. Chunky Fruits creates an immersive atmosphere that will transport you to a simpler time when the only thing you had to worry about was the pesky fruit fly hovering around the fruit bowl.
Experience the Magic of Expanding Wild Symbols in Chunky Fruits
Are you tired of plain and boring slot games that offer nothing but a few spinning reels and basic pay lines? Look no further than Chunky Fruits, the quirky and colorful casino slot game that packs a punch with its expanding Wild symbols.
Let's be honest, who doesn't love a good Wild symbol? But when they expand along the entire reel, they really take it to the next level. These BAR symbols in Chunky Fruits aren't just fun to look at, they're also incredibly rewarding. They act as wild cards for all combinations, giving you endless opportunities to rack up some sweet rewards.
But that's not all- when the expanding Wild symbols are unlocked, they trigger a free spin round. Imagine spinning the reels, watching them light up with each passing moment, and knowing that you're about to snag a free spin. It's like Christmas came early! And with the Wild symbols locked in place for every free spin, you have the chance to really hit the jackpot.
So, what are you waiting for? Head to the casino and give Chunky Fruits a spin. With its vibrant graphics, catchy soundtrack, and impressive expanding Wild symbols, it's a game that won't disappoint.
Similar Slots
If you're a fan of classic slot games with a fruity theme, then you'll be happy to know that there are plenty of other games available to play! In fact, there are a few different titles that come to mind.
For example, if you're looking for a game with a similar feel to Chunky Fruits, you might want to try out Mega Joker. This game features a similar traditional setup, with three reels and fruit symbols galore. But watch out for the Joker to make an appearance! He can seriously up your chances of winning big.
Another game to consider is Bananas Go Bahamas. This game takes you on a tropical adventure and features not only fruit symbols, but also a few cheeky monkeys. With free spins and multipliers up for grabs, this game is definitely worth a try.
Finally, for those who like to live life on the wild side, there's SuperLiner. This game features lions and lemons and everything in between. With five reels and the chance to win up to 10,000 coins, this game is sure to keep you entertained for hours.
No matter which game you choose, you're sure to have a blast with these fruity favorites. So go ahead and give them a spin!
Get Your Groove on with Chunky Fruits' Background Music
Get ready to be transported to a funky and groovy world with Chunky Fruits' background music. The game's upbeat and catchy tunes will have you tapping your feet and bobbing your head to the rhythm in no time. It's the perfect mood-setter to get you in the zone for some high-stakes spinning action.
Even though the game has a classic feel to it, the music has a modern twist that keeps things fresh and exciting. It's an expert fusion of vintage and contemporary that'll appeal to players of all ages and tastes. Whether you're a fan of old-school slots or modern video slots, the background music is sure to please your ears and set the tone for hours of fun gameplay.
So crank up the volume, and let Chunky Fruits lead the way to big wins and good times!
FAQ
What is Chunky Fruits?
Chunky Fruits is an online video slot game developed by Capecod Gaming with a classic fruit and BAR symbols theme.
What is the gameplay of Chunky Fruits like?
Chunky Fruits features a 5×3 game grid with more symbols and combinations than traditional slots. It also includes expanding Wild symbols and free spins.
What are the symbols in Chunky Fruits?
The symbols in Chunky Fruits include plums, cherries, lemons, BAR signs, diamonds, and number 7.
What is the design of Chunky Fruits like?
Chunky Fruits has a purple background and polygonal fruit symbols that seem to be suspended in an ethereal fog. The background music is also light and catchy.
What is the difference between Chunky Fruits and traditional slots?
Chunky Fruits includes expanding Wild symbols and has a 5×3 game grid, allowing for more combinations and gameplay mechanics than traditional slots.
What other slots are similar to Chunky Fruits?
Other slots with fruit themes similar to Chunky Fruits include Mega Joker, Bananas Go Bahamas, and SuperLiner.
What is the purpose of Wild symbols in Chunky Fruits?
The purpose of Wild symbols in Chunky Fruits is to act as a wild card for all combinations that pass through them and trigger a free spin with the Wild symbols locked in their position.
What is the atmosphere of Chunky Fruits?
Chunky Fruits has a nostalgic atmosphere that recalls classic slots with its symbol theme and a modern design with its mechanics and special features.
What we like
Modern gameplay experience with a 5×3 game grid
Expanding Wild symbols trigger free spins
Immersive and nostalgic atmosphere
High-quality background music
What we don't like