Christmas Gift Rush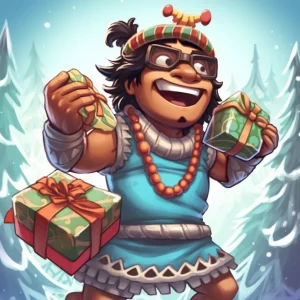 Are you ready for some Christmas fun and rewards? Look no further than Christmas Gift Rush! This three-reel, three-row slot game is sure to get you in the holiday spirit. Plus, with a low minimum bet of just $0.20 per spin, you don't need to break the bank to play.
One of the great features of this game is the ability to activate up to 500 automatic spins, making it perfect for those who want to sit back and enjoy the game without having to continuously click the spin button. And if you're feeling lucky, you can adjust the speed of the reels using the cursor, giving you even more control over the game.
It's important to note that this game has high volatility, so you may need to be patient for the big payouts. But trust us, they're worth the wait! With an impressive theoretical return to player (RTP) of 96.66%, you can feel confident that you'll get some great rewards for your investment.
Overall, Christmas Gift Rush is a fun and festive game that's perfect for the holiday season. So why not give it a spin and see if Santa brings you some big wins?
Graphics and Sound Effects
The graphics in Christmas Gift Rush are nothing short of amazing! They are so vibrant and colorful that they make you feel like you're actually walking through a winter wonderland. The snowflakes falling gently on the roof of the houses create a peaceful and calm atmosphere that makes playing the game all the more enjoyable. Plus, the warm glow of the fireplace adds a nice touch of coziness to the game. You'll feel like you're wrapped up in a blanket next to the fireplace in no time.
But the real star of the show here is the symbols! They are large, bright, and just downright visually appealing. You'll find everything from candy canes to gingerbread men, and everything in between. And even better, they fit the Christmas theme perfectly! So get ready to be overwhelmed with the cuteness of it all.
One thing that really stands out is the console. It's laid out in such a way that it gives a fantastic overview of all the available options to optimize your gameplay. You can control everything from the bet amount to the number of paylines, so you can really customize your experience and play around with different strategies to win big!
And last but not least, let's talk about the music. Whoever came up with the idea of putting a jazz rendition of Jingle Bells in the background is a genius! It's such a delightful and catchy tune that you'll be humming it long after you finish playing the game. It's the perfect accompaniment to all the festive goodness happening on the screen.
Payouts and RTP
Get ready to experience high volatility when you play Christmas Gift Rush, which simply means that you may need quite a few spins to get those winning combinations. But don't worry, the well-balanced random number generator makes sure that the payouts are always worthwhile. With a theoretical return to player (RTP) of 96.66%, the game offers a fair chance for all players to grab those festive jackpots and enjoy a jolly good time.
And here's a little secret, for those with an eye for detail and a love for statistics – the RTP is just a theoretical measurement based on long-term gameplay. In short, anything can happen in the short-term, so don't be disheartened if a few spins don't go your way. Who knows, the next spin could be your lucky one and reward you with an enormous payout!
In conclusion, Christmas Gift Rush is a slot game that does justice to the term 'high-volatility.' It will keep you on the edge of your seat when you're chasing those big wins. But the game is worth the change, as the payouts are generous enough to put a smile on your face and a warm feeling in your heart. So, pull up a mug of eggnog, enjoy the festive cheer, and good luck spinning the reels of Christmas Gift Rush!
Symbols and Special Features
Ho, ho, ho! Let's talk about the festive symbols in Christmas Gift Rush. There's a green lollipop, a blue teddy bear, a golden bell, and a yellow toy truck. They're all wrapped in bows and ready for you to unwrap big wins!
But the real gift in this game is the Wild symbol – represented by a Christmas gift, of course. This little gem replaces all other symbols and can help you score some big payouts. And just when you thought things couldn't get any better, the game introduces the Nudge function.
Initially, you only have one payline outlined by a green decoration, but with Nudge, you can activate additional paylines for even more chances to win. And with each subsequent win on a new payline, your payout increases with a +1 multiplier. Talk about being on Santa's nice list!
Now, here's where things get really interesting. In addition to the Wild and Nudge function, Christmas Gift Rush also includes a progressive jackpot that can be randomly activated during gameplay. Imagine hitting that jackpot while sipping on eggnog and munching on gingerbread cookies – it doesn't get any better than that!
Finally, one more special feature worth mentioning: players can purchase Nudges to increase their chances of hitting higher payouts. With 30 Nudges available, it's worth focusing on this feature in Christmas Gift Rush. Don't be a Grinch – activate those paylines and start winning big!
Overall Impression
Are you a Christmas fanatic looking for a fun and festive way to ring in the holidays? Look no further than Christmas Gift Rush, the ultimate online slot game that will have you feeling holly and jolly in no time. With its vibrant graphics and delightful sound effects, this game captures the magic of the season in all its splendor.
But let's talk gameplay, shall we? Christmas Gift Rush offers a high volatility experience, meaning it may take a few extra spins to hit the jackpot – but boy, is it worth the wait. The payouts are consistently excellent, keeping players engaged and excited throughout the game. And if you're looking for an added edge, the Nudge function with its extra paylines and multipliers brings a unique twist to the traditional slot machine experience and gets those coins jingling all the way.
Now, we wouldn't be doing our job if we didn't talk about the RTP – the return to player percentage – and we're happy to report that Christmas Gift Rush delivers a fair chance to win in line with the industry average. So while you're spinning those reels, you can also feel confident that you're in for a fun and fair ride.
In short, if you're looking for a festive and entertaining way to kick off the holiday season, Christmas Gift Rush is a game worth playing. Whether you're a seasoned slot player or just looking to try your luck, this game is sure to put a smile on your face and fill your pockets (or stockings) with some extra coins. So grab some hot cocoa, turn on your favorite carol, and get ready to spin those reels – Santa Claus is coming to town, and he's bringing some big wins with him!
FAQ
What is the cost-per-spin of Christmas Gift Rush?
The cost-per-spin of Christmas Gift Rush is $0.20.
What is the minimum number of automatic spins that can be activated?
The minimum number of automatic spins that can be activated is 10.
What is the maximum number of automatic spins that can be activated?
The maximum number of automatic spins that can be activated is 500.
What is the volatility level of this game?
The volatility level of this game is high.
What is the theoretical return to player (RTP) percentage of this game?
The theoretical return to player (RTP) percentage of this game is 96.66%.
What are the symbols in Christmas Gift Rush?
There are four bow-wrapped symbols: the green lollipop, the blue teddy bear, the golden bell, and the yellow toy truck. The Christmas gift is the Wild symbol and replaces all the others.
What is the Nudge function in Christmas Gift Rush?
The Nudge function is activated upon the first win and means the row above is enabled, followed by the one below, and in the case of further wins, a multiplier of +1 is applied each time. The Nudge function can also be purchased separately.
Is there a progressive jackpot in Christmas Gift Rush?
Yes, there is a randomly activated progressive jackpot displayed in a box next to the slot's title.
What we like
Outstanding graphics with festive theme
Delightful sound effects
High volatility with excellent payouts
Nudge function adds excitement and potential for higher payouts
What we don't like
High volatility may require a significant number of spins
Limited number of paylines initially