Candy Tower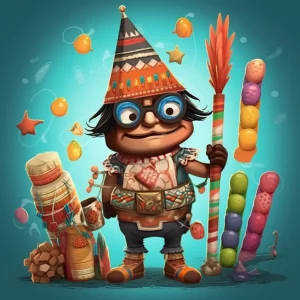 Candy Tower is like the candy store of your dreams, filled with colorful treats and delicious rewards. The game is designed to keep things simple yet exciting, with a clustered mechanic that rewards vertical and horizontal matches.
It's easy to get started – you just need to collect at least seven identical symbols. The game board consists of a 6×5 grid, giving you plenty of chances to create those winning combos. And if you're worried about the cost, don't be – you can spin the reels with a minimum bet of just $0.01.
However, don't get too excited and overspin your budget. Keep in mind that you need to use at least 15 tokens to spin the reels. But with such a sweet game to play, we're sure you won't mind digging a little deeper into your stash.
The game is simple, but that doesn't mean it lacks depth and excitement. You'll be on the edge of your seat waiting for those matching symbols to hit, and the possibility of a tasty bonus round will keep you glued to the screen. So grab a candy cane and get ready to indulge in some sweet, sugary gameplay!
Symbols and Features
Oh, sweet, sweet symbols! In Candy Tower, the base symbols are four different shaped candies, and they look good enough to eat. But if you do eat them, you might not have enough focus to win big! Don't forget about the Wild symbol, which is represented by a jester who's always joking around on the reels. And, man, does he help create some serious winning combinations. Next up, the Scatter symbol, which awards free spins for days! Trust me, you won't be crying over spilled milk, but maybe over the massive amount of money you'll make. The tower of candy is also a fantastic feature in Candy Tower. It's like the cherry on top of a sundae. Depending on how many clusters you collect, this tower can build up to 5 layers, and activates the Bonus Boost function. Look out for expanding Wilds, moving Wilds and multipliers of up to x888, which could potentially double your wins! With all of these mouthwatering symbols and features, there's no doubt that Candy Tower is every casino player's dream come true!
Bonus Functions
If you have a sweet tooth, you'll love Candy Tower's Bonus Boost function! Collect clusters of symbols and trigger an exciting bonus round that will make your taste buds tingle.
As soon as you enter the bonus round, you'll be treated to expanding Wilds, which might not sound impressive until you see them in action. These little guys grow to cover entire reels, increasing your chances of landing a winning combo and giving you a sugar rush in the process.
If you're lucky, you may also encounter movable Wilds, which shift over one reel with every spin, like a game of candy chess. Just make sure you don't take too long to move your pieces, or your opponent might get impatient and take a bite out of your winnings!
And speaking of winnings, Candy Tower's bonus round is where you can really pile on the sugar. The multipliers go up to x888, which is more than enough to give you a toothache. But trust us, it's worth it. Double your wins and you'll feel like a kid in a candy store.
The Scatter symbol awards free spins, with a minimum of 10 and a maximum of 250. Just hit three Scatters anywhere on the reels and watch your spins pile up like a candy mountain. And if you're really lucky, you can even reactivate the function during the bonus round, so you can keep building your sugar high.
In summary, Candy Tower's bonus functions are a great reason to give this slot game a try. It's like stepping into a Wonka factory, without the risk of being turned into a blueberry.
Variability and RTP: What Makes Candy Tower a Sweet Deal for Slot Players
Are you searching for a slot game that offers a sweet deal? Look no further than Candy Tower, the online casino game that's become a fan favorite for players looking for an exciting ride with the potential for big payouts and bonuses.
Candy Tower is known for its high variability, which means that getting a payout can be a bit of a rollercoaster ride. But that's part of the fun, right? Who doesn't enjoy a good thrill every once in a while? And the RTP value of 96.73% means that players can expect to see a decent return on their investment in the long run, which equals even more excitement with the potential for winning a lot of loot.
The game's mascot keeps track of the number of symbols collected during gameplay to activate bonus rounds. And each spin can lead to collecting between 7 and 30 symbols, which is a great way to add even more excitement and anticipation to the game. Who wouldn't want to trigger a bonus round and reap the rewards for their effort?
Overall, Candy Tower is a great choice for players who love the thrill of the slot game world, with the added bonus of high variability and solid RTP. So why not give it a spin and satisfy your sweet tooth? Just don't blame us if you end up with a sugar rush!
Visuals and Theme
Candy Tower takes the player on a sugar rush like no other. The game is a treat for the eyes with stunning graphics that showcase delicious sweets, cakes, and ice creams that will make your taste buds sing with joy. In fact, we suggest you keep some snacks nearby while playing.
The colorful landscapes of Candy Tower are a feast for the eyes and one of the game's most standout features. With natural landscapes as background, it's easy to get lost in the game environment. The game's icons are equally colorful and detailed, making every spin a visual spectacle.
We particularly enjoyed the game's adorable mascot that cheers on wins on the left side of the game screen. It's almost like having a personal cheering squad as you rack up some big wins. One can't help but smile at their enthusiastic celebrations.
Candy Tower is the perfect slot game for those with a sweet tooth, or anyone who just enjoys fun and engaging visuals combined with the thrill of winning big. Just make sure to brush your teeth after playing.
FAQ
How do I win in Candy Tower?
You win by collecting at least seven identical symbols vertically or horizontally.
What is the minimum token value?
The minimum token value is $0.01.
How many tokens do I have to use to spin the reels?
You must use a minimum of 15 tokens to spin the reels.
What is the RTP of Candy Tower?
The RTP value is 96.73%.
What are the base symbols of the game?
The base symbols are four different shaped candies: a purple star, yellow triangle, green hexagon, blue square, and red heart.
What do Wild symbols do in Candy Tower?
Wild symbols function as both a joker and falling from above to help create winning combinations.
How many free spins can I win?
You can win a minimum of 10 to a maximum of 250 free spins.
What happens when I activate the Bonus Boost function?
The Bonus Boost function features expanding Wilds, movable Wilds, and multipliers of up to x888, potentially doubling your wins.
What we like
Clustered gameplay mechanics
Exciting Bonus Boost function
High variability and RTP
Visually stunning and immersive theme
What we don't like
Minimum token requirement is relatively high
Limited number of base symbols