Mermaid Queen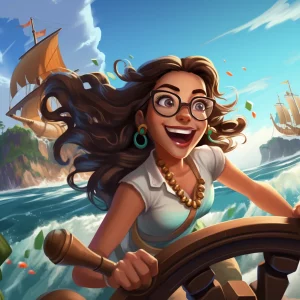 Get ready to set sail with the Mermaid Queen slot game, featuring a 3×5 game structure developed by the popular slot producer Barcrest. But don't worry, you won't get seasick – unless that's your thing.
The game takes place on a wooden ship, complete with mahogany-framed reels and 13 different symbols to watch for. As you navigate the open sea, you can enjoy gorgeous views of the blue sky and crystal clear water, as well as the occasional visit from the beautiful Mermaid Queen herself – although keep your expectations in check, she's not likely to sweep you off your feet.
While the game may not be the most visually stimulating, with its basic 2D graphics and lackluster soundtrack, it still manages to provide an entertaining gameplay experience that is sure to keep you hooked. Just don't forget to come up for air every once in a while!
Swim with the Mermaid Queen and make a splash with your bets!
Dive into the underwater world of Mermaid Queen, where the gameplay is as smooth and simple as a dolphin's glide. With 5 reels and 10 pay lines, this game is a great catch for all kinds of players. Just be careful not to get hooked!
Whether you're a tiny fish or a big shark, the betting options of this game will suit your style. You can start betting from a mere $0.10 or go all-in with a whopping $500! Bet on your lucky stars and let the Mermaid Queen bless you with her aquatic luck.
If you're lucky enough to land three Mermaid Queen symbols, you'll trigger the free games feature. The more Mermaid Queens you encounter, the more chances you have to activate this feature and get that scatter win. Don't be afraid to swim deep and explore all the treasures this game has to offer!
Make Waves with the Free Games Feature
The Mermaid Queen slot game is swimming with excitement thanks to its free games feature. To activate this feature, just hope that three or more Mermaid Queen symbols wash up on the reels. And remember, finding treasure isn't the only way to get rich! During this feature, any win that involves a wild symbol will give you a tidal wave of cash thanks to a multiplier bonus of 6x. It's like getting hit by a wave of luck (but in a good way).
This feature can be reactivated as many times as you please. Who knew hanging out with mermaids could be so profitable? Just keep swimming and winning, my friends.
Multiplier Bonus and Wild Symbol: Double the Fun
Oh boy, are you in for a treat with the Mermaid Queen slot game! The Multiplier Bonus and Wild symbol make the game as wild as a mermaid's hair. And trust us, that's pretty wild.
What's even better is that the wild symbol can double your wins and trigger a 6x multiplier bonus. That's right, folks! You're one wild symbol away from winning big bucks. And the best part? You can reactivate this feature as many times as you want. So keep spinning those reels!
Don't be a Mermaid Loner – Check Out These Other Slots
If you simply can't get enough of mermaids (and let's be honest, who can blame you?), then you're in luck. There's a whole ocean of Mermaid-themed slots out there for you to explore – some salty, some sweet, all seaworthy.
Besides, why settle for one Mermaid Queen when you can have a whole school of them? You might just find your new favorite game and reel in some big wins while you're at it.
And don't forget about those Welcome Bonuses – think of them as a treasure trove just waiting to be discovered. Dive in and claim all the free spins and cashback offers you can handle.
FAQ
What is Mermaid Queen?
Mermaid Queen is an online slot game developed by Barcrest that features a nautical-style game structure and mermaid-themed symbols. It has 5 reels and 10 pay lines.
What is the minimum and maximum bet in Mermaid Queen?
The minimum bet in Mermaid Queen is $0.10, while the maximum bet is $500.
What happens when the Mermaid appears at least 3 times during a spin?
When the Mermaid appears at least 3 times during a spin, it activates the free games feature. The more times it appears, the higher the scatter win.
What is the Multiplier Bonus in Mermaid Queen?
The Multiplier Bonus in Mermaid Queen is a feature that multiplies any win involving a wild symbol by 6x. It can be reactivated multiple times.
What are the available modes to play Mermaid Queen?
Mermaid Queen is available in both free and paid modes. You can try the game for free or play with real money on online casinos.
Is Mermaid Queen available on Slotjava?
Yes, Mermaid Queen is available on Slotjava's game library along with other mermaid-themed slots.
Can I win big in Mermaid Queen?
Yes, you can win big in Mermaid Queen by activating the Multiplier Bonus and free games feature.
Is the graphics and sound of Mermaid Queen good?
The background graphics of Mermaid Queen are breathtaking with beautiful views of the sea. However, the 2D graphics and soundtrack are not particularly exciting.
What we like
Simple gameplay suitable for all players
Free games feature with a multiplier bonus
Reactivate the free games feature countless times
Numerous other Mermaid-themed slots available
What we don't like
Outdated and less dynamic graphics
Soundtrack is not particularly exciting