Lunaris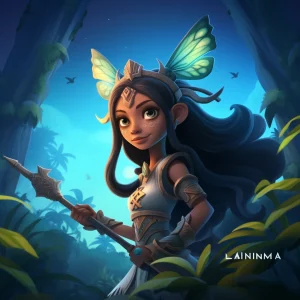 Are you ready to enter into the dreamy world of Lunaris? Developed by the geniuses at WMS, this online slot game boasts not just 5, not 6, but 10 reels! That's right, 10 reels to spin and hit those winning combinations.
Lunaris also has 100 paylines and three bonus features that will make you feel like you're floating on clouds. And, in case you thought it couldn't get any better, free spins come with a 10x multiplier per bet. Just be careful not to pinch yourself and wake up from this dreamy game!
Get Ready to Rake in the Bonuses!
Let's talk about my favorite part of the game: the bonus features! You have not one, not two, but three amazing bonus features waiting for you in Lunaris.
The first is the Mystery bonus, which can result in a win value of up to 25 times the bet placed! Who doesn't love a good mystery? I personally love to solve them by winning big bucks.
Next up, we have the caterpillar bonuses! Land between 3 and 6 caterpillar symbols, and you'll trigger the free spin bonus. With up to 25 spins and a 25x multiplier, these little guys might just become your new best friends.
And last but not least, the game features a wild symbol represented by the moon's face. This little guy is your ticket to substituting other symbols and racking up big wins. Just don't let it go to your head like it did with that one astronaut…
Get Your Spin on With Lunaris' Free Spins
Who doesn't love free stuff? If you're lucky enough to land between 3 and 6 caterpillar symbols in Lunaris, you'll trigger the free spins bonus. Depending on your caterpillar count, you could earn 8 to 25 free spins with a 2x to 25x multiplier. Talk about a bug-tastic bonus!
You can retrigger those free spins, which means even more chances to win big. Don't let this opportunity crawl away from you; give Lunaris a spin today and see if you can snag those freebies.
Symbols and Graphics
Hold on to your seats, folks. Lunaris slot game will take you on a fairy tale adventure, complete with magical creatures and mysterious symbols that make for lucky combinations. You'll be playing with diamonds, fancy playing cards and a variety of charming creatures such as caterpillars and butterflies that will surely put a smile on your face.
And let me tell you, the graphics are nothing short of amazing! They're so eye-catching with vibrant colors that will leave you mesmerized and intricate designs that bring the game to life!
Who Is This Game For?
Lunaris is like training wheels for new slot players – it's perfect for anyone who's just starting out in the virtual world of spinning reels. It's got stunning graphics and plenty of bonus features guaranteed to keep you hooked and amused. Sure, the RTP isn't the best, but the pay-outs are definitely worth a few spins!
This game is for anyone who likes their slots easy breezy and full of wonder, without the headaches that come with more complicated games. Trust us, it's like a cosmic journey that'll keep you coming back for more!
FAQ
How many paylines does Lunaris have?
Lunaris has 100 paylines, making it a unique and exciting slot game.
What is the Mystery symbol in Lunaris?
The Mystery symbol appears on reels 1, 3, or 5 and reveals other important icons, and you can activate the Mystery bonus to earn a win value equal to 25x your bet.
What is the Wild symbol in Lunaris?
The Wild symbol is represented by the face of the moon and can replace all other symbols, except the Mystery and Bonus, to help you form winning combinations.
What are the caterpillars in Lunaris?
The caterpillars are lucky symbols in Lunaris that can give you up to 25 free spins and a 25x multiplier when you match six of them on the reels.
What is the minimum and maximum bet in Lunaris?
Players can place bets ranging from 0.50 to 250 coins on the 10 available reels in Lunaris.
What is the RTP of Lunaris?
Lunaris does not have an RTP that is as favorable as many other games, as the wins emitted are medium-low.
Are there any bonus features in Lunaris?
Yes, Lunaris has three bonus features that can shake the Colossal Reels and release up to 25 free spins with a 10x multiplier per bet.
What kind of atmosphere does Lunaris have?
Lunaris has a fairy-tale-like and dream-winning vibe with beautiful graphics and symbols that create lucky combinations.
What we like
Dreamlike theme and attractive graphics
Three bonus features for substantial wins
Free spins with up to 25x multiplier
Fascinating symbols and captivating designs
What we don't like
Not the most favorable RTP
Limited appeal to experienced players