Lady of Egypt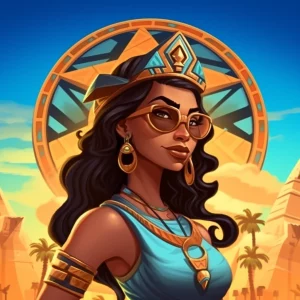 You know what they say – if you can't beat 'em, use a 9×3 grid system and shift two reels to the right every time a winning combination is achieved. Okay, so maybe nobody says that, but Lady of Egypt certainly brought something unique to the table. This online slot game keeps things interesting with its unconventional gameplay mechanics. Who needs boring old reels that spin one by one, anyways?
With this system, you can achieve multiple wins in each spin, and the excitement never slows down. Plus, it's basically like getting a free bonus round every time you make a successful match.
Is Lady of Egypt a Graphic Masterpiece?
Lady of Egypt is visually stunning with symbols beautifully illustrated in keeping with the ancient Egypt theme. It makes you feel like you're in a dusty tomb, searching for pharaohs' treasures. The graphics are so sharp, it's like they were chiseled out of a pyramid.
The sounds of the game are also on point, immersing the player into the Egyptian culture. It's like you're sitting in front of King Tut himself, listening to his favorite tunes. You might even find yourself doing a little Egyptian dance while playing.
Bonus Bonanza: A Chance to Win Big
Lady of Egypt comes packed with exciting bonus features that will make your heart race faster than a cheetah chasing its prey. The game has got it all – Wild and Scatter symbols, multipliers and a jackpot feature that'll make your eyes pop out.
Get ready to cash in big with every consecutive win, because each one comes with a bigger and better multiplier. And the icing on the cake? The fourth consecutive win before hitting the jackpot offers a massive 5x multiplier. Talk about heart-stopping gameplay!
Comparing Apples to Oranges: How Lady of Egypt measures up to other WMS slots
WMS sure knows how to turn heads with their selection of uncommon and bizarre games, and Lady of Egypt is no different!
But how does it compare to other WMS darlings like Fire Queen and Giant's Gold? Well, they all share the same deliciously unique gameplay mechanics that will keep you coming back for more.
And if theme consistency is your thing, then you'll be happy to know that Lady of Egypt has plenty of buddies in the Egyptian and Roman slots genre, and even holds its own with heavyweight champs from other developers like Book of Ra.
Get Your Groove On: Music and Sound Effects at Lady of Egypt
Picture yourself entering an ancient temple in Egypt, lit only by torches, it's quiet…until the speakers come alive with the soundtrack of Lady of Egypt. This music adds to the game's ambiance, making it exciting and captivating enough to keep even the most experienced gambler addicted for hours.
Once those reels start spinning, pharaohs and gods alike will know that Lady of Egypt means business with bonus mode sounds that will take you on an adventure unlike any other.
So, grab your headphones or just let it blast from your speakers – the music and sound effects for Lady of Egypt are top-notch and will enhance your overall gaming experience.
FAQ
What is Lady of Egypt?
Lady of Egypt is an online slot game developed by WMS that revolves around the theme of ancient Egypt and features a unique 9-reel, 3-row game grid with shifting reels mechanism.
How do I win at Lady of Egypt?
To win at Lady of Egypt, you need to land winning combinations of symbols on the game grid, starting from the first three reels. The game grid will shift two reels to the right for each consecutive win until there are no more wins.
What is the maximum payout in Lady of Egypt?
The maximum payout in Lady of Egypt is the jackpot, which can be won by landing three Golden Ankh symbols on the ninth reel with a 5x multiplier on the fourth winning combination. The amount of the jackpot depends on the bet size.
What are the special symbols in Lady of Egypt?
Lady of Egypt features Wild and Scatter symbols that can help you form winning combinations and trigger bonus features. The Golden Ankh symbol is the most valuable symbol and can award the jackpot.
What is the shifting reels mechanism in Lady of Egypt?
The shifting reels mechanism is a unique feature in Lady of Egypt. After each winning combination on the first three reels, the game grid shifts two reels to the right, where players can try to form another winning combination with a multiplier on their value.
What other slots are similar to Lady of Egypt?
WMS has developed other slots with unique gameplay mechanics, such as Fire Queen and Giant's Gold. Other popular Egypt-themed slots include Book of Ra by Novomatic and Egyptian Riches and Rome & Egypt by WMS.
What is the RTP of Lady of Egypt?
The RTP (Return to Player) of Lady of Egypt is 95.08%, which is around the industry average for online slots.
Can I play Lady of Egypt on mobile devices?
Yes, Lady of Egypt is optimized for playing on mobile devices, including smartphones and tablets. You can play it on your mobile browser or download a casino app that features this game.
What we like
Unique grid system
Tastefully illustrated symbols
Bonus features offer big wins
High-quality music and sound effects
What we don't like