Knight's Keep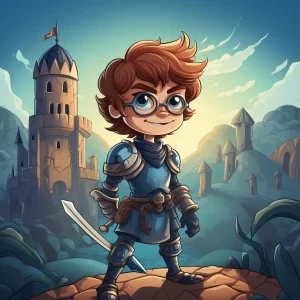 Step back in time with Knight's Keep, the slot game that perfectly blends classic gameplay features with ultra-modern 3D graphics. Boasting an impressive 192 paylines, you'll have more chances to hit the jackpot than a knight has to rescue a damsel in distress.
The black knight symbol is wild and not just because he's a renegade on horseback. This symbol multiplies your winnings by ten, and it can substitute for any symbol in the payline. The King symbol has a 300x multiplier, the Queen has 250x, the Crown has 150x, and the Scepter has 100x, so you'll have plenty of opportunities to feel like royalty.
The free spins bonus feature is generous enough to make even the greediest monarch smile. You could walk away with up to 25 free spins and bask in the glory of your royal winnings.
Graphics
Knight's Keep puts the 'knights' in shining armor with its impressive 3D graphics. It's like stepping into a medieval world filled with regal queens and imposing castles – without the risk of being beheaded for eating beef on Fridays. The Real Boost game engine adds to the excitement, making it feel like you're charging into battle on horseback. The symbols might give off a retro vibe, but they're a welcome addition to the game's overall dark ambiance that keeps your heart racing.
Many Paylines, Much Winning: A Review of Knight's Keep
Get ready to meet your Arthurian destiny with Knight's Keep and its impressive 192 paylines. That's more paylines than you can shake a jousting stick at, giving you a better chance of winning big. And let's face it, who doesn't like winning big? Combine that with the classic WMS slot game configuration and you have a real winner.
With all those paylines, you may even feel like King Arthur himself – master of your fate and ruler of all you survey. Plus, the multipliers are so huge, you'll feel like you're wielding Excalibur when you hit a big win. It's time to saddle up and hit that spin button!
Get ready for the big wins with these awesome bonus features!
Are you ready to turn the reels and score some big wins? Because Knight's Keep has some incredible bonus features to help you on your journey!
First off, let's talk about the black knight symbol. This guy is not only a wild symbol but also packs a punch with a 10x multiplier. So when the black knight shows up, get ready to ride off into the sunset with some huge winnings.
But that's not all! Other symbols like the King, Queen, Crown, and Scepter offer significant multipliers. So make sure you keep an eye out for those regal symbols.
And if that's not enough to get you excited, the free spins bonus feature will knock your armor off. Land between reels 3 and 6 enough times, and you'll be awarded up to 25 free spins! With all these bonus features and a high number of paylines, Knight's Keep is the perfect game for any brave knight on a quest for riches.
Other Medieval Slots to Check Out
If you enjoy traveling back in time to the Middle Ages, you'll be glad to know that WMS has produced a couple of slot games to satisfy your craving for some medieval action!
First up is Black Knight, a classic game that will take you on a journey filled with knights, kings, and queens. With 5 reels and 30 paylines, you'll have plenty of chances to strike it big and secure your spot in the kingdom. And don't forget about the 3D graphics – they're so realistic, you might even feel like you're battling in a jousting tournament!
The sequel to Black Knight, aptly named Black Knight 2, is also available to play. This version has increased the probability of getting symbols in paylines, giving you even more opportunities to score some sweet loot. So whether you're a fan of the first game or new to the series, give Black Knight 2 a spin and see if you have what it takes to become the ultimate medieval champion!
FAQ
What is Knight's Keep?
Knight's Keep is an online slot machine produced by WMS, based on a physical slot machine that was popular in casinos a few years ago. The game has a medieval theme featuring kings, queens, knights, swords and diamonds.
What are the graphics like in Knight's Keep?
The game has 3D graphics that give players a feeling of being inside a casino and immersed in a medieval world. The retro-style symbols add to the overall feel of the game.
What are the bonuses and functions in Knight's Keep?
The game has 192 paylines, giving players a higher chance of winning. The black knight symbol is a 10x multiplier, the king multiplies the stake by 300, while the queen multiplies it by 250. The crown multiplies the amount bet by 150, and the scepter by 100. The black knight is also the Wild symbol and can be substituted within the payline to get a winning combination. The free spins bonus can be triggered between reels 3 and 6 and can give between 5-25 free spins.
Are there any similar slot machines to Knight's Keep?
Yes, WMS has produced two other similar slot machines with knights and castles – Black Knight and Black Knight 2.
What is the Real Boost game engine used in Knight's Keep?
The Real Boost game engine is used in Knight's Keep to create the impressive animations and graphics. This engine is also used for some of the best slot machines on the market.
What is the role of the black knight symbol in Knight's Keep?
The black knight symbol is not only a 10x multiplier but is also the Wild symbol. It can be substituted within the payline representing any figure, in order to obtain a winning combination.
How many paylines does Knight's Keep have?
Knight's Keep has 192 paylines, which is significantly higher than the average for most slot machines.
Can the free spins bonus be triggered in Knight's Keep?
Yes, the free spins bonus can be triggered between reels 3 and 6 in Knight's Keep. The number of free spins awarded can range from 5 to 25.
What we like
Combines classic gameplay features with modern 3D graphics
192 paylines for a higher chance of winning
Black knight symbol acts as a Wild and a 10x multiplier
Free spins bonus feature that can award up to 25 free spins
What we don't like
Limited number of bonus features
May not appeal to players who prefer non-medieval themes