Joker's Luck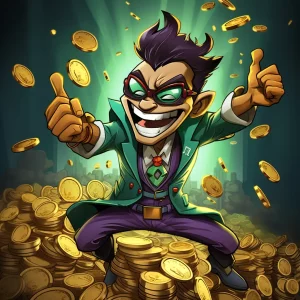 Ready for a jester-sized challenge? Look no further than Joker's Luck to test your luck and wit. This fruit machine game provides a single payline in hopes to climb the game's three towers by landing winning combinations. If you're up to the tower-climbing challenge, each tower offers bigger and better rewards. But don't get too greedy! Players have the option to withdraw their wins or continue climbing for even higher rewards. Being a high volatility slot game, this game isn't for the faint-hearted, but with a jaw-dropping RTP of 97.61%, Joker's Luck is worth a few spins.
Volatility and Risk
If you're feeling lucky, Joker's Luck might be the game for you! This slot game is rated 5 out of 5 for volatility – which basically means it's a bit of a wild ride. You might not win big right away, but if you stick with it, you could end up laughing all the way to the bank (like a real joker). Of course, with high risk comes high reward, so players should be prepared for long periods of play without significant wins.
However, don't despair just yet! Joker's Luck does have a pretty impressive RTP (that's Return to Player, for those of us who aren't slot game experts) of 97.61%. That means you've got a better chance of being profitable overall – assuming you don't blow all your winnings on avocado toast or something equally foolish.
Get Ready to be Blown Away with Graphics and User Interface
Hold on tight and get ready to be dazzled by Skywind's latest creation – Joker's Luck. With high-definition graphics that shine brighter than any crown jewels, you'll feel like royalty spinning these reels. The golden symbols pop against a backdrop of mesmerizing black, making it easy to see potential winnings. Plus, with towers that soar above the reels, it's impossible to miss the grandeur of your potential profits.
The user interface of Joker's Luck is as easy as pie – even easier actually. Adjusting the bet level and number of autospins is a breeze, meaning you can spend more time living the high life and less time worrying about how to play.
Return to Player Rate (RTP)
If you're feeling lucky, Joker's Luck might just have the high RTP to make you a winner! With a rate of 97.61%, this game is a top contender for the biggest return in the casino industry. Basically, for every $100 wagered, you'll be cashing in on an average of $97.61. That's almost enough to buy a round of drinks for you and your fellow players. All you gotta do is be patient and disciplined. Even the Joker himself couldn't resist giving it a spin.
Win big and watch out for the joker!
In Joker's Luck, players can win big by climbing up one of the three symbol towers with each winning combination. It's like playing a game of Jenga with money! And let's be honest, who doesn't love that thrill of trying not to topple the tower? The game offers an unlimited theoretical maximum win, so you could end up richer than Batman!
But hold on tight to your winnings, because that red joker symbol is no laughing matter. It can cause the towers to collapse and crush your hopes and dreams like Batman's parents. So, pay attention and don't let your guard down, unless you want your winnings to disappear like the Bat-Signal when you don't need it.
Players can choose to withdraw their prizes or keep playing to climb higher and win even bigger. With a max prize of 500x the bet, you could end up with more cash than the Joker ever stole from Gotham City! So, try your luck and spin those reels, but watch out for that jester!
Comparing Joker's Luck to Other Slot Games
Let's talk about some of the other slot games out there that are somewhat similar to Joker's Luck. For starters, there's Chronos Joker from those wild folks over at Play'N Go. While both games have a similar level of high risk and volatility, Chronos Joker's RTP isn't as impressive, clocking in at 94.57%. Plus, it's chock-full of time-travel adventures and whatnot, making it a little more complex than Joker's Luck.
Now, if you're after a simpler, classic fruit machine experience, then Joker's Luck is the way to go. Sure, it might not have the same flashy graphics as some of the other games on the market, but sometimes you don't need all that pomp and circumstance. You're here to win big, and Joker's Luck gives you plenty of opportunities to do just that.
Meet the Bright Minds behind Joker's Luck!
If you've been playing casino games for a while, then you've most likely heard of Skywind. These guys have been in the online gaming industry for a while, creating some of the most entertaining and quirky slots games out there.
Just like Joker's Luck! Created by these leading software innovators, Joker's Luck packs a punch with its fun graphics, engaging gameplay, and the chance to score big. Skywind is known for optimizing their games for all platforms, so you can spin those reels whether you're on your desktop or lounging about in bed playing on your phone.
Heck, Skywind has even won plenty of awards for their products, so it's no surprise that Joker's Luck is such a brilliant game! Most notably, Skywind took home Best Gaming Innovation at the 2018 SBC Awards, proving that they truly are ahead of the pack.
FAQ
How many paylines does Joker's Luck slot have?
Joker's Luck has a single payline.
What is the aim of Joker's Luck slot?
The aim is to climb the cash tower by landing winning combos and collect prizes or try to climb higher up the tower.
What is the RTP of Joker's Luck slot?
The RTP of Joker's Luck is 97.61%, which is higher than the industry average.
What is the maximum bet amount one can make in Joker's Luck slot?
One can make a maximum bet of 300 Dollars per spin in Joker's Luck slot.
What is the highest individual prize one can win in Joker's Luck slot?
The highest individual prize one can win in Joker's Luck slot is 500x the bet, which is won by filling all 3 towers.
How many symbols does Joker's Luck slot have?
Joker's Luck slot has three standard symbols: horseshoe, star, and bell.
What should one keep in mind while using autospin in Joker's Luck slot?
One should be a little careful while using autospin in Joker's Luck slot because of the Joker's Luck collection element.
What is the volatility of Joker's Luck slot?
The volatility of Joker's Luck slot is always 5 out of 5, which makes it a highly volatile slot.
What we like
High RTP of 97.61%
Impressive high-definition graphics
Straightforward game interface
Opportunity for big wins with progressive prizes
What we don't like
Very high volatility
Risk of losing all accumulated prizes with red joker symbol