Jaguar Gold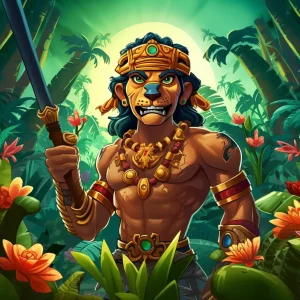 Get ready to pounce on Jaguar Gold by Skywind Group – a jungle-themed slot game with graphics so mesmerizing, they'll make you feel like Tarzan swinging on vines. Not only does this game boast stunning visuals, but it also has special functions linked to Wild and Scatter symbols.
And that's not all, ladies and gentlemen. We've got free spins and the Diamond Bonus up for grabs. The Jumbo Links Bonus can be triggered when six or more Bonus symbols are in play – which is wild, I tell you.
But what really makes this game worth your while are the multipliers – ranging from 3x to a whopping 5x! With those kind of odds, you'll be raking in more dough than a baker on a Sunday morning. So go ahead, give Jaguar Gold a spin and see if fortune truly favors the brave.
Winning Potential and Luck
Looking to hit it big with Jaguar Gold? Well, you may have to be a bit patient. The base game offers moderate payouts, but you'll need to hold out for multipliers to really rake in the dough. Think of it like waiting for your Amazon package to arrive. You know it's coming, you just have to be patient. But, let's face it, patience isn't really a virtue for most of us.
On the bright side, once those multipliers do kick in, you'll be feeling like a king of the jungle. And with a 96% RTP, you have a pretty good shot at making it there. That's higher than most online slots, so you're already ahead of the pack.
Impressive Graphics and a Wild Theme
If you're a fan of lush, tropical jungles, exotic animals, and shiny diamonds, you'll love Jaguar Gold. The visuals are so crisp and detailed, it feels like you're on a real-life safari – minus the heat stroke and mosquito bites.
What really stands out are the symbols on the reels. Get ready to encounter an orangutan catching some rays, a frog taking a dip, a toucan flaunting its impressive beak, and of course, the king of the jungle himself, jaguar. With each spin, the excitement intensifies as you wonder what exotic creature might appear next.
The jungle adventure theme is executed flawlessly, making it one of the most thrilling slot games out there. You may not dodge any snakes or swinging vines in real life, but with Jaguar Gold, you're just a spin away from an unforgettable adventure.
Suitability for Different Players
Jaguar Gold is perfect for both seasoned and novice players. Even if you're as clueless as a sloth in a tree, you'll quickly get the hang of it. It runs smoothly on both desktop and mobile devices, so you can play no matter where you are. In fact, you could play while walking through the Amazon jungle…just watch out for the real jaguars.
Get to Know the Brains Behind Jaguar Gold: Skywind Group
Looking for an online slot game that's both well-constructed and visually stunning? Look no further than Jaguar Gold by Skywind Group! These developers are known for creating some of the most popular slot games out there, and Jaguar Gold is no exception.
But let's focus on what really sets Jaguar Gold apart from the rest. The game's graphics are top-notch, taking you on a virtual safari through the jungle. And as for technical details? Skywind Group has got you covered. Game glitches aren't a concern, and you'll find that gameplay is seamless and easy to navigate.
In short, Skywind Group has really outdone themselves with Jaguar Gold. Give it a try and see for yourself – we guarantee a roaring good time!
FAQ
What is Jaguar Gold?
Jaguar Gold is an online slot game that takes players on a jungle adventure filled with wild animals. It's produced by Skywind Group and features special functions linked to Wild and Scatter symbols, accompanied by free spins and the Diamond Bonus.
What are the game symbols in Jaguar Gold?
The game symbols in Jaguar Gold include the Scatter symbol, which represents the jungle, a series of bright diamonds with different values, a frog, an orangutan, a toucan, and of course, the jaguar.
What is the Diamond Bonus in Jaguar Gold?
If six or more diamond symbols appear during the base game, the Jumbo Links Bonus can activate. During this function of the slot, the symbols will be locked on the grid while other cells rotate to make space for new icons, and you will receive three free spins.
What are the prizes for the Diamond Bonus in Jaguar Gold?
During the Diamond Bonus in Jaguar Gold, the symbols can attribute a prize with three different values: the Mini prize, the Major prize, and the Mega Bonus, which respectively have a value of up to 30x, 100x, and 1000x.
What is the Scatter symbol in Jaguar Gold?
The Scatter symbol in Jaguar Gold appears on the 1st, 3rd, and 5th reels, and is used to trigger the free game.
What is the jaguar symbol in Jaguar Gold?
The jaguar symbol in Jaguar Gold has absolute power over the other icons and replaces them to increase the chance of creating winning combinations. It can also attribute a multiplier ranging from 3x to 5x to boost your credit.
What is the RTP of Jaguar Gold?
The online slot Jaguar Gold has an RTP set at a value of 96%, which is perfectly in line with the average level of the sector.
Who is Jaguar Gold suitable for?
Jaguar Gold is a game that perfectly suits the gameplay style of experienced players but also has the ideal features to attract the attention of those who have less experience with online gambling.
What we like
Stunning graphics and engaging gameplay
Special functions linked to Wild and Scatter symbols
Free spins and Diamond Bonus add excitement
Jumbo Links Bonus and multipliers for big wins
What we don't like
Small winnings in the base game
Requires patience to achieve big wins