I Pirati del Bounty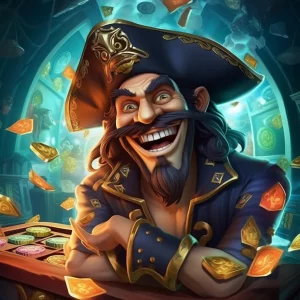 Get ready to set sail and discover the unique gameplay mechanics of 'I Pirati del Bounty'! This slot game offers a 5×3 game grid filled with 15 symbols that include up to three different Wild symbols. Watch out for those Wilds, they can replace any other symbol on the screen!
Not all Wilds are created equal though. There are three different types of Wilds. The Joker is your standard Wild, replacing the symbol it lands on. The Joker X2 is double the fun, doubling the winnings obtained if it lands on a payline. But, if you are looking for real booty, keep an eye out for the expanding Wild – it transforms into three stacked Jokers and can really boost your win!
The Scatter symbol also makes an appearance. Land enough of these and receive free spins… up to 20 of them to be precise. This gives players plenty of chances to score some serious treasure!
Shiver Me Timbers, It's 'I Pirati del Bounty' Theme and Graphics
Ahoy there, matey! 'I Pirati del Bounty' by Capecod will have you feeling like a plundering pirate in no time. However, when it comes to the visuals, they don't exactly make us want to walk the plank with excitement. The symbols on the reels look like they've been picked up from different plundered places; some in 3D, while others look like pictures taken from a wooden camera. And let's not even mention those not-so-appealing pirate and skeleton character designs at the sides of the screen. The music though, it's a proper sea shanty that you'll be humming for hours after playing. But be warned, every spin is accompanied by the sound of a cannon firing! Not enough? How about an annoying percussion hit after every reel stops that will make you want to make your own Jolly Roger and sail away!
Yet More Booty: Bonus Features
Arr matey! Set sail with the 'I Pirati del Bounty' and discover the treasures hidden within. Besides the bootyful Wild symbols that can boost your booty, this game also has a Scatter symbol that can shower you with free spins ranging from 5 to 20. You can activate this treasure trove by landing three or more Scatter symbols on the reels in one go. And unlike Blackbeard's crew, these free spins won't ask for a cut!
Jackpot And Payouts
Okay, so we did some digging and didn't find any specific information on the jackpot or payouts for 'I Pirati del Bounty'. But hey, let's be real, winning at slots is like finding a needle in a haystack – you never know when or where it's gonna happen!
That said, like all other slot games, payouts are determined by the symbols on the payline. So, always remember to keep a close eye on that RTP percentage, because it can make all the difference in the long run. After all, you don't want to be the pirate who walks the plank with an empty pocket, do you?
Overall Experience
Avast ye mateys! 'I Pirati del Bounty' may not be the prettiest lass in the harbor, but don't let that deter you. This slot game offers gameplay that's as unique as a pirate's vocabulary.
The Wild symbols in this game are more plentiful than doubloons on a treasure hunt, and they'll have you shouting 'ahoy!' in no time. Plus, the Scatter symbol offers so many free spins it'll make your parrot squawk with excitement.
While this game may not be for landlubbers who only like shiny graphics, if you're looking for a fresh take on the pirate-themed slot genre, 'I Pirati del Bounty' is worth hoisting your colors for.
FAQ
What is I Pirati del Bounty?
I Pirati del Bounty is a pirate-themed online slot game developed by Capecod.
What are the technical aspects of the game?
The game has a 5×3 game grid and contains up to three different Wild symbols. The Scatter symbol can grant a variable number of free spins.
What is a Wild symbol?
A Wild symbol is a symbol that acts as a Joker and can replace all the others during the game.
What are the functions of the three Wild symbols?
The Joker simply replaces the symbol on which it is located, the Joker X2 doubles the winnings obtained on the line, and the Wild expands throughout the reel and transforms into three Joker symbols stacked on top of each other.
What is unique about the gameplay of I Pirati del Bounty?
The game contains up to three different Wild symbols, which is a unique aspect compared to other online slot games.
What is the RTP of I Pirati del Bounty?
The RTP of I Pirati del Bounty is not mentioned in the review.
What are some similar online slot games to I Pirati del Bounty?
Some similar titles worth exploring are "Treasure Island" by Quickspin and "Blackbeard's Gold" by Amaya.
Does the game have exceptional sound and graphics?
No, the game does not have exceptional sound and graphics, but the gameplay makes up for it.
What we like
Unique gameplay mechanics with different types of Wild symbols
Variable number of free spins awarded by the Scatter symbol
Exciting bonus features that increase chances of winning
Fresh take on the pirate-themed slot genre
What we don't like
Visual and graphic design is not exceptional
Cacophonous sound design with noisy reel stops