Great Book of Magic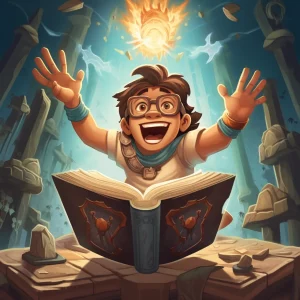 Are you ready to get lost in the spellbinding world of Great Book of Magic? One of the best parts of this game is the magic book symbol, which does double duty as both a wild and a scatter. This book is no ordinary page-turner! It's practically a magician: disappearing and reappearing at will.
You don't need any sleight of hand to win big with the magic book, though. If you snag three or more of these elusive symbols, prepare to be rewarded with ten free spins. And during those rounds, the book transforms into an expanding symbol, magically boosting your chances of a payout. Who needs a magic wand when you have a magic book on your side?
But don't take our word for it; there's no better way to experience the enchantment than to give Great Book of Magic a whirl yourself. And if you're looking to amp up the excitement even more, try playing in the dark. After all, isn't reading by candlelight the best way to get lost in a book?
Experience a Magical Free Spins Bonus with Expanding Symbols
Are you ready to uncover the mysteries of the Great Book of Magic? Look no further as this casino slot game will take you on an enchanting journey filled with exciting features and bonuses. One of the highlights of this game is the free spins bonus round that offers a chance to increase your winnings.
To trigger this magical bonus, all you need to do is land three or more scatter symbols, and you'll be rewarded with ten free spins. What's interesting is that a random bonus symbol is chosen to expand and cover the entire reel before the start of the free spins. This increases the likelihood of winning combinations and makes the game even more exciting.
But that's not all! The free spins bonus round can be re-triggered during the bonus round, so keep your eyes peeled for those valuable scatter symbols.
Overall, the Great Book of Magic's free spins bonus round is a great addition to an already thrilling game. It's not every day that you get the chance to explore an ancient book filled with magical symbols and hidden treasures. So go ahead, give it a spin and see if magic will be on your side today!
Great Book of Magic: Colorful Graphics and Simple Animations
Great Book of Magic is a perfect online slot game for the fans of dark and mysterious designs. It offers a unique experience with colorful graphics and simple animations. As you spin the reels, you will enjoy the game's themes of enchantment and mystery, which are brought to life by the game's cast of characters, including dragons, owls, and even snakes.
The game is a great way to escape the mundane and step into a world of magic, but be warned; you might get lost in the game's mystical realm. Just make sure you don't get too lost or you might have to cast your own magic spell to return to reality.
One of the things that makes this game stand out is its fantastic symbols. To add to the mysterious feel of the game, you'll come across classic card suit symbols. However, there are also enchanted objects like serpents and owls that keep the game interesting. The graphics are sharp and the animations are simple, yet effective in delivering the game's gothic atmosphere.
If you're looking for a game that's not only entertaining but will also play a few tricks on your senses, Great Book of Magic is the game for you. With its dark graphics and creepy animations, it's definitely not a game for the faint-hearted. But if you're a fan of the darkness and magic, this game will have you spellbound.
In conclusion, Great Book of Magic is a visually impressive and entertaining online slot game. It's perfect for anyone that loves a bit of mystery and enchantment, and who doesn't mind a few spooks along the way. Just be careful not to get too lost in the game's dark corners, or you might never find your way back to reality!
Range of Symbols Including Classic and Enchanted Objects
Great Book of Magic is a slot game that will leave you feeling like a magician pulling a rabbit out of a hat. With a range of symbols from classic card suits to enchanted objects like serpents, owls, and magic books, you'll be transported to a world where anything is possible.
The symbol of the magic book is the key to unlocking the game's most magical moments. As both the wild and the scatter symbol, this symbol appears when you least expect it, just like a magician's sleight of hand.
You never know what you're going to get with Great Book of Magic, but one thing is for sure: you'll never be bored. With its colorful graphics, exciting sound effects, and the chance to win big, you'll feel like you're in the middle of a magic show where anything can happen.
So, sit back, grab your wand, and get ready for an adventure you'll never forget with Great Book of Magic.
Unleash Your Inner Gambler with A Wide Range of Betting Options
Great Book of Magic by Wazdan is a casino slot game with a wide range of betting options, making it suitable for players of all levels and budgets. The game controls are well-designed, intuitive, and easy to use, even for novices.
But don't let the simplicity of the controls fool you. With the unique gamble feature, you can double your winnings up to seven times! The gamble feature adds an element of risk that can be quite addictive. It's a fun way to unleash your inner gambler without having to leave the comfort of your own home.
Whether you're a seasoned slot player or a casual gambler looking to try your hand at something new, Great Book of Magic by Wazdan is definitely worth a spin. Just remember to play responsibly and set a budget before you start gambling.
After all, winning is great, but the real joy of slot games is in the thrill of the spin. So why not give Great Book of Magic a try and see if it's your lucky day? Who knows, you may hit the jackpot with just one spin!
Sequel Game with Higher RTP Percentages
If you're a fan of the original Great Book of Magic, you're going to love the improved and updated sequel – Great Book of Magic Deluxe. Produced by the same wizards over at Wazdan, this game offers even higher RTP percentages, which means you'll have even more chances to hit the jackpot.
Despite the updated graphics and additional features, the game still retains its original charm. The symbols follow the same magical theme, with the Book being the highest-paying symbol. And what's better than winning big while immersing yourself in a mystical world?
Some players might argue that sequels rarely live up to the hype of the original, but that's certainly not true in this case. Playing Great Book of Magic Deluxe feels like being transported to a magical world which will keep you entertained and hopefully, lead to some big wins.
So whether you're an experienced player or just starting out, Great Book of Magic Deluxe is definitely worth checking out. Who knows? It just might be your lucky book!
FAQ
What is Great Book of Magic?
Great Book of Magic is a 5-reel, 20-payline online slot game with a magical theme and special features. It is produced by Wazdan.
What symbols are featured in Great Book of Magic?
The symbols include 9, 10, J, Q, K, as well as serpents, owls, castles, magicians, and magic books.
What does the magic book symbol do?
The magic book symbol serves as the scatter bonus that rewards you with 10 free spins when it appears three times and also acts as the wild symbol, replacing all other symbols to achieve a winning combination.
What is the gamble feature in Great Book of Magic?
The gamble feature in Great Book of Magic gives you the chance to double your winnings up to seven times.
What is the innovative special feature in Great Book of Magic?
A random Bonus Symbol is chosen before the start of the bonus spins which expands to fill the whole reel and pays in any position on the active bet lines during the free spins.
Are there other similar slot machines to Great Book of Magic?
Yes, Wazdan has released Great Book of Magic Deluxe, which is an updated and improved sequel with higher RTP percentages.
Who is the target audience for Great Book of Magic?
Anyone who enjoys a magical fantasy slot game with special features and simple animations would enjoy playing Great Book of Magic.
What is the betting range for Great Book of Magic?
Wazdan has provided an excellent betting system that allows players of every level and budget to make a bet that fits their budget.
What we like
Magic book serves as both scatter and wild symbol
Free spins bonus with expanding symbols
Colorful graphics and simple animations
Wide range of betting options
What we don't like