Goldfish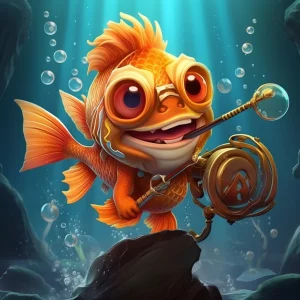 Goldfish online slot game by WMS is making waves in the online casino world, and for good reason. With its fishy theme, cute domestic fish symbols and many bonus features that can net players some serious prizes, Goldfish has become a favorite among slot enthusiasts.
The game has 5 reels and 25 paylines, giving players plenty of opportunities to hit it big. That's not all, as the game also features a Golden Fish symbol acting as the Wild card, giving players the chance to catch even more winning combinations. And let's face it, what slot doesn't benefit from a bit of cute animal charm?!
Find three Scattered Food symbols and players will be transported to the Fish Food bonus mode. Here, players can select a fish food can to reveal prizes and win big. It's definitely worth the wait and adds a welcome extra dimension to the game.
In addition, Goldfish Slot Game offers many special features, like Super Bet and Big Bet, that allow players to increase their chances even more. These features are based on the fish that appear on the game board, so players are encouraged to really get to know their aquatic companions and spot those winning combinations before they disappear like a fish in water!
So what are you waiting for? Dive into the deep end and give Goldfish online slot game a spin. You'll be hooked in no time!
Exploring the Fun Features of Goldfish Slot Game
The lively and colorful Goldfish slot game is known for its exciting features that keep the players engaged. As you spin the reels, different fish symbols pop up, and each of them comes with a unique bonus feature. Let's dive in and explore.
First up, the Golden fish symbol is the star of the show. Get three or more of these on the reels, and you can avail up to 20 free spins with a multiplier of 10x. That's like catching a big fish on the line, and your winnings can soar sky-high!
The purple fish symbols are like trouble-making fish, but in a good way. They appear on the screen and release bubbles with numbers in them. These numbers act as multipliers and increase your winnings. Keep an eye out for them!
The red fish symbols exude a sense of mystery and intrigue. They give you a choice between three objects – shell, treasure chest, and castle. Pick one, and it will reveal the value it holds, which can boost your balance in no time. It's like walking on a treasure hunt but without the danger of running into pirates or snakes!
The green fish symbols are like a breath of fresh air. They come with bubbles floating on the screen, and you get to pick one. Inside these bubbles, there are cash prizes waiting to be unlocked. So, choose wisely, and you could end up with a big catch!
Last but not least, the blue fish symbol might seem like an average fish, but it can trigger a fantastic bonus feature. If you land three or more of them on the screen, you can win free spins with the symbols becoming scatters. You never know what the scatters can bring, but they could boost your balance and make it rain coins!
As you play, you'll find that payouts in Goldfish slot game are frequent and can leave you feeling like you're on top of the world – or rather, on top of the aquarium. The game is packed with excitement and anticipation, and you'll find yourself hooked in no time.
Graphics and Sound Effects
The Goldfish slot game may not have the most advanced graphics out there, but what it lacks in sophistication, it makes up for in sheer charm. The game's designers have gone for a bright, colorful look which, combined with the adorable fish symbols, gives the game a cheerful, upbeat atmosphere. It's like a trip to the aquarium, but with less water splashing on your shoes.
As for the sound effects, they're not too shabby either. The music that plays throughout the game is pleasant and unobtrusive, and the sound effects that accompany each spin are satisfyingly slot-machine-y. And if you're not in the mood for the sounds of the game, you can always hit the mute button and play in silence.
All in all, the graphics and sound effects work together to create an experience that's both engaging and enjoyable. It's not the kind of game that will leave you feeling like you've just witnessed a cinematic masterpiece, but it's definitely the kind of game that will leave you with a smile on your face… unless of course, you're allergic to fish. In that case, well, maybe try a different game.
Return to Player Rate
Let me tell you, the Return to Player (RTP) in the Goldfish slot game is better than my return rate on dating apps. With an RTP of 96%, players have a good chance of swimming away with some major winnings. And let's be honest, who doesn't love to win some cash while playing with goldfish?
Compared to other slot games, the 96% RTP of Goldfish is definitely something to rave about. It's like getting a free bag of fish food with every win – except it's cold hard cash. So why settle for a boring slot game with a below-average RTP when you can dive into Goldfish where the odds are in your favor?
Bets on Bets on Bets: Betting Options in Goldfish Slot Game!
Listen, we all know that betting is a huge part of slots. They're like peanut butter and jelly. You can't have one without the other. But what's great about Goldfish is that there's a betting option for everyone.
Whether you're a baller or a budget-bet queen, you can place bets with a minimum limit of $0.35 up to a maximum of $105 per spin. And trust me, with this game, you'll want to maximize your profits.
The game's playability is smoother than a baby's bottom. With fast-paced and exciting gameplay, this game provides an excellent gaming experience for players of all levels. The only thing faster than the gameplay in this game is how quickly it'll drain your wallet. But hey, that's just how we like it.
FAQ
What is the Goldfish slot game about?
The Goldfish slot game features adorable domestic fish that alternate on the reels, ready to fill this virtual aquarium. The game has basic graphics but is still attractive.
What are the special symbols in the game?
The special symbols in the game are Wild, Scatter and fish symbols including the golden fish, purple fish, red fish, green fish, and blue fish.
What happens when the player finds 3 Scatter symbols?
When the player finds 3 Scatter symbols, they can enter the Fish Food bonus mode where they can win prizes.
What is the maximum payout multiplier in the game?
The maximum payout multiplier in the game is x10, which can be obtained with the golden fish symbol.
What is the minimum and maximum bet limit for the game?
The minimum bet limit for the game is $0.35, and the maximum bet limit is $105 per spin.
What is the return to player (RTP) rate of the game?
The return to player (RTP) rate is 96%, which is the average level of the industry.
Is the Goldfish slot game suitable for beginners?
Yes, the game is suitable for beginners. It can pleasantly strike experienced players and is one of those products that attract and intrigue newcomers.
Are payouts frequent in the game?
Yes, payouts are quite frequent in the game, and in the different reel spins, players will always experience a good dose of excitement and anticipation.
What we like
Various special features based on the fish that appear on the game board
Frequent payouts and a good dose of excitement and anticipation
Attractive graphics with vivid colors and a cute theme
Positive RTP of 96%, offering fair chances of winning
What we don't like
Basic graphics may not appeal to everyone
Limited bet amounts may not accommodate high rollers