Giant's Gold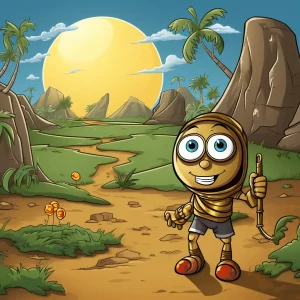 Giant's Gold is not your typical online slot game. With its dual game screens, it offers players a unique and exciting gaming experience. The first game screen features five reels and four horizontal pay-lines, giving players twenty symbols to choose from on each spin. The second screen, the colossal grid, is even more unique, with its five reels and twelve horizontal pay-lines, resulting in a whopping sixty symbols per spin!
Watch out for the magic bean plant, it's not just a fable. This special symbol replaces any other symbol on the reels, upping your chances for a winning combination. And if you happen to come across the golden egg symbol, prepare for some egg-citing surprises! The golden egg triggers the free spins function, where you could unlock an egg-stra high number of free spins. Be sure to keep an eye out for the goose that laid the golden egg!
Overall, Giant's Gold is a quirky and fun online slot game that you won't want to miss. It's got everything you could ask for – multiple game screens, unique pay-line options, and fun special symbols. Just be careful you don't get squashed by any giant footsteps along the way!
Graphics and Sound Design
Prepare to be visually impressed with the stunning graphics presented in Giant's Gold. Although the symbols may lack intricate details, they follow the storyline of the magical beanstalk and add to the overall atmosphere of the game. The cow, plant, and giant left us feeling like we were in a land far, far away.
Moreover, the audio quality is outstanding. It's not just the sound effects of the spinning reels that will leave you in awe, but the eerie and mystical background music that accompanies them. It'll make you feel like you've been transported to a mystical realm filled with enchanted creatures.
The sound design of Giant's Gold is one of its standout features. The clucking of chickens, the mooing of cows, and the chirping of birds are just a few of the sounds that add to the overall immersive experience of this game. Get ready to feel like you're one of the animals on the farm!
Special Symbols and Features
Are you ready to climb the beanstalk and try your luck at Giant's Gold online slot game? This game features some special symbols that can help you collect some serious winnings. One such symbol is the magic bean plant, which is a Wild symbol capable of replacing any other symbol in the game. So, if you're one symbol short of a winning combination, this plant might just have your back!
This game features a golden egg that unlocks the free spins function. And with the number of reels where these eggs can be found, you are quite likely to access the free spins function multiple times within the game. And with each activation of the free spins function, you get the chance to win some serious prizes!
During the free spins mode, all winnings obtained in the colossal grid get a multiplier that is equal to twice their value. That's right, you can double your winnings – what a great opportunity to beef up your bankroll!
Overall, we think that the special symbols and features in Giant's Gold game are not to be missed. With a little bit of luck and some strategic betting, you could be climbing your way up the beanstalk to the jackpot in no time. So why not give this game a try and see what you can achieve?
Target Audience
Giant's Gold is like a good novel, recommended for everyone, young and old, newbies and veteran slot players alike. Whether you're a hard-core gambler or just playing for fun, this game is worth your time and investment.
However, be warned, the gameplay is unique and may require some time to get the hang of. But don't sweat it. It's not like trying to figure out how to put together an IKEA bookshelf without the instructions (and let's be honest, who reads instructions anyway?)
If you're still a little confused, think of it this way: Giant's Gold is like meeting your in-laws for the first time. It might be a little overwhelming at first, but once you get to know them, it's all smooth sailing from there.
So, give Giant's Gold a chance and get ready to strike gold with the game's amazing graphics, engaging animations, and incredible bonus features. Who knows, maybe it'll become your new favorite slot game.
Similar Games
Looking for games that can rival Giant's Gold is no easy task. With its unique gameplay and endless possibilities, it's a hard act to follow. However, if you're looking for a game that comes close to the same level of excitement, we'd recommend checking out Fire Queen, also from WMS. Just like Giant's Gold, Fire Queen offers a range of features that will keep you on your toes throughout the game!
If you're looking for something with a similar theme to Giant's Gold, we recommend trying Lucky Beans from IGT and Enchanted Beans from Amaya. These games follow the story of Jack and the Beanstalk in their own unique way, just like Giant's Gold.
Overall, while there may be games out there that can offer similar features or themes, nothing quite compares to Giant's Gold and all the fun that comes with it. So why not give it a spin and see for yourself what all the fuss is about?
FAQ
What is Giant's Gold?
Giant's Gold is an online slot game created by WMS Gaming that features two grids and unique gameplay mechanics.
What are the graphics like in Giant's Gold?
The graphics feature symbols related to the story of the magic beans and are not super detailed, but the sound is very realistic and immerses the player in the countryside setting.
What are the gameplay mechanics of Giant's Gold?
The game has two grids: a normal one with five reels and four horizontal lines, and a colossal one with five reels and twelve horizontal lines. There are special symbols such as the magic bean plant and golden eggs, which allow access to the free spins function with a multiplier on the winnings obtained in the colossal grid.
Who is Giant's Gold recommended for?
Giant's Gold is recommended for both beginners and experienced slot players who want a unique gameplay experience.
What other games are similar to Giant's Gold?
Other similar games in terms of theme include Lucky Beans by IGT and Enchanted Beans by Amaya. From a technical standpoint, Fire Queen by WMS is a good recommendation.
What is the Magic Bean plant symbol?
The Magic Bean plant symbol is a Wild symbol that can replace any other symbol within the game.
What is the Golden Egg symbol?
The Golden Egg symbol allows access to the free spins function with a multiplier on the winnings obtained in the colossal grid.
What makes Giant's Gold unique?
Giant's Gold is unique due to its two grid system and special gameplay mechanics, which provide a fresh and immersive gaming experience.
What we like
Unique gameplay mechanics with two game screens
High-quality graphics and sound design
Special symbols such as Wilds and free spins
Recommended for both beginners and veterans
What we don't like
May take some time to acclimate to gameplay mechanics
Difficult to find similar games due to uniqueness