Forbidden Dragon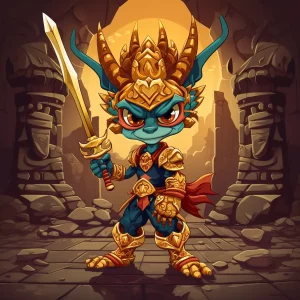 Prepare to be whisked away to the enchanting world of traditional China with Forbidden Dragon! In this slot game, you'll come across various Chinese symbols on its paytable, including the iconic royal card suits and of course, ferocious dragons! We all know dragons are one of the most fascinating mythical creatures around, and in Forbidden Dragon, they bring you the opportunity for massive payouts!
The Dragon King and Green Dragon are undoubtedly the stars of this game, and they are worth keeping an eye on! They are the highest paying symbols in this game, with payouts going as high as 5x and 4x, respectively. But don't fret, even if you don't land on them, any win in this game is accompanied by a multiplier, ensuring that all your winnings are impressive!
Let's not forget about the thrill of the chase. The excitement of staring at the reels, wondering what symbols will align and trigger a winning spin. It's an adrenaline rush like no other! Who needs bungee jumping when you have the Forbidden Dragon Slot game!
It's safe to say that Forbidden Dragon is one of the most captivating slot games you'll come across, with massive winning potential and awe-inspiring graphics. So buckle up and get ready for an adventure like no other. Play Forbidden Dragon now and experience the thrill yourself!
Bonus Bonanza: Explore Forbidden Dragon's Wild and Scatter Symbols
If you're looking for an exciting online slot game with tons of bonus features and mesmerizing visuals, look no further than Forbidden Dragon. This game has quickly become a fan favorite thanks to its unique Colossal Reel set-up and a multitude of special symbols that enhance the gameplay experience.
At the heart of the action are the wild and scatter symbols. The Yin and Yang symbol serves as the wild, substituting for all other symbols except for the scatter. Meanwhile, the Dragon Head symbol acts as the scatter in this game.
One of the standout features of Forbidden Dragon is the Wild Transfer feature, which transfers four symbols from the smaller set of reels to the same position on the larger set. This creates numerous opportunities to win big and adds an extra layer of excitement to the game. Plus, if you manage to land three or more Dragon Head symbols on the reels, you'll trigger the free spins bonus round, which can be incredibly lucrative.
Of course, the real fun comes from watching as the symbols come to life on the reels. The dragon-themed graphics are immersive and engaging, and there are plenty of animations and sound effects to keep things interesting. But don't just take our word for it – give Forbidden Dragon a try for yourself and see why so many players can't get enough of this exciting online slot game!
Overall, Forbidden Dragon is a must-play for any fan of online gambling. With its wealth of bonus features and engaging gameplay, this game is sure to keep you entertained for hours on end. Plus, with the chance to win big on every spin, there's no telling what kind of treasure you'll uncover on your next journey to the Forbidden Dragon's lair.
Gameplay and Interface
So, let's talk about the gameplay and interface of Forbidden Dragon, shall we? First of all, the user interface is sleek and well-organized, making it easy for even the most technologically challenged among us to play with confidence. Of course, that doesn't mean you won't still manage to hit the wrong button at some point, but hey, we all have our moments.
One particularly nice feature of the game is the autoplay option. This comes in handy when you've got other important things to do, like feeding your pet dragon (what, you don't have one of those?) or brushing up on your dance moves for the next time you hit the club.
But enough about the interface – let's talk about the gameplay itself. The immersive cinematic soundtrack really pulls you in and makes you feel like you're living in a fantasy world where dragons roam free and winning combinations are just waiting to be discovered. And speaking of winning combinations, there are plenty to be had in this game thanks to not one, but two sets of reels.
That's right, you've got your standard 5×4 grid as well as the Colossal Reel with its impressive 5×12 layout. That means more chances to hit big and more ways to keep you on the edge of your seat as you spin those reels.
And don't worry about blowing your budget all at once – the game is playable from just $0.50 up to $100 per spin, so there's something here for every kind of player, from the cautious penny-pincher to the high-rolling dragon-tamer.
All in all, Forbidden Dragon has a gameplay and interface that are definitely worth checking out. Who knows, you may just find yourself with a little extra treasure in your pocket by the end of it all.
The Colossal Reel game engine
Prepare for some colossal fun with Forbidden Dragon! The game is built on the Colossal Reels game engine, which means more opportunities to win big. With a whopping 100 paylines, players can create countless winning combinations and rack in some serious dough.
Wins on the Colossal Reel set aren't just your average payouts. They're subject to an additional 25x multiplier, making this slot game a thrilling adventure for players who enjoy taking big risks for significant rewards. It's like playing a slot game and rolling the dice at the same time – exciting and possibly lucrative (if Lady Luck is on your side).
So, if you're ready to roll the reels and take your chances with the Colossal game engine, Forbidden Dragon is the perfect slot game for you. Just be warned – the dragons guarding the reels are quite fierce. But hey, nothing beats the feeling of slaying a dragon and winning some cash!
Description of the Chinese Theme
If you're on the hunt for a slot game that offers a unique cultural flavor, Forbidden Dragon has got you covered with its enchanting Chinese theme. The game boasts immaculate graphics, with the symbols including the majestic jade lion, Longmu the Dragon mother, the legendary Emperor Qin Shi Huang, the fiery Red and Green Dragons, and the Bearded Dragon. It's like a Chinese Mythology 101 course, only with the added thrill of placing bets!
The dragons represent power, strength, and good fortune in Chinese culture, so it's only fitting that they take center stage in this game. The Colossal Reel engine is also a fantastic feature that adds to the game's complexity and keeps you on your toes.
As you spin and play, you'll feel as if you're transported to another world, thanks to the game's golden screen that highlights the dragons on both sides of a sacred temple. It all comes together to create an unforgettable mystical and mythical feel that's sure to keep you entertained for hours on end.
In summary, if you're looking for a slot game that will take you on a thrilling ride while also teaching you a little bit about Chinese culture along the way, then Forbidden Dragon is definitely worth checking out!
Minimum and Maximum Bets
Are you a high-roller or a penny pincher? Well, no matter where you fall on that spectrum, Forbidden Dragon has you covered. With a minimum bet of $0.50 and a maximum bet of $100 per spin, you can choose to wager as much or as little as you want. Who knew dragons could be so accommodating?
Personally, I like to play it safe and stick to the lower end of the betting scale. But I have a friend who would mortgage her house if it meant winning big. I wish I could say she's won big before, but alas, she just likes to live on the edge.
But enough about my reckless friend. The point is, Forbidden Dragon allows for a wide range of betting options, so regardless of your budget, you can still enjoy the thrill of the game. Whether you're feeling lucky or just want to pass the time, this game has something for everyone.
Payout Ratio And Volatility
Are you looking for a high-risk, high-reward online slot game? Look no further than Forbidden Dragon! With a theoretical RTP of 95.91%, you have a great chance of taking home big winnings with each spin. But beware, this game is highly volatile, so you'll want to bring some nerves of steel and a big sense of adventure with you.
Think of it this way: playing Forbidden Dragon is kind of like facing off against a dragon in real life. Just like the fire-breathing beast, this game can be unpredictable and ferocious at times. But if you're brave enough to take on the challenge, you'll find that the rewards can be utterly spellbinding. Who knows, you might just get lucky and slay the beast, winning massive payouts in the process.
So, if you're ready to take on the dragon, we encourage you to give Forbidden Dragon a spin. With its fast-paced gameplay, breathtaking graphics and animating symbols, this slot game is sure to leave you breathless with anticipation at every turn. And remember, when you're facing off against a dragon, it's not about the size of the gold coin in your hand – it's about the size of the fight in your heart. And you've got plenty of fight, right?
My Hilarious Opinion about Forbidden Dragon
Forbidden Dragon is a fantastic game that can help you forget all your problems. I mean, who needs therapy when you can win big prizes? The Chinese theme is quite immersive and will make you feel like you are in the middle of a martial arts movie.
The game also has a Colossal Reel game engine, which is basically a fancy way of saying that it offers a ton of winning combinations. And since it's highly volatile, you can expect some mind-blowing payouts if you play your cards right (or in this case, your reels).
One thing that I particularly liked about the game is its user interface. It's user-friendly, and even beginners won't have a hard time figuring out what's going on. Plus, it looks sleek on all devices, so you can play it on your phone, tablet, laptop, or even on your gaming console if you're old-school like me.
Now, let's talk about the free spins bonus. It's not the easiest feature to trigger, but believe me when I say that it's worth the effort. The suspense leading up to the free spins is enough to make you feel like you're on a rollercoaster, and when you finally get there, you'll enjoy every minute of it. Just make sure you don't get too carried away and forget that you're playing a slot game, not an action-packed movie.
All things considered, Forbidden Dragon gets my seal of approval. It's a well-designed game that packs just the right amount of thrill and excitement. So, sharpen your swords (or in this case, your spinning skills) and get ready to take on the Forbidden Dragon!
FAQ
What are the symbols on the paytable of Forbidden Dragon?
In addition to the traditional playing card suits, there are symbols like Jade Lion, Red Dragon, Green Dragon, Emperor Qin Shi Huang, Longmu, and the Bearded Dragon.
What are the bonus features in Forbidden Dragon?
The game includes a Wild Transfer feature where four stacked Yin and Yang symbols will transfer to the larger reel set, creating numerous winning opportunities. There's also a free spins bonus with a 2x to 20x multiplier.
What is the maximum payout on Forbidden Dragon?
The game offers 2,500 times your line bet on every free spin through its features, making it highly lucrative.
What is the RTP of Forbidden Dragon?
The game has a 95.91% RTP. It is reasonable for this kind of slot game because it has high volatility.
What is the minimum and maximum bet amount for playing Forbidden Dragon?
The game is available to play from 50 cents to 100 Dollars per spin for all its 100 paylines.
Is Forbidden Dragon available to play for free?
Yes! It's available to play for free on Slotjava along with multiple other demo slots.
Does Forbidden Dragon include autoplay?
Yes! You can access autoplay options from the user interface, making it convenient to play the game.
What is the theme of Forbidden Dragon?
As per the name, this slot game is based on the Chinese theme with mythical and mystical dragons, jade, and other symbols of fortune.
What we like
Traditional Chinese symbols on the paytable
Bonus features include wild and scatter symbols
Clear and well-structured user interface
Built on the Colossal Reels game engine
What we don't like
Free spins bonus can be challenging to trigger
High volatility may not appeal to all players