Epic MONOPOLY II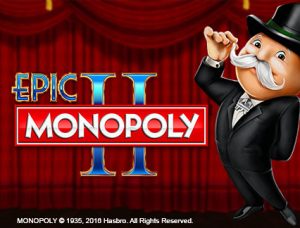 Epic MONOPOLY II is like playing the traditional board game, but with the chance to win actual money – without risking bankruptcy or a family feud. William Interactive (WMS) has done a great job of creating a game that still keeps the classic Monopoly feel, with the familiar Mr. Monopoly character hovering on the side of the reels.
But don't let the simplicity of the game trick you into thinking the gameplay is dull. The 100 paylines and five colossal reels give players the chance for some epic wins (hence the title). It's like rolling the dice and landing on Boardwalk every time.
Overall, the gameplay is easy to follow, making it perfect for novice players who just want to have some fun. But the exciting features, like the 'Epic Wheel Bonus', offer enough variety for seasoned players to stick around and press spin for hours on end.
Bonus Features
If you thought the classic board game was already too exciting, wait until you see Epic MONOPOLY II's bonus features! This game offers so many ways to win big, it's almost like they've spread Monopoly money all over the reels! You know, if that money was real, we would definitely prefer this game to the actual board game.
When you land three or more scatters, you'll activate the 'Epic Wheel' feature. If you're lucky enough, you'll get to roll the dice and move around the board! Every space on the board includes amazing prizes, like free spins, multipliers, and cash prizes. It's like going around the board in real life, but without all the family arguments and property taxes.
One of the best things about Epic MONOPOLY II's bonus features is that they keep the game engaging and entertaining. You won't be waiting for hours hoping to hit something – every spin could take you closer to a jackpot. And if that wasn't enough, using the bonuses effectively could exponentially increase your winnings! So, in summary, playing Epic MONOPOLY II is like enjoying a game of Monopoly with all of the thrill and none of the family drama. Plus, you could come out with actual money instead of just Monopoly money.
Betting Range
Get ready to roll the dice with Epic MONOPOLY II! With a minimum betting range of 50 cents up to a maximum of 50 $, players can tailor their bets to their personal taste and budget. Of course, the betting range means different things to different people. To some, it's a single afternoon's entertainment, while to others, it's the price of a beach vacation. Whatever your bankroll is, you'll find Epic MONOPOLY II is a game that can accommodate your wagering preferences.
One of the main perks of Epic MONOPOLY II is that it boasts one of the higher payout percentages in online slots games, putting it in the same league as other WMS slots. With the game's highest payout being 1,500 times the value of the player's bet, you could be feeling like a real monopoly mogul if you hit the jackpot. So, whether you're making your first tentative steps into the world of online slots games or you're a seasoned pro, you'll surely find something to love in Epic MONOPOLY II.
What's more, players can give the game a spin for free without registration or downloads, giving people the opportunity to perfect their strategies without wagering real money. It's a great way to get acquainted with the game and the fun and excitement it offers before investing in it. So, what are you waiting for? Let's jump into the fun world of Epic MONOPOLY II and hope for some lucky rolls of the dice!
Ease of Play
Are you tired of complicated games with complex instructions? Then you'll love Epic MONOPOLY II. This game is simple and easy to play, with a user-friendly interface that even beginners can navigate without any hassle. It's perfect for those who prefer to jump right into the action and don't want to waste time reading through lengthy instructions.
But just because Epic MONOPOLY II is easy to play, doesn't mean it lacks exciting features. The game offers plenty of tricks and surprises, keeping players engaged and entertained for hours on end. From the unique bonuses to the chance to win big, there's always something new and exciting to discover.
In fact, Epic MONOPOLY II strikes the perfect balance between ease of play and complexity, offering enough depth and challenge to keep seasoned players interested, while remaining accessible to those who are just starting out. So sit back, relax, and let the good times roll with Epic MONOPOLY II!
Payout Potential
Get ready to fill your money bags, folks, because Epic MONOPOLY II is here to offer the chance of a lifetime. With a maximum payout of 1,500 times your original wager, you can kiss your rent worries goodbye (no guarantees here, though!). That's higher than most slot games out there, so we recommend you give it a try.
This game is jam-packed with bonuses that can really boost your winnings. From the Epic Wheel Bonus to the Chance and Community Chest features, the possibilities are endless. Just be careful not to get too greedy and lose it all, otherwise just like the real game of monopoly your opponents may suddenly turn on you.
Now, we know what you're thinking – what's the catch? Well, we hate to burst your bubble, but the theoretical RTP is 96%, which is the industry average for WMS slots. But hey, it's better than nothing, right? Besides, with the exciting game play and potential for big wins, we think it's worth taking a shot.
FAQ
What is Epic MONOPOLY II?
Epic MONOPOLY II is an online slot machine developed by William Interactive (WMS) that is inspired by the classic board game.
How many paylines does Epic MONOPOLY II have?
Epic MONOPOLY II has 100 paylines and five traditional reels, as well as five additional 'Colossal' reels.
What is the betting range for Epic MONOPOLY II?
The betting range for Epic MONOPOLY II is between 50 cents and 50 $.
What is the highest payout in Epic MONOPOLY II?
The highest payout in Epic MONOPOLY II is 1,500 times the value of your bet.
What is the theoretical Return to Player (RTP) of Epic MONOPOLY II?
The theoretical Return to Player (RTP) of Epic MONOPOLY II is 96%.
What bonus games are available in Epic MONOPOLY II?
Epic MONOPOLY II offers a 'Wheel of Fortune' feature called the Epic Wheel, which includes mini-games such as dice rolls, free spins, multipliers, and cash prizes.
Is Epic MONOPOLY II free to play?
Yes, you can play Epic MONOPOLY II for fun without registration or downloads to perfect your strategy before investing real money.
Are there other Monopoly-themed slots available from WMS?
Yes, WMS has other Monopoly-themed slots in their catalog, such as Monopoly Mega Movers and Monopoly Once Around Deluxe.
What we like
Simple gameplay
Exciting bonus features
Wide betting range
Easy to navigate interface
What we don't like