Epic Ape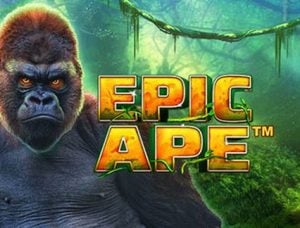 There's no monkeying around when it comes to the gameplay of Epic Ape!
This online slot game is unlike anything you've seen before, trust us! The game ditches the standard five-reel convention and ups the ante with six reels – one extra reel for an extra dose of excitement. With 4,096 betting lines, there's never a dull moment with Epic Ape.
Whether you're betting 0.25 cents or 250 Dollars, the creators of Epic Ape have made it easy for both cautious players and high rollers to enjoy the game. As far as the maximum win goes, it may seem modest at first glance: 300 times the bet. But let's think about this – the maximum bet is a whopping 250 Dollars. Crunching the numbers, the payout could reach a staggering 75,000 Dollars. Don't believe us? Let's see what the odds have in store for you.
Overall, the gameplay and structure of Epic Ape keep players on their toes and itching for more. We can confidently say that the game will provide hours of entertainment to even the most seasoned players out there. Who needs bananas when you have this kind of adrenaline rush?
Graphics and Sound Effects
If you're looking for a visually stunning and immersive slot game, then Epic Ape will not disappoint. The graphics are top-notch, with a level of detail that will make you think you're in a jungle with all the wild animals. It's so realistic that you'll feel like you need to swat away mosquitos.
Playtech has done an incredible job in creating an unforgettable experience with the soundtrack. It's perfect for setting the mood and keeping you on the edge of your seat. You'll hear everything from the chatter of monkeys in the trees to the roar of the mighty gorilla, making it impossible not to get caught up in the excitement.
Overall, the graphics and sound effects in Epic Ape are a true masterpiece and make it one of the most visually and audibly satisfying slot games out there. Just be sure to put your headphones on and get ready to be transported to the heart of the jungle!
Symbols and Payouts
Lions and tigers and bears, oh my! Well, maybe not the lions and tigers, but definitely the apes. The symbols on the reels in Epic Ape are a jungle-themed mix of fierce creatures, including a towering chimpanzee that will make your heart skip a beat.
But let's cut to the chase – we all want to know about the payouts. And let me tell you, they are nothing to monkey around with. The payouts for the animals are generous, with the king of the jungle, the chimp, offering a mighty 300 times the bet. That's bananas! And those lower-paying card symbols may not look like much, but they can still bring in some serious cash.
The game has a maximum payout of 75,000 Dollars if you hit the combination of the highest-paying symbols, wilds, and multipliers. And who doesn't want to go home with a little extra cheddar? Maybe just be careful how you spend it, or you might end up living in a jungle yourself.
Bonus Features
If you're looking for bonuses galore, then Epic Ape might just be the game for you. The free spins round is where it's at, and you can trigger it by landing three or more Scatter symbols. And let's be honest, who doesn't love a good Scatter symbol? I certainly do! If you're lucky enough to land five of these bad boys, you'll be in for a treat. 100 free spins, baby! That's enough to get any slot game enthusiast's heart racing.
Speaking of racing hearts, the Wild symbol can also increase the chances of some epic payouts during the free spins round. This symbol can really up the ante, awarding additional multipliers to make it rain riches. I mean, if I had a pet ape that could do that, I'd be living the high life in no time.
Now, this game may not have a dedicated bonus game, but trust me, the free spins round more than makes up for it. With the potential to win big and the added excitement of more spins being up for grabs, you'll be on the edge of your seat the whole time. And honestly, isn't that what we want from a slot game? To feel alive, to feel the rush, to feel like a true winner.
FAQ
What is the maximum payout in Epic Ape?
The maximum payout in the game is 300 times the bet, which can potentially reach up to 75,000 Dollars.
How many reels are in Epic Ape?
The game has 6 reels, rather than the traditional 5 in most slot games.
How many betting lines are there in Epic Ape?
There are a total of 4,096 betting lines in this game.
What is the betting range in Epic Ape?
The betting range is flexible and ideal for both low and high rollers, with bets ranging from 0.25 cents to 250 Dollars.
What type of symbols are on the reels?
The symbols on the reels are a mix of jungle animals, including a chimpanzee, as well as non-themed card symbols.
Does Epic Ape have a Wild symbol?
Yes, the game has a Wild symbol represented by a diamond, which acts as a substitute for all other symbols except the Scatter.
How many free spins can be won in Epic Ape?
By landing the word 'Free Games' across the reels, players can win up to 100 free spins.
What is the RTP of Epic Ape?
The RTP of the game is 95.96%, which is slightly below average but still offers exciting payouts and gameplay.
What we like
6 reels and 4,096 betting lines.
Exceptional graphics with high attention to detail.
Generous payouts for animal symbols.
Free spins round offers significant potential payouts.
What we don't like
Modest maximum win of 300 times the bet.
No dedicated bonus game.