Elvis Lives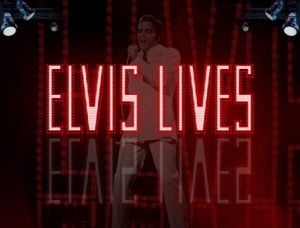 Elvis sure knew how to put on a show, but can he pull off being the star of his own slot game? Let's find out! Elvis Lives is a traditional five-reel, 12-row slot game that offers a whopping 60 paylines for players. That's more paylines than a chorus of back up singers!
Not only does Elvis Lives offer a classic slot machine experience, but the game also features a helpful Autoplay function that allows your fingers to take a well-deserved break. Plus, there's a unique feature that you won't find in many other games, where the second, third, and fourth reels combine to create a single giant reel on which massive symbols appear. It's like having Elvis himself perform his greatest hits right in front of you!
Now, we know what you're thinking. Can Elvis really bring you the riches you're after? Well, with so many paylines and bonus features, there's definitely a chance you'll be crying happy tears like an Elvis superfan at one of his concerts. So, grab a peanut butter and banana sandwich and give Elvis Lives a spin. Who knows? You could be the lucky player who hits the jackpot and sings 'Viva Las Vegas' alongside the King of Rock and Roll himself.
Bet Range: You Can Now Place Your Bets, Folks!
When it comes to casinos, there are two types of players: the high rollers and the casual ones. And guess what? Elvis Lives slot game caters to both, baby!
If you're on a tight budget and still want to have a thrill of the King's music, you can set the betting range to the game's minimum of 50 cents — no, seriously. For less than the price of a cup of coffee, you can spin those reels and listen to Elvis's tunes.
However, if you want to go all in like a high-roller, then place a max bet of $100 per spin. Who knows? Your luck might just win you enough money to buy your own Graceland.
All in all, the betting range in Elvis Lives is perfect for players of any level of experience and budget. So, what are you waiting for? Put on your blue suede shoes and get spinning!
Bonus Features
Elvis Lives slot game not only offers great graphics and a fun theme, but also plenty of bonus features to keep players engaged. Activate the 'Bonus Activator' symbols and you can unlock one of four different bonuses!
The first bonus feature is the 'Aloha' Free Spins, which gives you the opportunity to win free spins with a special sticky wild feature. If you're lucky enough to trigger the 'TCB' Free Spins bonus, you'll receive even more free spins with a multiplier of up to 5x!
For those who like to take their chances, the 'Track Suit Selector' Bonus allows you to pick from a selection of jumpsuits to reveal cash prizes. And finally, the 'Elvis Lives' Bonus is a pick-and-click feature where you can win cash prizes and even a shot at the ultimate prize – a jackpot of 2,500 times your bet!
With all of these fantastic bonus features, Elvis Lives slot game truly lives up to its name. Who knew the King of Rock and Roll could bring so much excitement to the slot machine world? If you're in the mood for great bonuses and plenty of fun, this game is definitely worth checking out!
Music
Get ready to shake, rattle, and roll with the amazing soundtrack that accompanies the game. With Elvis Presley's greatest hits and iconic songs playing throughout the game, you'll feel like you're right in the audience of one of his shows. The sound effects are also top-notch, as the reels spin with a satisfying click.
And let's be real, who doesn't love Elvis? The music feature in Elvis Lives adds a lot of excitement to the game, making it the perfect way to pay tribute to the King of Rock. It's as if you're in a concert venue watching the legendary performer belt out tunes! As a result, you'll want to play Elvis Lives over and over again just to listen to the music.
Overall, whether you're an Elvis fan or not, the music in this game will get your foot tapping and have you humming along in no time. It's a perfect complement to the game and enhances the entire gameplay experience.
RTP: Rollin' The Payback
So, how much are you going to get if you play Elvis Lives? The game's theoretical return to player (RTP) is 95.86%. Some grumble that's below average, but did you ever hear Elvis complain about his payback?
That's not to say we won't help you win some dough with all those cash bonuses available to players. Just play your cards right, and you can still hit big payouts. Heck, Elvis himself would have been proud, and he knew a thing or two about shaking down some greenbacks!
FAQ
What is Elvis Lives?
Elvis Lives is a slot game focused on the life of Elvis Presley, showcasing his music and legend.
What is the structure of the game?
Elvis Lives has five reels and twelve rows with sixty paylines.
What is the minimum and maximum bet limit?
The minimum bet is 50 cents, and the maximum limit is $100 per spin.
What is the RTP of Elvis Lives?
The RTP of this game is 95.86%, which is lower than the average of online casinos.
What are the special features of Elvis Lives?
This game offers unique features such as giant symbols, Autoplay, and Bonus Activator symbols that activate mini-games like 'TCB' Free Spins, 'Aloha' Free Spins, 'Track Suit Selector' Bonus, and 'Elvis Lives' Bonus.
Is the Elvis Lives game available on mobile devices?
Yes, the game is available on mobile devices, and it is recommended to use Chrome for Android devices and Safari for iOS devices.
Can players win actual money playing Elvis Lives?
Yes, the game offers actual money winnings through its many cash bonuses and special features.
Who developed the Elvis Lives game?
Elvis Lives was developed by WMS, a renowned software developer in the online casino industry.
What we like
Autoplay function and giant symbols
Suitable for casual players and high rollers
Four bonus options with different rewards
Excellent rock music with Elvis Presley's songs
What we don't like
Below average RTP at 95.86%
Bonus Activator symbols can be difficult to activate