Drift King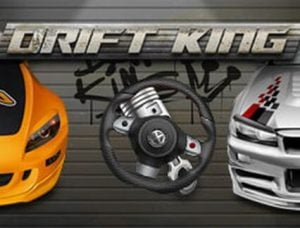 Drift King is a feast for the eyes and ears of those who love racing and online slots. The game design is top-notch, with vibrant colours and high-tech visuals that immerse players in the world of motorsports. The graphics are sharp, and the animations are smooth, making gameplay a fun and visually appealing experience.
The symbols on the grid are unique to the racing world, and they add to the immersive feeling of the game. Players will see steering wheels, helmets, high-performance engines, and even the checkered flag. The game's interface looks like gauges, and it's clear that the developers put plenty of thought into the theme and how to bring it to life.
However, the color palette may be on the confusing side for some players. The bright neon colors that are a staple for many racing themes can be dizzying. The good news is, you can adjust the color settings, so if you start seeing double, take a break and head to the options menu!
The music that plays continually throughout the game can be a little disruptive. Yes, we get it. Drifting is all about adrenaline, but after a few rounds, it can start to grate on the nerves, especially when the symbols don't line up the way you want them to. But look on the bright side, if you're blasting this tune at max volume, you can be grateful nobody can hear you singing along!
RTP and Profitability: How Drift King Races to Riches!
If you are looking for a casino slot game that provides excellent chances of winning, Drift King may be the perfect choice for you! With an RTP of 96.33%, the game provides better odds of winning than many other slot games developed by Capecod. Does it mean that you will be racing to the bank in your own yellow car? Probably not, but it sure is more exciting than waiting in traffic. It's the kind of game that will keep you on the edge of your seat. After all, in the world of racing, anything can happen, and that's why you should go for it!
The high-value symbols in Drift King are all related to the racing theme, with the yellow car being the highest in value. And, if you see a letter W on the reels, know that it is your lucky wildcard that substitutes for all regular symbols. This symbol is the one to watch out for as it could provide some bumper winnings. When it comes to bonuses, it gets even better, as Drift King packs a lot of them! The Freespin Bonus is represented by a yellow car driving upwards, which is a scatter and can reward players with up to twenty free spins. How mind-blowing is that? Remember to always read the terms and conditions for the use of Free Spins as there could potentially be wagering requirements such as a minimum deposit or other conditions.
Bonus Drift is another feature activated by winning consecutive spins without losing. A challenging but rewarding experience that could also lead to some significant cash payouts. Overall, Drift King is a fun and exciting slot game that puts players in the driver's seat. With plenty of bonus features, players may be able to shift into high gear and race their way to some serious profits. So, if you are feeling lucky and ready for some high-speed action, put your foot down and give Drift King a spin. Who knows? You may just drift into a mountain of cash!
Bonus Bonanza: Features that help you win big time!
Drift King slot game has got some hot bonus features that set it apart from other games. The best part? These bonuses will help you win more cash faster than waiting for a traffic light in L.A during rush hour!
The first bonus is the Freespin Bonus. It's not hard to land. Just hit three or more scatter symbols, and boom! You get five, ten, or twenty free spins. Each spin is like a free ride on a hot rod to some serious winnings. With a bit of luck, you might even hit the jackpot!
Then there's the Bonus Drift. You activate this by not losing ten spins in a row and filling up the loading bar. This feature takes some guts and keeps your adrenaline pumping. But if you can keep your coin balance steady for ten consecutive spins, you'll trigger Bonus Drift mode. In this feature, you can double, triple, or even quadruple your winnings! It's like drifting around a tight corner, but instead of burning rubber, you're burning cash!
Challenging Gameplay
Get ready for a one-of-a-kind slot game experience with Drift King! If you're a fan of racing games, you'll love the exciting gameplay this slot has to offer. The unique feature of consecutive spins without a loss adds a thrilling tension to the game, which leads to triggering the Bonus Drift. And once you activate it, look out for an enormous boost!
Admittedly, the game's constant music might be problematic for some players who enjoy silence while playing. But who cares about that when you're drifting towards big wins? Also, the game's color palette tends to be a bit confusing, but hey, that's a small price to pay for the overall challenging and enjoyable gaming experience!
Who is the Target Audience for Drift King?
If you're a speed demon looking to get your fix from the comfort of your own home, Drift King slot game is just what the mechanic ordered. This adrenaline-pumping game is ideal for racing enthusiasts who want to combine their passion for motorsports with their love for online slot games.
With its exciting racing theme, Drift King is sure to keep your heart racing and adrenaline pumping. Whether you're an experienced gambler or a novice, the game's challenging mechanics and lucrative rewards are sure to keep you coming back for more.
If you're new to slot games, Drift King offers a fun and easy introduction to the world of online gambling. The game's interface is simple and intuitive, making it easy to get started even if you're a beginner. But don't be fooled by the game's simplicity – as you're drifting your way to big wins, you'll soon realize that there's more to this game than meets the eye.
So, if you're looking for a high-octane slot game that's sure to get your heart racing, Drift King is the game for you. With its fast-paced action, challenging mechanics, and lucrative rewards, this game is sure to satisfy all of your inner speed demon's desires. Just don't forget to buckle up before you hit the gas!
FAQ
What is Drift King?
Drift King is a racing-themed online slot game from Capecod that has a 5×3 grid and an RTP of 96.33%.
What is the look and feel of Drift King?
Drift King has a racing-inspired interface with symbols ranging from nitrous oxide tanks to engines and pistons. However, the limited color palette of the symbols may be confusing.
Is Drift King profitable?
Yes, with an RTP of 96.33%, Drift King is more profitable than Capecod developed slot games, making it exciting and potentially more rewarding.
What are the symbols in Drift King?
All symbols in Drift King are racing-themed, with the wild symbol being the letter 'W', which replaces all other normal symbols.
How many free spins can you get in Drift King?
Three scatter symbols award five free spins, four scatter symbols award ten free spins, and five scatter symbols award twenty free spins.
What is the 'Bonus Drift' in Drift King?
The 'Bonus Drift' is an exciting bonus feature that players can activate by winning a series of consecutive spins without losing. The objective is to fill the loading bar completely, which can be a challenging feat.
What other similar racing-themed slot games are there?
Other racing-themed slot games similar to Drift King include Nitro Car by Tuko and Crazy Cars, although each game has its unique style and feel.
Is Drift King worth playing?
Yes, Drift King is a visually captivating and thrilling slot game that racing enthusiasts will enjoy. Gear up and brace yourself for the experience of a lifetime!
What we like
High-tech visuals and immersive racing theme
Above-average RTP for increased profitability
Multiple bonus features for higher winnings
Challenging gameplay with exciting tension
What we don't like
Potentially confusing color palette
Constant music may be disruptive