Dragon's Inferno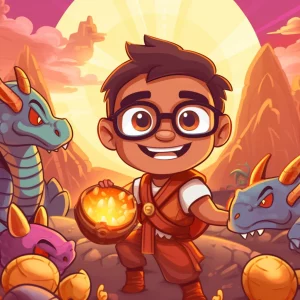 If you love dragons and online slot games, then Dragon's Inferno is a match made in heaven. This game will take you on a fiery adventure through the depths of the dragon's lair.
The graphics and sound effects will transport you to a mystical world filled with treasures and uncharted territories. You'll find yourself spinning the reels for hours on end as you collect free spins and bonuses.
But beware, there are dangers lurking in the shadows. The dragon may be sleeping, but it's always ready to awaken to protect its treasures. Don't let your guard down!
As far as online slot games go, Dragon's Inferno is definitely one of the most entertaining and thrilling games out there. Give it a go and see if you have what it takes to defeat the mighty dragon and claim all the riches for yourself!
Get Ready for the Dragon's Inferno: A Game with Traditional Structure and Great RTP
Are you ready for a fiery adventure where dragons roam freely and treasure abounds? Then hop on to Dragon's Inferno – an action-packed casino slot game that is sure to give you an experience of a lifetime.
As far as structure is concerned, Dragon's Inferno sticks to the traditional format with 5 reels and 30 fixed paylines. But don't let that fool you. This little fire-breather has some serious punch behind it. The game offers a wide range of betting options so that individuals of different budgets can enjoy the thrill of the game. Bets can be placed from as low as $0.30 to $90 – with a coin value ranging from $0.01 to $3. So saddle up and prepare to experience the thrill of the Inferno.
What makes Dragon's Inferno stand out from the crowd is its excellent RTP of 95.97%. This means that player's can expect a modest but consistent return on their investment. And let's face it, with dragons and treasure on the line, a modest return is more than enough to keep the fire burning within us. This RTP is in line with other WMS games – so you can expect a fair game that follows strict industry standards.
So, what are you waiting for? If you want to experience the heat of the Inferno and come out victorious, then take Dragon's Inferno for a spin. It is hot, it is thrilling, and it is waiting for you.
Unpacking the Symbols: What Do They Mean?
Prepare for an adventure through the medieval world of Dragon's Inferno, where brave knights, archers, and mystical creatures await you. As you spin the reels, you'll come across different symbols that all have a unique meaning.
Let's start with the treasure chest. This symbol is the Wild, which means it can replace any other symbol on the reels, except for the Scatter (a.k.a. the dragon). So, if you're lucky enough to land multiple treasure chests on a payline, you're in for some impressive wins!
Now, here comes the dragon – the Scatter symbol. Not only is this mythical creature the key to unlocking some of the game's top prizes, but it's also a fun nod to the game's title. Who knew dragons hung out in infernos?
Lastly, we have the four suits of playing cards – hearts, flowers, spades, and diamonds. These symbols may not be as glamorous as the knights and dragons, but they still have their place. Keep an eye out for a line of matching suits, as they can still give you a nice payout.
Overall, the combination of these symbols leads to an exciting gameplay experience which will keep you hooked for hours. Who knew medieval times could be so much fun?!
Unleash the Dragons with Free Spins!
You will absolutely love the free spins feature in Dragon's Inferno online slot game. The Scatter symbol, represented by a fierce dragon, is the key to unlocking this feature. Accumulate five Scatters on the reels to trigger up to 40 free spins and a 2x multiplier! That's right, you have the chance to win free cash without spending a single penny.
Even if you don't hit all five Scatter symbols, the game still rewards you with 10 or 20 free spins with just three or four Scatters appearing on the reels. It's not quite as good as all 40, but it will still give you plenty of opportunities to hit those big wins.
And let's be honest – who doesn't like a good free spin round? It's practically like getting a second chance to win big without spending any more money. Take a spin on the reels and see if the dragons will grace your screen with their fiery presence.
Now, we don't want to speak for the dragons or anything. But rumor has it, they might just be in a good mood and feeling extra generous during those free spins. So don't be surprised if you see those fiery beasts smiling down on you as you hit win after win.
But don't just take our word for it. Give Dragon's Inferno a spin and see for yourself. Who knows what kind of treasure the dragons have in store for you?
Replicating Wild Feature
Dragon's Inferno is definitely a game worth your time if you're looking for some serious fun with big rewards. The Replicating Wild feature sets the game apart from many others in the genre. You know what they say, two wilds are better than one, and this game takes it up a notch by offering a random Wild symbol during gameplay.
After a player wins with a treasure chest, the dragon's fiery breath will turn another random symbol into a Wild symbol, ensuring more chances of hitting it big. It's like having a dragon by your side, breathing fire and helping you win! I guess it's safe to say that the dragon truly is a man's best friend, even if it's in the inferno.
Who doesn't want to have a dragon on their team? After all, they're mythical beasts that can fly and breathe fire, making them pretty useful in just about any situation. Plus, if we're not mistaken, a dragon is an epic creature that symbolizes power and wealth! And what better place to find treasure than in the Dragon's Inferno?
The Replicating Wild feature is undoubtedly one of the most impressive features in the game, and it sets it apart from others in the online casino world. With this feature, you stand a chance to win incredible prizes and tons of lucrative rewards. So, brace yourself and let the dragon help you land winning combinations on your reels!
FAQ
What is the RTP of Dragon's Inferno?
The theoretical return to player (RTP) of Dragon's Inferno is 95.97%.
How many paylines does Dragon's Inferno have?
Dragon's Inferno has 30 fixed paylines.
What is the minimum and maximum bet on Dragon's Inferno?
The minimum bet on Dragon's Inferno is $0.30 and the maximum bet is $90.
What is the Wild symbol in Dragon's Inferno?
The treasure chest is the Wild symbol in Dragon's Inferno and replaces all other symbols except the Scatter.
What is the Scatter symbol in Dragon's Inferno?
The Scatter symbol in Dragon's Inferno is represented by the dragon.
How many Free Spins are awarded with the Scatter symbol in Dragon's Inferno?
You can win 10, 20 or 40 Free Spins by landing 3, 4 or 5 Scatter symbols in Dragon's Inferno respectively.
What is the Replicating Wild feature in Dragon's Inferno?
The Replicating Wild feature in Dragon's Inferno lets the treasure chest create a winning combination and the dragon emits a huge fireball that turns the symbol it reaches into a Wild.
Can Dragon's Inferno be played on mobile devices?
Yes, Dragon's Inferno can be played on both desktop computers and mobile devices, whether they are Android, iOS, or Windows.
What we like
Exciting dragon theme
Free spins feature with up to 40 spins
Replicating Wild feature for more winning opportunities
Simple game structure for easy gameplay
What we don't like
Limited betting range for high rollers
Lower RTP compared to some other online slots