Dragon Spark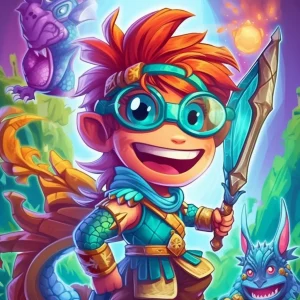 Are you ready to embark on a journey to a mystical world of dragons, where fortune and adventure await you at every turn? If yes, look no further than the Dragon Spark slot game!
With its five reels and rows that can spin in up to 3,125 ways to win, this game is sure to provide you with just the right dosage of excitement and fun. The cascading reels feature with an increasing win multiplier of up to 50x and the Wild Fire and Fire Blast features that cause collapses and multiplier increases are just the tip of the iceberg when it comes to the gameplay mechanics and features of Dragon Spark.
It also boasts of the Ways Boost engine, which when activated, expands the number of ways to win up to 16,807. If this does not satisfy the adventurer in you, then the infinite free spins feature surely will. With a theoretical return to player (RTP) of 96.99% and a maximum payout of up to 10,000x, the Dragon Spark game ensures that you have a chance to win big.
So, what are you waiting for? Give Dragon Spark a try today and witness the magic unfold!
Graphics and Sound Design
Get ready for a visual feast with Dragon Spark, an online slot game that takes place inside a dragon's lair. The designers have gone for a fully immersive experience, complete with epic cinematic sound effects that will transport you into a magical world of adventure. With its high-quality graphics and multiple video effects, Dragon Spark is a feast for the eyes. The reels are filled with all sorts of symbols that match the theme perfectly, including bottles of potions, daggers, dragon rings, crowns, and of course, the Dragon Queen herself.
The sound design of this game is on point too. The background music has a cinematic quality that adds to the sense of excitement and anticipation as every spin of the reels could trigger a big win. You'll feel like the hero of a movie as you play this game, and the sound effects help to draw you into the world of the game. From the sound of dragons roaring to the clatter of gemstones on the reels, every little detail is perfectly executed to provide a fully immersive experience, one that will have you coming back for more.
Overall, the graphics and sound design of Dragon Spark are some of the best you'll find in any online slot game. Even if you're not a big fan of dragons or fantasy, you'll still appreciate the attention to detail and the level of craftsmanship that has gone into creating this game. So, what are you waiting for? Sign up now and see if you can slay the dragon and come away with a big win!
Dragon Spark Boasts A Whopping 3125 Ways To Win!
Dragon Spark is not for the faint of heart! With an impressive 3125 ways to win, this fiery slot game certainly packs a punch. The best part? The number of ways to win actually increases with each new row that is added during the bonus feature. Talk about a big win!
But let's talk about the betting options. Players can choose from a wide range of bets, starting at just 20 cents per spin. With this wide range of betting options, it's easy for both high rollers and casual players to find a suitable fit.
Of course, the real excitement comes from triggering a payout. With at least three symbols of the same type on adjacent reels, players can expect a payout. But it gets better – four and five winning symbols offer even more consistent prizes, returning a high variance. And if that's not thrilling enough, the highest payout in Dragon Spark is a mind-boggling 10,000x per spin!
Overall, Dragon Spark is an impressive game with loads of potential for big wins. Just don't forget to keep a glass of water handy – things are about to get hot!
Variance and Return to Player Percentage
Are you ready to spark your luck with the Dragon Spark casino slot game? Well, make sure you buckle up because with a theoretical return to player rate of 96.99%, this game promises to take you on a wild ride.
The best part is that you have the potential to win big with Dragon Spark's high variance and maximum payout of 10,000x per spin. It's like finding a golden ticket to Willy Wonka's chocolate factory, except with dragons and without the creepy Oompa Loompas.
What's even more exciting is the variety of bonus features that Dragon Spark offers. With features such as a win multiplier, cascading reels, and Free Games with an increase in the number of ways to win up to 16,807, it's no wonder the variance is so high. You'll be breathing fire with excitement as you watch those numbers climb.
So, if you're feeling lucky and ready to conquer the dragons, take a spin with Dragon Spark. Who knows, you may just become the next Khaleesi and rule the slot game realm with your dragon winnings.
Compatibility With Different Devices
Are you the type of player who likes to switch between desktop and mobile devices? Playtech's Dragon Spark can be your go-to game. The HTML5 technology used in developing this game made it possible for players to have a great experience, whether they are on a computer, tablet, or smartphone. After all, who needs the hassle of switching between different devices just to keep the fun going? I don't know about you, but I like my gaming like I like my food – convenient and easy to access.
Now, who else loves holding their phone like it's their newborn child? I know I do! And with Dragon Spark's Portrait First orientation, it's like the game was made just for me. It's rewarding to see developers take into account our mobile devices and design games that cater to our needs. Plus, let's be honest – anything that is in a portrait orientation has got to be better than the horizontal orientation that we're used to seeing.
No more missing out on that jackpot just because you're on the go! With consistent features, graphics, and sound design, Dragon Spark maintains the same level of excitement regardless of what device you use. So, let's all hold up our mobile devices and cheers to the team at Playtech for making our gaming life easier – and more fun!
Cascading Reels Feature: Why Dragon Spark is More than a Hot Slot
Dragon Spark is sizzling hot, and the cascading reels feature is what makes it even more so. The slot game explodes with excitement as the winning symbols are replaced by new ones, leading to multiple wins on one spin. If only it were that easy to replace the outdated appliances in my kitchen. Oh well, a girl can dream.
What's more, this feature triggers a win multiplier, which starts at 1x and can go up to 50x in the base game. That's right, folks – the more you win, the more you win again! It's like being in a never-ending cycle of winning, just like in my daily routine of checking social media feeds.
But don't just take our word for it. Take this fire-breathing slot for a spin and see for yourself how the cascading reels take the gameplay to the next level. And who knows, with a little bit of luck, you might be heating up your bank account more than your morning coffee.
Experience the Thrill of Free Games feature
If you are looking for a slot game that rewards you with a unique twist, then Dragon Spark is the one for you. With its free games feature, players are given the opportunity to trigger eight or fifteen free spins by landing three or four bomb symbols on the reels, respectively. Isn't that the bomb?
And that's not all. The game's Ways Boost engine makes winning much easier by increasing the number of ways to win up to a staggering 16,807. Your chances of winning have never been so high! So what are you waiting for? Take the plunge and let fortune smile upon you.
Oh, did we mention that the win multiplier only increases and does not reset during the free games feature? That's right. The multiplier keeps growing and growing, giving you the possibility of infinite spins to win even more. It's like a game that never ends, and we love it.
Unleash the heat with Wild Fire and Fire Blast features
Dragon Spark is not your average online slot game. It is packed with flaming hot features that will ignite your passion for winning. The game presents two exciting bonus features, triggered by the golden dragon wild symbol. Whenever it appears on the reels 2, 3, 4, and 5, be prepared to see the sparks fly as it replaces any other symbol, except the bonus and bomb symbols.
The Wild Fire feature is sure to set the reels ablaze as it removes two or three symbols at random. Watching these symbols burn away is both exciting and satisfying! When the Fire Blast feature ignites, you'll experience the heat of one complete reel being removed to make way for a new cascading round. As the symbols tumble down, the multiplier increases, and the excitement intensifies.
These two features are not the only ones that Dragon Spark has to offer. The game also presents a free spins round that can be triggered by landing three or more scatter symbols. And, of course, there are the bomb symbols that, when detonated, can increase your chances of winning big.
So, don't be a water dragon, embrace the heat, and try Dragon Spark today. We guarantee it will set your gaming world on fire!
FAQ
How many ways to win does Dragon Spark have?
Dragon Spark is a five-reel slot machine that can spin in 3125 ways to win. However, this number can increase during the bonus feature.
What is the RTP of Dragon Spark?
The theoretical return to player (RTP) of Dragon Spark is 96.99%.
What is the minimum bet for Dragon Spark?
Players can start spinning with a minimum bet of 20 cents per spin.
What is the maximum payout for Dragon Spark?
Dragon Spark has a maximum payout of 10,000x per spin.
What types of symbols are included in Dragon Spark?
Dragon Spark includes low-value gems, daggers, potion bottles, dragon rings, crowns, and the Dragon Queen, with the Dragon Queen being the most profitable symbol.
Can Dragon Spark be played on mobile devices?
Yes, Dragon Spark was designed with HTML5 technology and can be played on desktop, mobile, and tablet devices.
What are the bonus features included in Dragon Spark?
Dragon Spark has a total of five bonus features, including a reel engine that brings in a 50x win multiplier, Wild Fire and Fire Blast features that cause the removal of symbols for collapses and multiplier increases, and the Free Games feature where the number of ways increases up to 16,807.
What is the RTP of Dragon Chase?
The theoretical return to player (RTP) of Dragon Chase, a similar slot machine to Dragon Spark, is set at 96.39%.
What we like
3125 ways to win with expanding rows
High variance and RTP of 96.99%
Cascading reels with increasing win multiplier
Free Games feature with up to 16,807 ways to win
What we don't like
Only four rows, limiting the potential for bigger wins
High variance may not appeal to players looking for consistent small wins