Dancing in Rio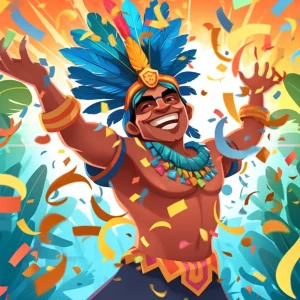 Dancing in Rio is a five-reel, three-row slot game with 40 fixed paylines. It's like the carnival in Rio, but without the sweat and the crowds, so you can enjoy it from the comfort of your own home, bed, or even bathroom. The gameplay is intuitive with lots of exciting features, suitable even for beginners who can't tell a slot game from a bottle opener.
The betting system is easy to navigate, and players can place bets ranging from a minimum of 40 cents up to a maximum of 50$ per spin. It's perfect for both low rollers and high rollers who don't bat an eyelid at betting multiple eurographics on a single spin.
The game includes up to 50 free spins, which is more than enough freebies to keep you spinning and winning without spending a cent.
Theme and Graphics
Dancing in Rio is the perfect virtual trip to Brazil for those who cannot afford a real one or are just too lazy to book a flight (we don't judge). The game is all about the world-famous Carnival in Rio de Janeiro, where the streets are filled with music, samba dancers, and colors that could easily compete with the Northern Lights. The graphics in Dancing in Rio are a bit retro, but in the best way possible. The game is designed to look like a classic slot machine, which will be familiar to anyone who's spent time in Las Vegas. The colors are bright and vibrant, and the minimal graphics bring the samba dancers to life.
Speaking of samba dancers, these ladies are the stars of the game. They're beautifully designed, as they're dressed in colorful and elaborate costumes that are sure to catch your eye. Watching them dance across the reels is almost hypnotizing, and you won't be able to take your eyes off of them. The other symbols in the game are also designed to fit the Carnival theme, and you'll see everything from maracas to cocktails as you spin the reels. However, it is important to note that those who seek out more advanced graphics and special effects may find themselves unimpressed.
Get ready to cash in on the Jackpots!
Are you looking for a slot game with plenty of chances to win big? Look no further than Dancing in Rio! This game features a total of six exciting jackpots, including a progressive one that has made many players very happy.
But how do you get in on the jackpot action? It's easy! Just start making bets starting at a low 2$ per spin and watch as the reels spin in your favor.
The highest jackpot has a maximum value of a jaw-dropping 25,000 times your bet! That means you can potentially win a life-changing amount of money while you're living it up on the dance floor.
And even if you don't hit the big one, there are still five other jackpots to play for that reward according to the amount wagered. So, why not give Dancing in Rio a spin and see if you can hit the jackpot dance?
As they say, you can't win if you don't play. So, put on your dancing shoes, let the music move you, and let's get this party started!
Compatibility and Accessibility
Do you want to engage in a bit of samba and shake those hips with the Dancing in Rio slot game? You can do so on any mobile device you have, whether you're an iPhone fanatic or an Android lover.
Say goodbye to the days when you had to download software to get the full experience of the game. Dancing in Rio is optimized to be accessible from all devices, whether you're using a desktop, tablet, or a mobile phone with an internet connection.
It's never been more convenient to let loose and dance to the rhythm of the reels. No matter where you are, you can spin and win in the gameplay of the Dancing in Rio slot game. It's almost like having the Rio Carnival in the palm of your hands.
So, you better get ready to experience the carnival vibes and samba beats with this game. Whether you're playing from the comfort of your own home or on-the-go, Dancing in Rio is there to keep you entertained and potentially winning big. Get ready to party in style and let's see if you can collect some big payouts while having fun.
Symbols and Special Features
You may be surprised to find that Dancing in Rio doesn't have an intricate array of special features, but what it does offer is still great fun. The game follows a carnival theme, and as such, the most common symbols include the usual playing card royals from nine to ace. However, they're completely jazzed up and dressed in bright, sparkly colours, ready to party.
To match the theme, there are also masks that act as scatters. Keep your eyes peeled for these, as they hold the key to activating the Free Spins Bonus. Oh, and let's not forget about the game logo that serves as the wild. It's got a function of a joker, so it's sure to brighten up your day!
In order to trigger the free spins, players must land at least three masks on the reels. Depending on the number of masks on the reels, the number of free spins awarded can range from 10 to 50. And don't think the bonus spins have nothing to offer, because depending on your bet, you could earn a multiplier.
So while Dancing in Rio may not have a ton of bells and whistles, it still offers plenty of excitement and ways to win. So grab your virtual carnival costume and join us on the reels for a dance party like no other!
FAQ
What is the minimum and maximum bet in Dancing in Rio?
The minimum bet is 40 cents, and the maximum bet is 50$ per spin.
How many paylines does the Dancing in Rio slot game have?
It has 40 fixed paylines.
What types of jackpots are available in Dancing in Rio?
It has six jackpots, with the highest one having a maximum value of 25,000 times the bet.
What is the Free Spins Bonus feature in Dancing in Rio?
It is a feature triggered by at least three masks on the reels, and awards 10, 20, or 50 free spins depending on the number of scatters.
Is Dancing in Rio optimized for mobile devices?
Yes, it is playable on all mobile devices with no software download required.
What are the most common symbols in Dancing in Rio?
The most common symbols are the royals, representing playing cards from nine to ace.
What is the special feature of stacked wilds in Dancing in Rio?
It is a feature where wild symbols appear stacked on top of each other, increasing the chances of winning combinations.
What is the maximum value of the progressive jackpot in Dancing in Rio?
The progressive jackpot can be won by making bets starting from 2$ per spin.
What we like
Intuitive gameplay suitable for beginners
Up to 50 free spins and various types of jackpots
Playable on all mobile devices without download
Dancing samba dancers as attractive reel symbols
What we don't like
Minimalistic graphics may not appeal to those who prefer cutting-edge visuals
Limited special features compared to other slot games