Crystal Forest HD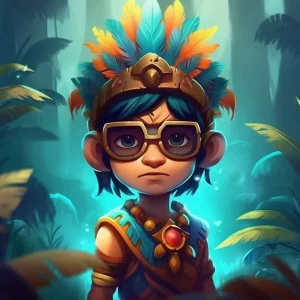 Let's dive into the exciting gameplay features of Crystal Forest HD from WMS. This slot game has the traditional format of five reels, three rows, and 25 paylines. But don't let the classic structure fool you, this game packs a punch with its various features!
Firstly, the coin value ranges from 1 cent to 5 Dollars, giving players a broad range of betting options. However, it's not just the coin value that players can customize, they can also activate the Autoplay feature for those who want to sit back and let the magic happen on its own.
One of the exciting features of the game is the cascading reels. Once a winning combination is achieved, those symbols explode and disappear, allowing new symbols to cascade from the top into the game space. This provides more chances to create even more winning combinations with just a single spin!
Crystal Forest HD also has stacked wilds which can appear on any reel. With the potential to turn the whole reel wild, players have the chance to land some truly magical wins. This feature can make even the most mundane spins an exciting experience, especially when the wilds stack and create even bigger winning paylines.
Free spins are another exciting feature that Crystal Forest HD offers. Players can trigger up to 50 free spins, depending on how many crystal symbols they land on the reels. During these free spins, symbols will rain down onto the reels adding to the potential for big wins!
So put on your explorer hat and join us in the magical world of Crystal Forest HD. With its exciting gameplay features, this game is sure to keep you entertained for hours!
Visual Design
Crystal Forest HD takes players to a magical world of fairytales, where everything is enchanting and meticulously crafted. The game's graphics are stunning, featuring a beautiful blue background that highlights the symbols and images that populate the reels. As you play, you'll find yourself immersed in a world of fairies, unicorns, butterflies, and ladybugs, each brought to life with incredible attention to detail.
If you're someone who appreciates visually beautiful online slot games, Crystal Forest HD is definitely worth checking out. The combination of the fantastic graphics and the magical enchanted forest theme of the game will have you feeling like you're walking through a fairytale yourself.
It's clear that the designers at WMS Gaming put a lot of care into the game's design, and it shows. Each symbol and character is animated beautifully, and the game's background immerses you into a world of wonder.
Playing the game is like taking a stroll through a fantastical, other-worldly forest. The graphics make it easy to lose yourself in the game's story and forget that you're not actually wandering through a mystical, magical forest yourself.
Compatibility: The Perfectly Designed Slot for Any Device
The good news for players of Crystal Forest HD is that this amazing slot game is available for all types of devices. Whether you want to play on your big desktop computer or sit back and relax on your sofa with your preferred mobile device, Crystal Forest HD is the perfect match for you. You can play this game from anywhere, anytime with no limitations!
Even better, you don't need a fancy internet connection to enjoy all of the excitement. You can play the game even if you have a turtle-slow internet connection. However, If you're still using dial-up to connect to the internet, you might want to pass on this game for your own sake. We don't want you to turn into a grandma or grandpa before finishing just one spin!
Compatibility has never been so perfectly designed than what this game offers. So don't wait any longer and play on the device or system that you're most comfortable with and enjoy the game to the fullest!
Bonus Features
Who doesn't like to get a little extra every now and then? Well, Crystal Forest HD is your go-to slot game for bonus features galore! For starters, this game offers cascading reels that will have you feeling like you're at a never-ending slot party. Whenever you get a winning combination, those symbols are cleared away to make room for new ones cascading down. And the best part? This keeps going until no more winning combos are formed. You might as well grab some snacks and make yourself comfy, looks like you'll be here for a while.
As you continue to play, keep an eye out for the Wild symbol – it's represented by a waterfall. Landing this symbol can trigger 7 to 50 free spins. Now that's what we call a shower of freebies! And the fun doesn't stop there – the gnome also serves as a wild symbol, ready and waiting to replace other symbols and complete those winning combos. With these two wild cards in your pocket, you'll be feeling like a real high roller in no time.
Now, we know what you're thinking – what's a slot game without a good old fashioned jackpot symbol? Fear not, my friend, because Crystal Forest HD has got you covered. While there's no scatter symbol, the jackpot symbol pays out the highest win when it appears on all five reels. So, start spinning and who knows? With a bit of luck, you could be dancing your way to the bank with a jackpot win in no time.
Gambling Options
Are you ready to bet big and win bigger? Crystal Forest HD has got you covered with a betting range of $0.25 to $125! Whether you're a penny-pincher or a high roller, this game has something for everyone. Just remember – if you're going to go big, you may as well do it while dressed in your finest attire, to give the impression of someone who is incredibly wealthy and sophisticated. Or better yet, dress up in a banana costume and see if that changes your luck.
The highest win possible in Crystal Forest HD is 3,750 coins- not too shabby if you ask me. That's enough coins to keep you in the game and give you a chance to hit it big. And if you're worried about losing all of your hard-earned cash, have no fear! This game also offers a Play for Fun mode, allowing you to get familiar with the game's features and tricks before betting your real money. So go ahead and splurge a little bit – you never know what kind of treasures await you in the mystical Crystal Forest.
FAQ
What is the minimum and maximum bet in Crystal Forest HD?
The minimum bet is $0.25, and the maximum is $125.
What is the highest payout in the Crystal Forest HD slot game?
The highest payout in Crystal Forest HD is 3,750 coins.
Are there any special features in Crystal Forest HD?
Yes, Crystal Forest HD has cascading reels, free spins, and stacked wilds.
Can I play Crystal Forest HD for free?
Yes, you can play Crystal Forest HD in Play for Fun mode to practice before betting real money.
What devices can I play Crystal Forest HD on?
You can play Crystal Forest HD on both desktop computers and mobile devices on Android and iOS.
What is the Wild symbol in Crystal Forest HD?
The Wild symbol in Crystal Forest HD is a waterfall, which serves as a scatter for free spins.
Is there a scatter symbol in Crystal Forest HD?
No, there is no scatter symbol in Crystal Forest HD.
What is the Jackpot symbol in Crystal Forest HD?
The Jackpot symbol in Crystal Forest HD pays the highest win when it appears on all five reels.
What we like
Traditional structure with 5 reels and 25 paylines
Free spins and cascading reels add excitement to gameplay
Enchanting and detailed graphics create a magical atmosphere
Available on both desktop and mobile devices
What we don't like
Limited variety of bonus features
No scatter symbol in the game