Cool Jewels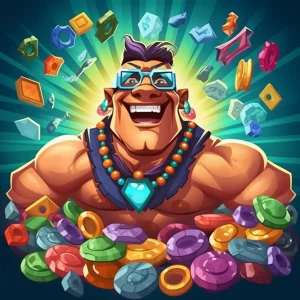 Are you tired of the same old boring slot game design? Then get ready for Cool Jewels! The game breaks away from the traditional 5-reel, 3-row setup, and instead offers a unique 6×6 grid for players to indulge in. There are no paylines to worry about here, as counters are found on the side of the reels. But beware, as this game's complexity provides a challenge that is both entertaining and engaging.
But let's be honest, how cool are the jewels in this game? It's like you're playing a slot game made of actual jewels! I mean, have you ever seen a diamond that big before? It's like they used all the jewelry from a rap video to make this game.
Players can bet anywhere from a minimum of 0.50 coins up to a maximum of 200 coins per spin, making it a game that can be enjoyed by both high rollers and casual players alike. And with a maximum prize equal to up to 7,500 times the value of the bet, players have the opportunity to walk away with some serious bling.
Symbols and Pay Structure
Get ready to immerse yourself in a world of dazzling gems and crystal-clear payouts with Cool Jewels. This online slot game features a variety of precious stones in various shapes and colors, including red, yellow, turquoise, pink, blue, and green.
But don't be fooled by the game's name. These jewels may be cool, but they pay out hot! To win, you must have at least four identical symbols in adjacent columns or rows, both horizontally and vertically. So, keep your eyes peeled for any matching gems that come your way.
And if you're lucky enough to land a symbol representing a x10 multiplier, your winnings will sparkle even brighter. This special symbol can multiply your entire prize by ten times, giving you a chance to hit some serious payouts. It's like finding a diamond in the rough!
Exploring the Wild Side of Cool Jewels
If you're looking for some electrifying entertainment, Cool Jewels slot game hits all the right buttons. This game doesn't just dazzle its players with sparkling gems and jewels; it also introduces them to some heart-pumping wilds.
The Shocking Wild will leave you feeling like you've just grabbed an electric fence, but in a good way! This bad boy will destroy all adjacent diagonal symbols, making way for some electrifying wins.
The Unstable Wild is like a can of soda that's been shaken vigorously. Once activated, it will destroy all symbols in the spaces around it. Looks like it's time for some fizzy fun!
Think you can handle a Shattering Wild? This Wild will destroy all symbols adjacent both vertically and horizontally. So, brace yourselves and don't Shatter under the pressure of these Wilds!
Finally, we have the Persisting Wild, which stays on the reels for a certain amount of time, increasing the chances of winning big. It's a glimmer of hope in a game filled with explosions!
Overall, Cool Jewels' Wilds add a unique twist to the traditional slot game, and the variety of Wilds keeps things exciting. Just remember, when the Wilds start to pop, keep your cool and watch those jewels slink into your pocket.
Bet Range And Payout Potential
Get those coins ready! In Cool Jewels, players have the chance to bet a minimum of 0.50 coins to a maximum of 200 coins, making it the perfect online slot for both cautious and high-rolling players alike. So whether you're feeling lucky or just playing it safe, this game has got you covered.
But what about the payout potential, you ask? Well, hold onto your seat because it's quite impressive. In fact, players can aspire to a maximum prize worth up to 7,500 times the value of their bet. Whoa, now that's some serious bling!
With such a wide range of betting options and the potential for eye-popping payouts, Cool Jewels is definitely a game worth checking out. So go ahead and give it a spin. You never know, your pockets may just end up sparkling with some serious cash!
Theoretical RTP: The Cannon of Cool Jewels
Are you ready to get blown away by the glitter and the flashy gems of Cool Jewels? While the game provides lots of thrills and entertainment to players of all levels, it's always important to keep an eye on the theoretical return to player (RTP) which, for this game, stands at a canonical 96.1%. This RTP is quite similar to most of the games developed by Williams Interactive, the company behind Cool Jewels – but don't let that fool you! The potential rewards in this game are as unique as the jewels themselves.
This game has the potential to heat up your play, the wagering amount as you stack up your prizes while having a great time. The fact that you know there's a high RTP should leave you feeling revved up and ready to win!
Of course, all jokes aside, what's most important to understand about the RTP is that it represents the percentage of money the game will return to players over time. While it's important to take the RTP seriously, we urge you not to lose sight of the fun and excitement of playing this amazing online slot game. Settle in for the ride and play responsibly, and you'll enjoy every moment of Cool Jewels!
FAQ
What is the theme of Cool Jewels?
Cool Jewels features various precious stones as symbols.
Is Cool Jewels a traditional slot game?
No, Cool Jewels has a 6×6 grid and does not have traditional pay lines.
What is the minimum and maximum bet for Cool Jewels?
The minimum bet is 0.50 coins and the maximum bet is 200 coins.
What is the maximum prize one can win in Cool Jewels?
One can win up to 7,500 times the value of the bet.
What is the RTP of Cool Jewels?
The RTP is 96.1%.
What symbols trigger a winning combination in Cool Jewels?
At least four identical symbols in adjacent columns or rows trigger a winning combination.
What is the x10 multiplier symbol in Cool Jewels?
The x10 multiplier symbol in Cool Jewels multiplies the entire prize by ten times.
What are the types of Wilds in Cool Jewels?
Cool Jewels has Shocking, Unstable, Shattering, and Persisting Wilds.
What we like
Engaging game mechanics
Innovative slot design
Various types of Wilds
High payout potential
What we don't like
Minimalistic graphics may not appeal to everyone
No free spins or bonus round feature