Christmas Luck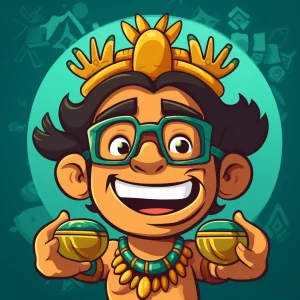 If you love the holiday season and slot games, then you'll fall in love with Christmas Luck by Skywind. This unique game has a single reel, making it a truly one-of-a-kind experience. But don't let the single reel fool you, Christmas Luck offers a series of special features and symbols that can land you the top prize of 500x your bet.
With a high volatility rating, this game is sure to keep you on the edge of your seat while you spin. But don't worry, the RTP of 94.5% means that you have a great chance of making your holiday season even merrier with some big wins.
One of the best parts of Christmas Luck are the bonus features. The prize tower feature can lead to massive multipliers, while the cash pot and bonus prize features offer even more opportunities to stack up those wins. Who knows, maybe Santa will bring you the ultimate Christmas gift with a huge payout from Christmas Luck.
Symbols and Prizes
Get your festive spirit on and prepare for a merry time playing Christmas Luck. The symbols on the reels are beautifully designed and packed with holiday cheer.
Where would any Christmas slot game be without Santa Claus? In this game, he serves as the wild symbol, bringing more chances to claim those wins in the cash pot. But watch out for the evil elf, who wants to ruin your holiday fun by stealing all your hard-earned winnings. Fortunately, the heart box symbol can be your savior; it lets you fend off the mischievous elf so you can keep raking in those winnings.
The gift box symbol is another symbol to keep an eye out for as it grants you three free games and protects you from the elf for a while. The three prize towers are also important to watch out for. These towers pay out the top prize once they fill up, and the accumulated payouts could go directly into the cash pot on the right-hand side. So, don't be surprised if your wins start adding up quickly with the help of these towers.
But that's not all! If you manage to illuminate all three towers with the top prize and have a full cash pot, you could even win a bonus prize that corresponds to the candy and their respective towers. It's like having an early Christmas gift just for you.
Volatility and RTP
Are you feeling lucky this holiday season? The Christmas Luck slot game offers a thrilling experience, with an RTP of 94.5%. Sure, it's not the highest payout percentage out there, but come on, who doesn't love a little risk? This game has a high volatility, so be prepared for some heart-pounding moments as you spin those reels.
But don't worry, this game isn't all about the gamble. It also boasts exciting bonus rounds and features that are sure to keep you entertained. Who knows, maybe Santa will even bring you some extra special prizes.
Overall, the Christmas Luck slot game is a solid choice for those looking for a little holiday cheer mixed with a bit of thrill. Just be sure to wrap up warm, because you're bound to get a little hot under the collar!
Demo Version and Free Play
Looking to jingle your pockets with some holiday cheer? Look no further than Christmas Luck, the festive casino slot game that will have you dreaming of sugarplum fairies and big wins all season long. But before you start betting real money, why not give the demo version a spin? After all, Santa never gives out presents without testing them first.
With SlotJava's demo version, you can practice your skills and get a feel for the gameplay without spending any of your Christmas bonus. And let's face it, who doesn't love a good freebie? It's like finding an extra candy cane at the bottom of your stocking!
But don't think the free play version is only for beginners. Even seasoned players can benefit from sharpening their skills with a little practice. Plus, it's the perfect excuse to take a break from wrapping presents and indulge in some casino fun.
So hop on your sleigh and head over to SlotJava to try out Christmas Luck for free. Who knows, you might just end up on Santa's nice list this year!
Real Money Casinos
Are you tired of playing Christmas Luck for free? Look no further than reputable online casinos like 888Casino, Pokerstars Casino, and WinCasino. Not only can you finally put your real money where your mouth is, but you can also win some serious cash! Just imagine all the presents you could buy with that money – or better yet, how many more spins on Christmas Luck you could get.
But before you dive headfirst into the world of real money gaming, make sure you do your research. Only play with trusted and licensed operators to ensure the safety of your personal information and your funds. The last thing you want is to be scammed out of your hard-earned money during the most wonderful time of the year (or any time, really).
So, grab a cup of hot cocoa, put on your favorite ugly Christmas sweater, and get ready to win big on Christmas Luck at a real money casino today!
FAQ
What is Christmas Luck?
Christmas Luck is a unique online slot game that has only one reel and offers multiple special features and symbols with the potential to win up to 500x.
How do you win in Christmas Luck?
You win by collecting sweets to assemble your prize towers and adding them to your cash pot. Beware of the evil elf, who can steal your accumulated cash pot winnings!
What are the special symbols in Christmas Luck?
The special symbols in Christmas Luck include Santa Claus (wild symbol), gift boxes (three free games), and heart boxes (fend off the elf).
What are the bonus features in Christmas Luck?
The bonus features in Christmas Luck include prize towers, cash pot, and bonus prize, which offer excellent opportunities for big holiday wins.
Can you play Christmas Luck for free?
Yes, you can try the demo version for free on SlotJava.
Which online casinos offer Christmas Luck?
Christmas Luck is available at reputable online casinos like 888Casino, Pokerstars Casino, and WinCasino.
What is the volatility of Christmas Luck?
Christmas Luck has a high volatility.
What is the RTP of Christmas Luck?
The RTP of Christmas Luck is 94.5%.
What we like
Unique one-reel feature adds excitement
Special features and symbols offer big win opportunities
High volatility for thrill-seeking players
Demo version available for free practice
What we don't like
Lower RTP compared to other games
Limited reel may not appeal to traditional slot players