Castle of Terror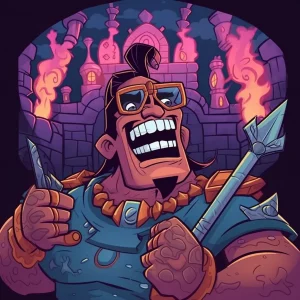 Are you brave enough to enter the Castle of Terror? This horror-themed video slot is going to give you the ultimate terror experience! Developed by Big Time Gaming, Castle of Terror boasts exceptional graphics and gameplay.
With six reels, four rows, and a whopping 4,096 paylines, this game gives you plenty of opportunities to win big. To win, all you have to do is guess two or more symbols in succession starting from the leftmost reel to the right.
The game's theme is a perfect combination of everything horror, making it a popular choice even beyond Halloween season. And let's face it, who doesn't love the thrill of being scared out of their mind by a spooky vampire?
The graphics of Castle of Terror have been crafted with extreme care. The whole layout has a spectral theme that complements the gameplay perfectly. And if you thought the graphics were impressive, wait until you hear the spooky music and sound effects! They'll have you on the edge of your seat for the entire game.
All in all, Castle of Terror is an unforgettable gaming experience for anyone who loves horror-themed slots. So, grab a crucifix and some garlic because you're going to need them when you face the terror that awaits you inside this castle!
Paylines and Win Potential
Are you ready to face your fears and enter the Castle of Terror? This spooky slot game has the potential to offer players frighteningly high wins. With a maximum win potential of 61720x, each round of the game is more terrifying than the last. But don't worry; we promise that the only thing that will make you jump is the size of your payout!
The game is also highly volatile, which means you stand a chance of winning significant payouts. Just be warned that with great risk comes great reward. But don't let that scare you off! Remember, fortune favors the brave.
The Castle of Terror slot game has 4,096 paylines, ensuring players stand a higher chance of triggering wins. That's more paylines than you could shake a stick at! Wins are awarded by guessing two or more symbols in succession, starting from the leftmost reel and moving towards the right. So, put on your ghostbusting gear, spin the reels, and let the spooky fun begin!
Betting Range
If you're looking to explore the spooky Castle of Terror, you'll need to place your bets first. Luckily, the betting range for this game is versatile and can accommodate all kinds of players. You can start low and place a minimum bet of just 0.20 credits, or go all-in with a maximum bet of 15 credits per spin. Either way, the choice is yours.
But before you get carried away, note that the RTP of this game is 96.73%. It's not the highest, but it's also not the lowest you'll find in a slot game. Still, if luck is on your side, you could walk away with a decent payout.
And speaking of payouts, Castle of Terror's high volatility nature means you could potentially score some big wins. You might even scare yourself silly with how much you could win. Just be sure to keep an eye on your budget, or else the only thing that'll be terrifying is your bank account.
Bonus Features
Ah, the Holy Water Feature – for when you want to keep the vampires away and win big at the same time! With Big Time Gaming's Castle of Terror slot game, this feature can randomly reveal two or more positions on the four central reels with Holy Water. As if that weren't enough, all characters in these positions will transform into Wilds, increasing the win multiplier by 1x. It's like Buffy the Vampire Slayer meets Vegas!
If you're looking to unlock more perks, try landing three or more Scatters on the reels, which launches 12 Castle of Terror free spins plus three additional spins for each Scatter after the third. Any Scatter symbol activating this feature must include at least one Silver Castle Scatter. So, if you're feeling lucky, channel your inner Van Helsing and give it a go.
The Bonus Scatter is represented by the Castle itself and replaces all standard symbols. As if the holy water and free spins weren't enough, if only one of the activation icons is a Golden Castle, players get enhanced free spins. Finally, there is the Bonus Buy Feature, where players can buy 12 free spins for 70 times their current bet or 12 enhanced free spins for 200x. Enhanced FS has an initial win multiplier of 2x, which increases by 2x every time a character transforms into a Wild icon. With all these options, it's like Dracula's castle is actually a casino, and the only thing scary is how much fun you'll have playing Castle of Terror.
Compatibility with Devices
Are you afraid of missing out on your favorite slot game because you're always on the go? Fear not! Castle of Terror slot game is mobile-optimized, running smoothly on both iOS and Android devices. You can now satisfy your love for online slots, even when you're on the run. No more awkwardly pretending to text while you're secretly playing a game on a tiny screen.
The game can also be accessed on desktop devices. So, whether you're a couch potato or a hustling traveler, Castle of Terror has got you covered. It's like having a personal slot machine that you can carry with you everywhere you go. Just don't be too obvious about it, or people might think you're just casually playing with yourself.
FAQ
What is the RTP of Castle of Terror?
The theoretical return to player (RTP) of Castle of Terror is 96.72%.
How many paylines does Castle of Terror have?
Castle of Terror has 4,096 paylines.
What is the maximum win potential in Castle of Terror?
The maximum win potential in Castle of Terror is 61720x.
What is the minimum and maximum bet range in Castle of Terror?
The minimum bet range is 0.20 credits, and the maximum bet range is 15 credits per spin.
What kind of symbols does Castle of Terror have?
Castle of Terror has low-paying symbols (9, 10, J, Q, K, A) and higher-paying symbols (The Gardener, The Maid, The Gentleman, The Lady).
What are the bonus features in Castle of Terror?
The bonus features in Castle of Terror are the Holy Water feature, Silver Castle Scatter and Gold Castle Megascatter feature, and Bonus Buy feature.
Can I play Castle of Terror for free?
Yes, you can play Castle of Terror for free on any online casino site that collaborates with Big Time Gaming or on Slotjava.
Can I play Castle of Terror on mobile?
Yes, Castle of Terror is optimized for mobile devices and can be played on any iOS and Android device.
What we like
Exceptional graphics and gameplay
Well-crafted horror theme
High win potential and volatility
Impressive bonus features
What we don't like
Limited betting range
Standard RTP rate