Buffalo Blitz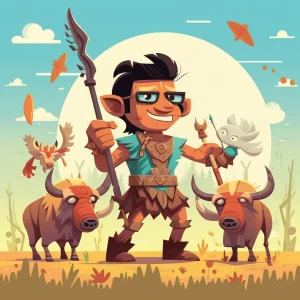 Buffalo Blitz is not your average online slot game. It steps up the game with a 6×4 grid, making it larger than the typical 5×3 configuration. With more symbols displayed with each spin, you get a chance to create unique combinations with above-average rewards. The game boasts of 4096 paylines, so there is plenty of winning potential.
Of course, as with any gambling game, high bets can also mean high losses. So it's always important to keep a healthy budget and remember to gamble responsibly. Keep in mind that it may take numerous rounds before hitting the perfect combination of symbols. Therefore, you should choose a bet value that aligns with your playing budget.
One of the best things about Buffalo Blitz is that it is a well-designed and immersive game. So even if you're not winning big, it's still an enjoyable experience. With its unique combination of multiplier features, it's undoubtedly a slot game creation worth trying out. Don't take our word for it – give it a spin and see for yourself!
Paylines
What do you get when you cross a bison and a 6×4 grid? The answer: Buffalo Blitz, the slot game that offers a whopping 4096 paylines, giving players more chances to win than they'll know what to do with. Seriously, someone better call an accountant because this game is going to need it with all the cash that's going to be rolling in.
But, let's not get too greedy. Let's focus on the fact that the high number of paylines creates a more dynamic and engaging gameplay experience. It's like trying to wrangle a herd of buffalo, except instead of trying to avoid getting trampled, you're trying to hit one of those juicy paylines.
Unleash the power of special mode!
Have you ever felt like a diamond in the rough just waiting to shine? Well, Buffalo Blitz has a special mode just for you! All it takes is finding that elusive diamond symbol and you'll unlock up to 100 free spins. That's right, free spins! Which means you can spin to your heart's content without risking a single penny. It's like a free vacation for your wallet!
However, don't let the excitement of this mode get the best of you. Triggering it requires luck, and a lot of it. It's like trying to find a needle in a haystack, except this needle is made of diamond and the haystack is the entire game. So don't get too caught up in the hopes of triggering this mode, and remember to enjoy the game itself. Although, if you do end up unlocking it, feel free to shout 'Blitzkrieg!' at the top of your lungs!
Betting Options
Are you a high roller, or a penny pincher? Either way, Buffalo Blitz has got you covered! It offers a wide range of betting options, so you can customize your gameplay to suit your bankroll. Whether you want to go big or keep it small and simple, this game has something for everyone.
But, hold on to your hats, folks! It is important to note that the game allows for high bets that can be risky for some players. So, before you jump headfirst into the game, take a deep breath, and choose a bet value that is comfortable for you. Remember, gambling is supposed to be fun, not a ticket to bankruptcy.
Theme
Get ready for a wild ride with Buffalo Blitz, the online slot game with an American feel. This game is set against a beautiful backdrop of the North American prairie, complete with grasslands, hills, and blue skies. It's like stepping onto the set of a classic Western movie, but with more animals. Yes, you'll see various animals such as bears, raccoons, and of course, buffalos, making appearances throughout the game.
Speaking of appearances, the graphics in this game are simply impressive. The attention to detail in the design of the symbols and the overall game interface is top-notch. Everything looks crisp, clean, and professional, like a well-groomed buffalo in the wild. The music is also a huge plus, as it adds to the immersive experience with atmospheric sounds that create a calming ambiance, even when you're on the edge of your seat waiting for that big win.
While there are other slot games with similar themes and symbols, there's no doubt that Buffalo Blitz stands out with its unique gameplay mechanics. This game offers over 4,000 ways to win, with six reels and four rows of symbols. It's like trying to spot the rare white buffalo in the midst of the herd, but instead, the reward is some serious cash. Not only that, but the game also includes some fun features, such as the diamond scatter symbol that can trigger up to 100 free spins and the wild symbol that can substitute for any other symbol except the scatter. With all these elements combined, Buffalo Blitz is truly a slot game that's worth a stampede towards.
FAQ
What is the grid size of Buffalo Blitz?
The grid size of Buffalo Blitz is 6×4, which allows for the display of 24 symbols each turn.
How many paylines does Buffalo Blitz offer?
Buffalo Blitz offers 4096 paylines, which allows for combinations of shape and value never seen before.
Is it advisable to bet high amounts in Buffalo Blitz?
Buffalo Blitz allows you to bet high amounts, but it is necessary to be careful. It is advisable to find a bet value that you find comfortable according to your gaming account.
What is the special mode of Buffalo Blitz?
The special mode of Buffalo Blitz can reward up to 100 free spins if you hunt for the diamond.
Are there any other slots similar to Buffalo Blitz?
Yes, other slot titles similar to Buffalo Blitz include Buffalo by Aristocrat, Golden Buffalo, Buffalo Stampede, and Ragin Buffalo.
What is the theme of Buffalo Blitz?
The theme of Buffalo Blitz is based on the animals of the North American habitat, with a focus on the iconic American buffalo.
What is the background music like in Buffalo Blitz?
The background music in Buffalo Blitz is calm and atmospheric, giving the player the opportunity to relax during the game itself and focus on the game dynamics.
What are the symbols in Buffalo Blitz?
The symbols in Buffalo Blitz include moose, raccoons, pumas, bears, and the American buffalo, as well as symbols related to playing cards.
What we like
Large 6×4 grid for more symbols per turn
4096 paylines offer ample opportunity to win
Special mode offers up to 100 free spins
Range of betting options for budget flexibility
What we don't like
Special mode is difficult to trigger
High bets can lead to large losses