Bruce Lee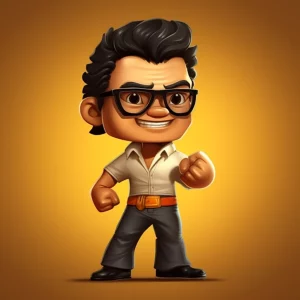 If you're someone who loves excitement and adventure, then you're going to love the Bruce Lee slot game from WMS software. This game takes its inspiration from the legendary martial artist and movie star, Bruce Lee, and promises plenty of thrills and spills with every spin.
The game begins with a stunning introduction that features one of Bruce Lee's many famous quotes, "Be like water, my friend." And we couldn't agree more; this game is as fluid as it gets with its unique "money burst" system which offers up to 60 pay lines and seven icons for each spin.
Of course, a game inspired by a martial artist wouldn't be complete without a few punches, kicks, and nunchucks. The game has many high-value symbols that depict Bruce Lee in various famous poses along with a dragon, a yin and yang icon, and of course, a few martial arts weapons. The graphics are truly amazing, and the sound effects create an impressive immersive atmosphere that transports you right into the thick of the action.
We particularly loved the bonus feature where you can win up to 20 free spins that come with a 3x multiplier and are triggered when you land three scattered golden dragon symbols. Trust us, you'll feel like you've just achieved a black belt level in online slot games once you trigger this bonus.
All in all, the Bruce Lee slot game is a fantastic online slot that does justice to the martial arts legend. With stunning graphics, fast-paced gameplay, and fantastic rewards, this game will definitely leave players wanting more.
So, don't be a grasshopper and play the Bruce Lee slot game today at your favourite online casino. Or, as Bruce Lee once famously said, "The successful warrior is the average man, with laser-like focus." So focus on the game, and let the martial arts master guide you to victory!
Gameplay and Features
Bruce Lee, the legendary martial artist and movie star, now has his very own slot game! Featuring 5-reels and 60-paylines, this game offers simple yet exciting gameplay that will keep players engaged for hours on end.
One of the standout features of Bruce Lee is the inclusion of special symbols like Wild and Scatter. And let's be real, who doesn't love a good Wild symbol? It's like the slot game equivalent of a wild card in a game of Uno. And with the Scatter symbol, players have the opportunity to activate free spins and earn even more chances to win big.
Despite its simplicity, Bruce Lee is still an entertaining game that even beginners can enjoy. Plus, the low volatility of the game means that players won't have to risk too much money to potentially hit it big. Bets can be placed from as little as 0.01 credits to 2 credits per pay line. So whether you're a high roller or just looking to have some fun without breaking the bank, Bruce Lee is definitely worth checking out.
And let's be real, who wouldn't want to play a slot game featuring the legendary martial artist? I mean, come on – it's Bruce freaking Lee! So why not give Bruce Lee slot game a try? You never know, you could be the next big winner.
Symbols and Paytable
Let's talk about the symbols in Bruce Lee, shall we? The developers have clearly put a lot of effort into making them faithful to the martial arts theme. The symbols include the legend himself, Bruce Lee, a fierce dragon, a traditional Chinese hat, a vase, a scroll, ninja stars, gold coins, a dagger, a treasure chest, and the usual Royals from 9 to Ace.
Now, here's a fun fact for you. Did you know that Bruce Lee was such an accomplished martial artist that he could catch ninja stars with his bare hands? Unfortunately, we can't promise that kind of skill will help you win big in this game, but it never hurts to try, right?
Anyway, let's get back to the symbols. Bruce Lee himself is the Wild symbol in this game, which means he can substitute for all other symbols except for the Scatter symbol, represented by the treasure chest. And speaking of that Scatter symbol, it's definitely one to keep an eye out for. Land three or more of those treasure chests and you can trigger the game's bonus feature, which we'll get to in a bit.
So, what do these symbols pay out? Well, the game's top symbol is Bruce Lee himself (of course), which can net you a whopping 800 credits if you land five of them in a row. Not too shabby, if we do say so ourselves.
Compatibility and Accessibility
Attention all you kung-fu aficionados and casino lovers, Bruce Lee slot game is now optimized and ready to go on all your devices! Whether you're a secret ninja who prefers playing on a desktop while pretending to work, or a flashy warrior who likes to show off their skills on-the-go, this game has got you covered.
Now, you can spin the reels and kick some serious butt on your desktop using Chrome or Safari, or on any iOS or Android device. Don't let anything hold you back from becoming a slot-gaming master – except for that guy in the cubicle next to you who keeps peeking over your shoulder.
Target Audience
Are you a beginner in the world of slot games? Or are you someone who doesn't want to spend loads of cash on a casino game? Look no further! Bruce Lee is the perfect slot game for you!
Trust me, not everyone wants to risk their life savings on a casino game. Sometimes, we just want a simple game that can give us a quick thrill without breaking our bank account. Bruce Lee is just that- simple, fast-paced, and fun!
Although it doesn't promise high winnings or unique features, what it does promise is a good time. Who wouldn't want to spin the reels with the legendary martial artist Bruce Lee by their side? I mean, who knows, maybe his luck will rub off on you!
So, if you're someone looking for a low-cost slot game that's easy to understand and play, Bruce Lee is the game for you. Give it a try and see if you can beat the odds!
FAQ
What is the theme of Bruce Lee slot game?
The theme of this slot game is martial arts and it is a tribute to the greatest exponent of martial arts in the world, Bruce Lee.
What is the main feature of the graphics of this game?
The main feature of the graphics of this game is its essential line, which can be appreciated in the main screen and in the game grid.
Is Bruce Lee slot game available on mobile devices?
Yes, this slot game is optimized to be playable not only from desktop computers but also on all mobile devices both iOS and Android.
How many pay lines does Bruce Lee slot game have?
This slot game has 5 reels and 60 pay lines.
What is the volatility of Bruce Lee slot game?
Bruce Lee is a low volatility slot game due to the low amounts that can be bet.
What is the highest paying symbol in Bruce Lee slot game?
Bruce Lee himself is the highest paying symbol in this slot game, paying 800 credits.
What is the Wild symbol in Bruce Lee slot game?
Bruce Lee is the Wild symbol, which can replace all the other icons except the Scatter.
What is the Scatter symbol in Bruce Lee slot game?
The Scatter symbol in this slot game is represented by a chest, which gives a variable number of free spins when it appears at least three times on the reels.
What we like
Easy gameplay
Special symbols and free spins
Wide betting range
Compatible with desktop and mobile devices
What we don't like
Lack of unique features
Low potential for high winnings