Breakout Bob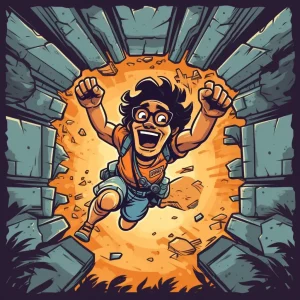 Are you ready to escape prison and trigger some wins? Breakout Bob is a slot game with a simple and easy to navigate layout, making it perfect for new players. The game features a square 4×4 grid with six fixed paylines, giving you an ample chance to hit some big wins.
Of course, what's a prison break without some risk and reward? Breakout Bob has a minimum bet of $0.05 and a maximum bet of $500, perfect for both low rollers and high rollers. However, if you're aiming to be the next Andy Dufresne, we suggest placing some high bets and taking that risk.
Keep in mind though, payouts can only be won from left to right, and only the highest win will be paid. But don't worry, even if you don't hit that jackpot, Breakout Bob has an autocorrect feature for 5-100 automatic spins, so you can break out and take a snack break without missing any action. And if you're in a hurry to escape, the slot game also features a turbo function, allowing you to speed up reel rotations.
But that's not all! With an impressive Return-to-Player (RTP) rate of 96.52%, you have a high chance of escaping prison with some extra cash in your pocket! And who doesn't love some cartoon-style graphics with prison walls as the background? So, break out your lucky charm, place your bets, and let the spinning begin!
Bet Limits And Paylines
Oh, the sweet life of high rollers. If you're one of the lucky ones who cough up $500 without flinching, then Breakout Bob can be your go-to game for an afternoon of fun. You could call it a little upper-crust secret. But if you're more like a penny pincher, don't be discouraged! You can still play with as little as $0.05 per spin.
Now, let's talk paylines. Honestly, we don't understand the fuss–it's only a measly six. Six seems small, but it surprisingly yields enough wins to keep you entertained. It may not be a game that rakes in the big bucks, but it's a little treasure chest that can still make you sing and dance along in glee.
Blowing Up the Reels with Wild and Scatter Symbols
Hold onto your hats, folks, because Breakout Bob is about to blow your mind – and the reels – with its explosive Wild and Scatter symbols.
The Wild symbol in this game is like a cherry on top of a sundae – it's the perfect finishing touch. In this case, the Wild is represented by a smoke cloud that follows the explosion of a bomb, which is totally fitting for a game with a prison escape theme. This Wild replaces all other symbols on the reels except for the Scatter, giving you more opportunities to hit those winning paylines.
But don't forget about the Scatter symbols, which are represented by the bomb icon. Land three or four of these Scatters and you'll trigger either 12 or 18 free spins! And that's not all – during these free spins, Bob will collect all of the Scatter symbols, converting them into Wild symbols that are placed randomly on the reels. It's like Bob is pulling out all the stops to help you hit those big wins!
In summary, the Wild and Scatter symbols in Breakout Bob are the bomb – in more ways than one. They add an extra level of excitement to the game and can help you increase your chances of raking in some serious cash. Just remember to duck and cover when that bomb goes off!
Bonus Games: Add Extra Fun to Your Gaming Sessions!
Everybody loves bonuses, do they not? Well, you will be thrilled to know that Breakout Bob has two such bonuses that could prove to be the highlight of your gameplay.
First, let's discuss the 'Bomb' bonus. No, you won't see any explosions, except for the oohs and aahs that follow after you hit some big wins. The 'Bomb' bonus gives you the chance to earn 4-6 free spins, while the multiplier could be anywhere from 2x to a whopping 25x. That's enough to do a happy dance, isn't it? Keep in mind that this bonus game occurs randomly, so you'll never know when your luck will strike.
The second bonus game is called the Wheel of Fortune – no connection with the TV show of the same name, but just as thrilling. During this round, the players spin a wheel and win one of three prizes depending on their initial bet: Minor, Major, and Grand. Every prize could bring a significant boost to your account balance, so once again, the excitement level just goes up a notch.
Both these bonus games not only add to your excitement but also give you the opportunity to increase your winnings. Remember, you can never have too much money to spend or save, right? So, why not have some fun on Breakout Bob and give your chances a spin.
Overall Entertainment Value
Breakout Bob has done a great job of keeping me hooked with its engaging storyline and stunning graphics. The game follows the daring Bob who's trying to escape prison, and boy has he managed to keep me entertained. I couldn't help but cheer for him with every spin of the reels.
Not only does the game have a captivating storyline, but it also boasts impressive bonus features that add to the overall entertainment value. It's one thing to watch Bob escape and quite another to join him in the action and earn incredible rewards while doing so. This game has got it all!
One of the most impressive things about Breakout Bob is the high RTP rate of 96.52%. With such a high return to player percentage, I know I'm getting great value for my money. This assures me that I have a pretty decent chance of winning big, and who knows, maybe I'll even help Bob escape!
All in all, Breakout Bob is a thrilling game that not only offers a chance to win big, but also provides endless entertainment. It's a win-win, really. If you're like me and enjoy a good story while trying your luck at the slots, you won't be disappointed with Breakout Bob.
FAQ
What is Breakout Bob?
Breakout Bob is an online slot game featuring an exciting prison break theme and beautiful cartoon-style graphics.
What are some of the slot features of Breakout Bob?
Breakout Bob has a 4×4 grid with 6 fixed paylines and an RTP of 96.52%. You can bet from $0.05 to $500 and activate automatic spins and a turbo function.
What are the symbols in Breakout Bob?
There are only 5 regular symbols in Breakout Bob, paying out well with adjacent combinations. The Wild symbol is the smoke cloud and the Scatter symbol is the bomb.
What happens when you get three or more Scatter symbols in Breakout Bob?
If you get three or more Scatter symbols, you can trigger 12 to 18 free spins. During the free spins, Bob will collect Scatter symbols and turn them into Wilds at the end of the bonus game.
Are there any bonus games in Breakout Bob?
Yes, there are two randomly triggered bonus games in Breakout Bob. The first one is a Bomb function, which assigns between 4 and 6 free spins with a progressive multiplier of up to 25X. The second one is the Wheel of Fortune, which gives you a chance to win one of the 3 fixed prizes.
What is the minimum and maximum bet amount in Breakout Bob?
The minimum bet amount in Breakout Bob is $0.05 and the maximum bet amount is $500.
Is Breakout Bob mobile-friendly?
Yes, Breakout Bob is optimized for mobile play and can be enjoyed on both iOS and Android devices.
Where can I play Breakout Bob?
Breakout Bob can be played at a variety of online casinos. Check your favorite casino's slot games collection to see if it is available.
What we like
High RTP rate of 96.52%
Impressive bonus features
Stunning cartoon-style graphics
Autoplay feature for 5-100 automatic spins
What we don't like
Only 6 fixed paylines
Winning combinations pay-out only from left to right