Brazilian Beauty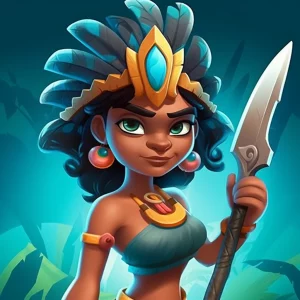 Brazilian Beauty is a sizzling slot game that will make you feel like you're dancing down the streets of Rio de Janeiro. The game developers did an excellent job of capturing the joyous vibe of Brazil's carnival atmosphere!
The graphics are brilliantly done, bursting with bright colors and imagery that is synonymous with the South American nation. As the reels spin, players can enjoy the sultry sounds of Brazilian samba music that will transport them to the heart of the Amazon rainforest.
But enough about the aesthetics, let's discuss the actual gameplay. Brazilian Beauty offers numerous in-game features, including free spins and wilds that guarantee a fun and challenging experience. Trust me, hitting a wild on the reels is like getting hit by a wave of confetti during the carnival in Rio!
If you're feeling lucky, be sure to check out the Brazilian Beauty jackpot feature that offers players a chance to win big. The colorful and engaging nature of the game makes it an essential pick for any online slot enthusiast, and the jackpots are sweeter than a Caipirinha cocktail!
In conclusion, Brazilian Beauty is like a tropical holiday in a slot game. It's entertaining, colorful, and has enough features to keep you coming back for more. The game designers knocked it out of the park with this one, and I highly recommend you give it a whirl. Just don't blame me if you get hooked and find yourself booking a ticket to Brazil!
Game Features
Hold on to your Samba hats, folks, because Brazilian Beauty brings the heat and the energy of Rio de Janeiro right to your screen. This 5-reel, 30 payline slot machine is perfect for gamers of all levels looking for an immersive and exciting casino experience.
With a colorful and vibrant set of graphics and animations, Brazilian Beauty is a feast for the eyes. From the lush green jungle canopy to the sultry dancers and rich cocktails, every aspect of this game is designed to transport you to the heart of Brazil.
The game offers a diverse range of betting options, with players able to spin for as low as 30 cents or as high as 150 Dollars per spin. Whether you're a high roller or a casual player, Brazilian Beauty has something for everyone.
There's no shortage of features to keep you entertained as you play. The game includes a variety of wilds, scatters, and bonus rounds, as well as a unique free spins feature that essentially gives you a second chance to win big. So light up a cigar and get ready to party like they do in Brazil with Brazilian Beauty!
Brazilian Beauty Bonus
The Brazilian Beauty Slot Game is not only about beautiful graphics and sounds, but also about rewarding features for players. And among all these features, the Brazilian Beauty Bonus stands out as one of the coolest.
This bonus is where the party starts. You can access a respin feature and a free spins feature – and let's be honest, who doesn't love free spins? This is the moment when you can grab a caipirinha and watch the reels spin, hoping that luck will bring you some big wins!
The free spins feature gives you up to 40 free spins, and the best part is that you can feel like you're on a Rio de Janeiro beach without leaving your home! And, if you really get lucky, you can even earn some cash prizes up to 300 times your bet, which will certainly help you pay your bills (or at least your next trip to Brazil).
So, don't miss out on the Brazilian Beauty Bonus. It's not just an opportunity to win big, but also a great way to relax and enjoy the party vibe of Brazil. Just be careful not to spill your drink while spinning those reels!
High-Profit Symbols
If you're looking to rake in the big bucks while enjoying a fun, carnival-themed slot game, then look no further than Brazilian Beauty! This game is full of exciting features and bonuses, but perhaps one of the most appealing aspects is the high-profit symbols.
When playing Brazilian Beauty, you'll definitely want to keep your eye out for the 3x wild icons. These colorful symbols not only substitute for other symbols to help you create winning combinations, but they also come with a sweet triple multiplier! That's right, every time one of these beauties is involved in a win, your earnings will be multiplied by three. Who said carnival games were just for kids?
Another symbol that can help you hit it big in Brazilian Beauty is the blazing sun token. This symbol acts as a kind of Scatter, and can help you rack up some serious winnings if you manage to land three or more on the reels. Plus, they just look really cool, like you're on a tropical vacation somewhere far away.
Overall, Brazilian Beauty is a top-notch slot game that offers players plenty of opportunities to win big. Whether you're a seasoned slot player or just looking for a fun and easy way to pass the time, this game is definitely worth a spin (or two…or three…). So why not give it a try and see if Lady Luck is on your side?
Get Ready to Rumba with the Free Spin Bonus Round
Are you ready to rumba Brazilian style? The "Brazilian Beauty" slot game is sizzling hot and truly delivers on all fronts when it comes to the exciting experience it offers. Once you start spinning and winning, you're also eligible to enter the coveted Free Spin Bonus Round.
Ah, yes, the Free Spin Bonus Round – the time where winning feels even better since you don't have to bet your own money. During this stage, you'll receive extra chances to gain cash prizes and jackpots.
Bonus cash prizes will be made available during the free spins round, giving you an opportunity to win big. Brazilian Beauty is the slot game that keeps on giving and delivering on an experience that cannot be beaten.
Similar Slot Game
If you're hooked on the sultry and vibrant vibe of Brazilian Beauty, then you're going to want to keep the fun going with another fabulous slot machine – Samba Carnival.
This game, produced by Play 'n Go, boasts 5 reels, 15 paylines and tons of colorful, crazy features. You might just feel like busting a move as you spin the reels and soak in the sounds and sights of the lively parade
Sure, you could compare it to a party where Brazilian Beauty is the sassy samba dancer and Samba Carnival is her groovy backup band. But instead of competing for the spotlight, these games complement each other perfectly – just like a great Caipirinha and some mouth-watering BBQ.
So switch on both games and dance your way to double the fun, double the excitement, and – fingers crossed – double the winnings!
FAQ
What is Brazilian Beauty?
Brazilian Beauty is a 5-reel, 30 payline slot machine from WMS Gaming that captures the iconic aspects of Brazil, not least its beautiful people.
What is the minimum and maximum amount you can bet in Brazilian Beauty?
You can bet from 30 cents to 150 Dollars per spin on all devices
What are the symbols in Brazilian Beauty slot machine?
Symbols on the reels include maracas, flutes, flowers, drums, necklaces, headgear, city logos, beauties (a lady in a bikini) and the Brazilian Beauty logo.
What are wilds in Brazilian Beauty slot machine?
Wilds can combine to give you multipliers up to 9x.
What is the Brazilian Beauty Bonus in the game?
In the Brazilian Beauty Bonus, you can access a respin feature and a free spins feature – the latter giving you up to 40 free spins and cash prizes up to 300 times your bet!
What is the Respin feature in Brazilian Beauty?
In the Respin feature, the reels with the Sun God scattered held while the other reels spin – this gives you the chance to get more Scatters to get more free spins in the next feature.
What is the Free Spins feature in Brazilian Beauty?
In the Free Spins feature, you will get 10, 15, or 20 free spins for 3, 4, or 5 Sun God Scatters. If you get 3 or more Scatters during the feature, you will win additional free spins, meaning you can win up to 40 free spins in total. Beware of the Scatter, which will reward you with cash prizes.
What is Samba Carnival, and how is it related to Brazilian Beauty?
Samba Carnival is a slot machine produced by Play 'n Go, with a similar theme to Brazilian Beauty. Both are Carnival-inspired games, but Samba Carnival has 4 wild symbols that each have a multiplier value – wins involving wilds are subject to a 5x multiplier. There's also a 'pick me' style feature where you can win up to 150 times your bet.
What we like
Captures iconic aspects of Brazil
Wilds and great in-game features
Access to respins and free spins
Profitable symbols and high cash prizes
What we don't like