Black Knight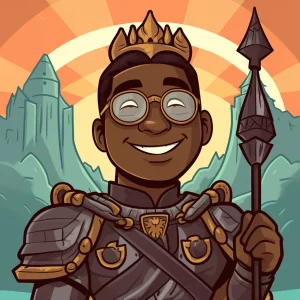 Black Knight is a classic slot game that boasts a simple yet elegant structure. It features a typical 5-reels, 3-rows layout with 30 paylines. On the surface, the Black Knight slot might seem basic, but it's this simplicity that makes it so addictive. The polished design complements its gameplay with the focus being firmly placed on spinning the reels and winning big payouts.
Although Black Knight lacks 3D animations or flashy graphics, it more than makes up for it with the Black Knight symbol and the numerous variations of it that keep players hooked. The sound design of the game is also impressive, with the clanging of swords and the sound of armor adding to the overall medieval theme.
But, let's be real. You're not here to play a slot game for the graphics and the sound effects, no matter how cool they might be. Black Knight's simple and straightforward gameplay is the game's biggest selling point. The slot's volatility is decent, with regular payouts happening frequently. But, the real prize is the bonus round. The more Black Knight symbols that land on your reels, the more spins and bonus payouts you can earn.
In conclusion, Black Knight might not be the most visually stunning game on the market, but its gameplay more than makes up for it. If you're looking for a no-frills, all-thrills kind of a slot game, then the Black Knight is the way to go.
Symbols and Paylines
If you're looking for a slot game that's fit for a king, Black Knight is definitely worth checking out. This medieval-themed game features a cast of characters including the Black Knight, a king, a queen, a jester, and more. The symbols are all beautifully designed and will transport you back to a time when castles were the norm and jousting was considered a sport.
One of the standout features of this game is the Black Knight Wild symbol. This symbol can substitute for all other symbols to complete a winning combination. The Wild can really help you rack up some big wins, so keep your eyes peeled for it. The Scatter symbol in Black Knight is the game's logo, and if you manage to get three of these in any position on the reels, you can trigger up to 7 free spins.
With 30 paylines, there are plenty of ways to win in Black Knight. Players can bet on a single line from just one cent up to a maximum of 150 $ on all 30 lines. So, whether you're a high roller or a casual player, there's a betting level that's perfect for you.
Overall, Black Knight is a fun and engaging slot game that's perfect for anyone who loves medieval-themed games. The graphics are top-notch, there are plenty of ways to win, and the Black Knight Wild symbol really adds some excitement to the game. Give it a spin today and see if you can become the king or queen of the reels!
Betting Options And Limits
Ready to venture into the world of online slot games? Look no further than Black Knight! Although this game doesn't offer a wide range of bets, it's perfect for those who don't want to go broke in one round. The minimum bet is only one cent per line, which means you can have a fun-filled session without worrying about depleting your bank account. It's like the game is whispering 'you can do it, little penny!'
On the other end of the spectrum, the maximum bet on all 30 lines is 150 $. That sounds like a lot until you win big, and then it's like you've entered your own medieval castle full of gold and riches. Just don't tell anyone about your newfound wealth, or they'll start asking you to lend them a few bucks for rent. Trust us, it's not worth the headache. Stick to playing Black Knight instead, where you can enjoy the thrill of the game without anyone else getting in your way.
Is the Black Knight your jackpot hero?
Are you ready to win big? Like, really big? Unfortunately, Black Knight might not be your ticket to becoming an instant millionaire. With a maximum jackpot win of 10,000 $, it's more suited for those who prefer a lower-risk option. But hey, don't fret just yet! This slot game offers plenty of other exciting opportunities to win, including a chance to unlock free spins and more.
You might not hit the top jackpot, but there are still plenty of ways to rack up some serious coin. Plus, for less experienced players or those just looking to enjoy a more relaxed gaming experience, the lower potential payout might actually be a relief. After all, no need to stress out about risking a fortune, right?
But don't let that low potential jackpot fool you – Black Knight is still a wildly entertaining game. With plenty of chances to win across the reels, including expanding symbols and a host of engaging bonus features, this game is sure to keep you entertained for hours. Whether you're a seasoned slot player or just looking to have some fun, Black Knight is worth a try.
Bonus Features and Free Spins
Who doesn't love some extra fun and excitement while spinning the reels? Well, unfortunately, Black Knight is not as generous as we would like it to be when it comes to bonus features and games. The only special feature in this game is the Free Spins Bonus. But hey, it's better than nothing, right?
In order to trigger the Free Spins Bonus, you'll need to land 3 Scatter symbols anywhere on the reels. Once you activate the bonus round, you can win up to 7 free spins. It may not seem like much, but during those free spins, you'll have a greater chance of hitting some big wins with the Expanding Wilds that come into play.
Unfortunately, that's all the bonuses and special features that Black Knight has to offer. It may not be the most feature-rich slot out there, but it's still an enjoyable experience. Plus, it's an excellent option for those who like a straightforward game without any complicated extra features (we know you're out there).
FAQ
What is Black Knight?
Black Knight is an online slot game produced by Williams Interactive in collaboration with SG Digital. It revolves around the figure of the Black Knight, the protagonist of Arthurian literature.
What is the gameplay structure of Black Knight?
Black Knight is an original online slot machine with five reels, three rows, and 30 paylines. The gameplay is quite simple and minimalistic, with the only exception being the Free Spins bonus.
Is Black Knight suitable for high-level players?
No, Black Knight is not particularly suitable for high-level players due to its simple and essential gameplay and not too wide range of bets. It is, therefore, perfect for those who are not very experienced or do not enjoy investing too much.
What is the maximum win available in Black Knight?
The maximum win that can be obtained with the jackpot is 10,000 $, confirming that Black Knight is a low-profile slot.
What are the Black Knight symbols?
The symbols that alternate on the Black Knight reels are entirely thematic and inspired by the medieval world that frames the figure of the Black Knight, such as the king, the queen, the crown, the map, the jester, the Black Knight's logo, and his ring.
What is the Wild symbol in Black Knight?
The Black Knight is the game's Wild, appearing only on reels 2, 3, and 4, and, as a wild card, it can replace all the other symbols in completing a winning combination.
What is the Scatter symbol in Black Knight?
The Scatter is instead the slot's logo, and it allows access to the game's only special feature, which is the Free Spins Bonus: if 3 Scatter symbols appear in any position on the reels, up to 7 free spins are obtained.
Can I play Black Knight for free?
Yes, WMS offers a Play for Fun version of the game, available in most online casinos, which allows players to spin the reels for free!
What we like
Simple and traditional slot machine structure
Medieval-themed symbols and design
Low minimum bet suitable for longer gameplay
Free Spins Bonus feature
What we don't like
Limited betting range
No other bonus games or features