Big Buffalo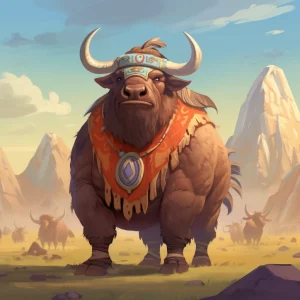 Are you ready to saddle up and chase some buffalo? Look no further than the exciting slot game, Big Buffalo. This 6-reel, 4,096 ways to win game is packed with features that will make you want to shout 'yeehaw'!
Big Buffalo is a high variance game with stacked paying symbols, which means you have a chance to hit big payouts. The Free Games feature is the highlight of this game, and it can be triggered by landing three or more scatter symbols. This will give you up to 20 free games, giving you ample opportunities to increase your winnings.
One thing we love about Big Buffalo is the wide range of bets that are available. Whether you're a casual or high-level player, you'll find a bet that suits your style. Plus, payouts are made from left to right in any position on the adjacent reels. This means you'll have plenty of chances to line up winning combinations, so get ready to lasso those buffalo for some serious cash!
Playing the game is simple. Just use the plus and minus signs to decide your bet and press the spin button. We recommend turning up the volume to fully immerse yourself in the Wild West experience. And who knows, maybe you'll land the ultimate prize and become the top cowboy in town.
Overall, we highly recommend Big Buffalo. It's a fun and exciting game that will keep you on the edge of your seat. So put on your cowboy hat, grab your lasso, and get ready to chase those buffalo!
Theme and Graphics
If you love the rugged American West, Big Buffalo is the perfect game for you. Prepare yourself for an adventure as you spin the reels featuring majestic creatures such as buffalos, bobcats, foxes, wolves, and bald eagles. The game's impressive background depicts the huge mountains, spires, and mesas iconic of the American West. It's almost like you can feel the breeze of the prairie blowing in your face.
The symbols on the reels are eye-catching and impressive, showcasing the beauty and wildness of the animals. You'll feel like you're in a nature documentary watching these creatures come to life right in front of you. The graphics are spot-on, the colors are vibrant, and the animations are satisfying. No matter if you play on your desktop or mobile device, you'll have an unforgettable wildlife experience.
Just be careful not to get too caught up in the beauty of the game or you might find yourself making questionable decisions. Like deciding it's a good idea to ride a buffalo while wearing a cowboy hat and playing the banjo. Trust us, no one's ever won big while doing that.
Bet Range and Player Audience
Are you a casual player looking for some fun or a high-roller who loves a little risk? Either way, Big Buffalo has got you covered. This game has a wide range of bets, starting from a modest 0.40 and going all the way up to a massive 320.00 per spin. So, even if you're not swimming in cash, you can still enjoy this slot.
But don't let the low minimum bet fool you. This game is high variance, which means you might experience some wild gameplay with high volatility. Just strap in, embrace the chaos, and hope that the big wins will be worth all the ups and downs.
And speaking of wins, the return percentage to players is a respectable 95.5%. So, whether you're here for the fun or the money, you won't be disappointed.
I mean, unless you're expecting to get rich off a 0.40 per spin bet. In that case, good luck to you, my friend. Maybe you'll hit the jackpot, or maybe you'll just have to stick to eating ramen for the next month.
Enjoyment and Value-packed Symbols
Are you ready to embark on an exciting journey with Big Buffalo? The game boasts a variety of symbols that will have you hooked in no time. From stacked wolves and bobcats to foxes, bald eagles, and buffalos, there's a lot to appreciate. However, the real head honcho of the group is the buffalo itself- this symbol dishes out a ton of coins and will have you howling with joy.
And if you're worried about getting stuck with low-rewarding symbols, think again! Big Buffalo has taken care of that with its high-paying symbols and frequent payouts. Plus, the added thrill of wild symbols of mountains, and free game symbols that trigger bonus features, keeps the excitement level high. The payouts for symbols can range from ten coins to 300 coins, so make sure you don't miss out on any valuable icons.
All in all, this game guarantees enjoyment and plenty of chances to win big. With every spin, the possibilities are endless. So come on, let's saddle up and explore the great vastness that Big Buffalo has to offer!
Experience the Thrill of Free Games and Multipliers
Are you ready for an incredible adventure with the Big Buffalo? Let's talk about the exciting Free Games feature and multipliers.
With just three bonus symbols, you can kick off eight free spins, but it's more fun if you get all six bonus symbols and embark on 100 free spins. That sounds like a stampede of winnings to me! Plus, the chance to win without additional bets? That's what we call a win-win situation.
During the free games feature, the wild symbol can double or even triple the payouts when it's part of a winning combination. That's what we call a wild ride. Just keep your eyes on the prize and let the multipliers increase your winnings like a pack of hungry buffaloes.
Now that's what we call a game worth playing! So saddle up and get ready for a nail-biting adventure that will have you on the edge of your seat.
Wild and Scattered Symbols
Well, well, well, what do we have here? Big Buffalo, you are one wild game, and we love it! We're not talking about a sizzling night in Vegas –- we're talking about the wild symbol of the game. Get your head out of the gutter!
Now, close your eyes and picture this: a majestic image of the West's mountain ranges fills your screen. Imagine it now with the ability to replace other symbols except for the scattered Free Games symbol. That's right, the mountains serve as the wild symbol, and boy, do they come in handy. You'll want to give these mountains a big ol' bear hug once you've seen them in action.
And don't even get us started on the scattered Free Games symbol, which triggers an exciting bonus feature. It is represented by a Buffalo skull wearing a headdress, which is a pretty badass piece of art. This symbol can literally pop up anywhere, and when it does, you are in for a sweet surprise. You'll want to thank the developers of the game for this one, trust us.
The wild symbol is definitely abundant and can show up multiple times, making it incredibly helpful when you're trying to complete numerous winning sequences. There's nothing better than getting a few wilds and watching as the coins pile up.
Overall, Big Buffalo is a wild ride! And with the ever-present wild and scattered symbols, it's no wonder why. Keep an eye out for those mountains, and that buffalo skull, they could make your day.
Licensing And Fair Play
Are you tired of playing slot games that seem rigged? Look no further than Big Buffalo! This game is developed by the trustworthy team at Skywind Group, who prioritize fair play above all else. Plus, with a license backing up their work, you can feel confident that your chances of winning are not being unfairly impacted.
Sure, Skywind might not be a household name like some other developers in the industry, but that just means they're the cool kids on the block – the ones who star in indie films or play concerts at small clubs before skyrocketing to fame. You get to say you knew them before they were famous! And while they might be a little under the radar, they're expanding their influence and making waves in the online and mobile casino world.
In summary, playing Big Buffalo is a win-win situation. You get to enjoy a fun and fair slot game while supporting an up-and-coming game developer. It's like drinking your morning coffee and being productive – except without the bitter aftertaste.
Return Percentage to Players
They say the house always wins, but with a return percentage of 95.5% in Big Buffalo slot game, it seems like players stand a pretty good chance! This return percentage is especially satisfying for a high variance game, giving players the opportunity to experience thrilling, high-stakes gameplay while still winning satisfying rewards. Talk about a win-win situation!
Of course, with the higher rewards come higher risks, and players may experience some ups and downs as they attempt to wrangle the elusive big buffalo. But let's face it, that's half the fun, right? Who needs a boring, steady game when you can experience all the thrills and spills of a wild stampede? Just don't let the buffalo's horns get in the way of your winnings!
FAQ
What are the minimum and maximum bets of the Big Buffalo slot game?
The bets range between 40 cents to $320 per spin
What are the symbols present in the Big Buffalo slot machine?
Symbols include bobcats, foxes, wolves, bald eagles and high-yield buffalos
What is the return percentage of the Big Buffalo online slot game?
The Big Buffalo slot machine comes with a generous 95.5% return percentage
How many reels and paylines does the Big Buffalo online slot game have?
The game has 6 reels and 4,096 different ways to win
What is the Free Games bonus symbol in the Big Buffalo slot machine?
The Free Games bonus symbol triggers up to 100 free spins
What is the value of the low-value symbols in the Big Buffalo online slot game?
Low-value symbols 9 and 10 return ten coins when landing on three reels and up to 100 coins when landing on all six reels
What is the wild symbol in the Big Buffalo slot game?
An image of the West's mountains serves as the wild symbol
What is the auto on/off option in the control panel of the Big Buffalo online slot game?
The auto on/off option allows you to automate your spins
What we like
Wide bet range to suit all types of players
Impressive theme and graphics capturing the rugged American West
Multiple high-value symbols and stacked paying symbols
Free Games feature with potential for doubled or tripled payouts
What we don't like
High volatility gameplay may not suit all players
Wild symbol does not have its own payout value