Atlantis Queen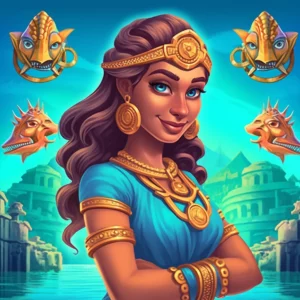 Oh boy, let me tell you about Atlantis Queen! This slot game has two main gameplay features that are sure to make any player giddy with excitement. The first feature is the Pearl Bonus function, and it's a real pearl of a feature! Sorry, I couldn't resist. This feature offers players the chance to win cash prizes through 9 pearls that they select. It's like a mini treasure hunt within the game. Will you be lucky enough to uncover the big prize?
The second gameplay feature is the Atlantis Temple Bonus, and it's like hitting the jackpot! When activated, players will receive 14 free spins and a 3x multiplier on any winnings. That's right, you get to play for free and increase your chances of winning at the same time. This feature is definitely one to look out for, as it can make all the difference in your gaming experience.
Overall, Atlantis Queen ticks all the boxes for a great slot game. It has stunning visuals, entertaining gameplay features, and chances to win big payouts. Just make sure you don't get lost in the underwater world of Atlantis while playing! Trust me, I've been there before.
Game Setting and Theme: Explore the Underwater World
Dive into the deep blue abyss with Atlantis Queen, a casino slot game that takes you on a journey to the lost city of Atlantis. The game's stunning graphics and mesmerizing soundtrack will transport you to the mystical underwater world of the ancient civilization.
One thing we appreciate about this game is the attention to detail. The symbols and graphics reflect the aquatic theme, with mermaids, treasure chests, and even the mighty Poseidon gracing the reels.
Speaking of Poseidon, be sure to pray to the god of the sea for good luck when playing this game! With the chance to win big payouts and bonuses, you'll need all the help you can get.
And if you get really into the theme, why not dress up in a mermaid tail and play Atlantis Queen while pretending you're actually underwater? Just be careful not to electrocute yourself!
Get Hooked on Atlantis Queen's 25 Paylines and 5-Reel Grid
Welcome to Atlantis Queen, where you'll dive deep into the depths of the ocean to uncover a treasure trove of winning possibilities. With 25 paylines and a 5-reel grid, you'll get tons of opportunities to hit it big in this classic casino slot game. Whether you're a seasoned player or a newcomer to the world of online slots, Atlantis Queen is a great choice for anyone who wants to have some fun and maybe even walk away with some extra cash in their pocket.
25 paylines might seem like a lot to keep track of, but Atlantis Queen's intuitive design makes it easy to understand. And with so many paylines, there's always the chance to hit a winning combination. Plus, the 5-reel grid ensures that the game stays exciting and unpredictable.
So what are you waiting for? Get ready to dive into the world of Atlantis Queen and discover the treasures that lie beneath the surface. Just be sure to keep an eye out for the Queen herself – she might just grant you a wish or two!
Symbols and Their Significance: Sirens, Treasure Chests, and Poseidon
Are you ready to dive into the deep blue sea and explore the lost city of Atlantis? If so, then you'll definitely want to give Atlantis Queen a spin. This casino slot game is packed with exciting features, stunning visuals, and big win potential. But before you jump in headfirst, let's take a closer look at the game's symbols and their significance.
As you might expect from a game with an underwater theme, the symbols in Atlantis Queen are all related to the ocean and its inhabitants. You'll find sirens, treasure chests, and the king of the sea himself, Poseidon. Each symbol offers different rewards, with Poseidon being the most lucrative of them all. If you're lucky enough to land five Poseidon symbols on the payline, you'll win a whopping 5,000 times your bet!
But don't worry if you don't manage to catch Poseidon, as the treasure chest symbol is also worth its weight in gold. Finding five treasure chests will give you a fixed victory value of 1,000 times your bet. Not only do they add to the game's underwater charm, but they can also replace all other symbols except the Temple Scatter symbols.
All in all, the symbols in Atlantis Queen are well-designed and thoughtfully chosen. They all add to the game's overall theme and provide players with plenty of opportunities for big wins. And if you're lucky, Poseidon might just be on your side, letting you walk away with a treasure trove of riches. Just try not to get lost in his dreamy, sea-blue eyes…
Player Experience: Atlantis Queen Can Entertain Everyone
If there's one thing that is true about the Atlantis Queen slot game, it's that it provides an entertaining experience for both old hands and newcomers to the world of slots. Don't think you know everything already? You might be surprised by how much you enjoy this game.
Sure, the base game might come with more modest payouts, but the bonuses that come with it, Pearl Bonus and Atlantis Temple Bonus, provide a chance for more significant returns. It's a perfect balance, really. And, let's be honest, no one's going to say no to more opportunities to profit from their lucky spins of the reels.
It's easy to see how Atlantis Queen could quickly become a player favorite in any casino that offers it. With its eye-catching underwater theme, even the most experienced gambler will enjoy the design and graphics used. And if that's not enough, there's always the odd chuckle or two to be had when the slot pays out on a win. Who doesn't enjoy a little bit of levity in their slots gameplay?
But beyond just the chance to win or the amusement from how the game is designed, Atlantis Queen provides a chance for players to lose themselves in the narrative – to believe that they, too, could discover the lost Atlantis and meet its queen whilst lining their pockets. It's no small feat in a land where so many games are vying for attention on the casino floor.
In the end, what makes Atlantis Queen great is its ability to create a balance between the elements that make for a great slot experience. So, no matter whether you're a seasoned veteran at the slots, or someone with just a passing interest, Atlantis Queen will give you what you need to enjoy yourself. Want to give it a go?
FAQ
What is Atlantis Queen?
Atlantis Queen is an online slot machine game created by Playtech that features an underwater world theme.
What is the standout feature of Atlantis Queen?
The standout feature of Atlantis Queen is the Pearl Bonus function which allows players to choose from 9 pearls, each connected to a cash prize.
What is the Atlantis Temple bonus feature?
The Atlantis Temple bonus feature offers 14 free spins and a chance to have a 3x multiplier.
What is the structure of Atlantis Queen?
Atlantis Queen starts with a 5-reel grid and 25 paylines.
What is the betting range for Atlantis Queen?
The minimum amount to bet on Atlantis Queen is 0.25 cents.
What are the symbols in Atlantis Queen?
Atlantis Queen features Scatter symbols, Wilds, multipliers, bonus games, and free spins. Special symbols include Poseidon, the treasure chest, and the siren as the Wild symbol.
How do you activate the Pearl Bonus function in Atlantis Queen?
The Pearl Bonus function is activated when players land the Pearl symbol on reels 2, 3, and 4 simultaneously.
What happens when players activate the Atlantis Temple bonus feature?
When players activate the Atlantis Temple bonus feature, they will be able to click on bricks to establish how many free spins they will get and the value of the multiplier assigned.
What we like
Pearl Bonus feature offers cash prizes
Atlantis Temple Bonus feature with free spins and multiplier
Underwater world setting and theme
Suitable for both experienced and new players
What we don't like