American Dad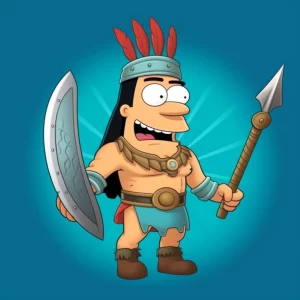 Are you ready to join the Smith family for a wacky adventure? Look no further than the American Dad slot game! Developed by Playtech, this game offers 5 reels and 40 paylines, all with an American Dad twist.
The game is fully optimized for desktop and mobile devices, so you can enjoy your slot machine experience on the go. The slot game also offers a range of exciting features including.
5 different options for free spins as bonus features
Low-value symbols such as A, K, and Q in red, white, and blue colors, and high-value symbols including Steve, Hayley, Klaus, Francine, and Stan,
The Wild symbol represented by the eccentric alien, Roger,
The most valuable Schmooblydong bonus symbol that can offer up to 750 coins if a combination of 5 symbols is formed,
And the Schmooblydong bonus symbol also plays a key role in unlocking the exciting free spin function.
The character you play with is determined by the Schmooblydong bonus symbol and can range from 3 to 25 spins. It's an exciting journey that guarantees a fun time along the way!
American Dad promises not only fabulous graphics and impeccable sound effects but also a great dose of humor! It's fun watching the crazy characters spin and land on reels to make interesting combinations and forms to award wins. It's a bit like watching a new episode of the American Dad series only this time, you have a few bets riding on it!
So, buckle up and get ready for a wild ride because this game is sure to take you on an unforgettable adventure with the Smith family!
Graphics and Theme
Let's start by discussing the graphics, shall we? If you're a fan of the hit animated TV series 'American Dad', then you will absolutely fall in love with the graphics in this slot game. The developers have done a fantastic job of incorporating the show's iconic setting of Langley Falls as the backdrop for the game. The attention to detail is extraordinary, and the characters and symbols presented in the game noticeably give off the classic 'American Dad' vibe, which fans of the show will appreciate.
The colors used in the game are predominantly the colors of the American flag–red, white, and blue–which is a nice touch. The animations are smooth, fluid and they truly elevate the whole gaming experience, making it fun and enjoyable for all. Everything from the soundtrack to the symbols is a true testament to the hard work the developers have put into this game.
All in all, I'm impressed with the graphics and theme of this slot game. 'American Dad' is a classic show filled with humorous and entertaining moments, and this slot game lives up to that high standard. If you're looking for a vibrant and colorful gaming experience while also indulging in your love of the iconic show, then this game is the perfect option for you.
Compatibility with Mobile Devices
Are you tired of being stuck at home in front of your desktop computer, eagerly waiting for your chance to play American Dad? Fear not, my friends! This game is fully compatible with mobile devices, meaning you can take your favorite characters with you wherever you go. Now you can pretend to be productive during your work meetings while secretly spinning the reels.
Nope! The graphics and animations are just as sharp and vibrant as they are on the desktop version. Plus, the game's functionalities are optimized for mobile devices, so you won't have to worry about awkwardly trying to navigate the game on a smaller screen.
So, whether you're waiting in line at the grocery store or lounging on the couch, you can now access American Dad and join in on the hilarity anytime and anywhere. Just be prepared to explain to curious strangers why you're laughing at your phone screen.
Bonus Features
American Dad is not just any ordinary casino slot game – it is filled with incredible bonus features that will keep you entertained for hours. In fact, the game has five unique options for players to activate free spins, each with its own set of rules and rewards. This is not your typical one-size-fits-all feature!
One of the most exciting bonus features in the game is Roger's Random Wilds. This feature provides a chance to randomly place Wild symbols on each free spin; boosting your chances of hitting the jackpot. It's like having your own little leprechaun hiding in the game, waiting to surprise you with a big win!
Another great feature is Hayley's progressive function. For those who are chasing the big bucks, this bonus feature provides multipliers of up to 10x! Imagine the thrill of seeing your balance skyrocket when you win big with this feature.
Wheels and Legman are also in on the action, leaving a trail of Wild symbols on the reels for each free spin. This increases your chances of winning and also adds to the excitement of the game. Who knew that animated characters could help you win big at the casino?
The bonus features on American Dad are designed to offer maximum entertainment value, and they do just that. Not only are they well-designed, but they also provide players with a wide range of rewards – making this game a favorite among many. So, why not give it a try and see for yourself? Who knows, you might just end up laughing all the way to the bank.
Appeal to Fans of the TV Show
American Dad is an online slot game inspired by the cartoon series of the same name, and if you're a fan of the show, boy do we have news for you, this is the perfect game for you! The graphics and symbols used in the game are so familiar and inspired by the TV show it makes you feel like you're hanging out at the Smith's house. With all the wacky characters from the TV show making an appearance as symbols, the game provides a sense of nostalgia and entertainment all at once, just like the show.
And let's talk about the bonus features, folks. They are designed to fit with the show's theme and offer rewards based on the characters and the story, so you can get your fix of the Smiths and their shenanigans while winning big. And if you haven't tuned into the show, don't worry because the game's functionalities and rewards still make it a fun and entertaining experience for all.
So let's raise a glass to American Dad, the perfect game for fans and lovers of great online slot games alike. Just don't let Roger the alien catch you playing at work, we don't want you to get in trouble.
FAQ
How many paylines does American Dad have?
American Dad has 40 paylines.
Can I play American Dad on mobile?
Yes, American Dad is easily playable on mobile devices.
What is the most valuable symbol in American Dad?
Dad Stan offers the highest reward of up to 250 coins if he appears five times on a payline.
What is the Wild symbol in American Dad?
The Wild symbol is the alien Roger.
What is the Schmooblydong bonus in American Dad?
The Schmooblydong bonus is the most valuable symbol that can offer 750 coins. It is also essential for unlocking the Free spin function.
What is Roger's Random Wilds in American Dad?
Roger's Random Wilds function places Wild symbols randomly on each free spin.
What is Wheels and Legman's role in American Dad?
Wheels and Legman leave a trail of Wild symbols on the reels for each free spin.
Is American Dad a rewarding slot game?
Yes, American Dad offers a range of bonus features, and the bonuses are genuinely rewarding.
What we like
Well-designed graphics and animations
Good compatibility with mobile devices
Range of different bonus features for players to enjoy
Appeals to fans of the TV show
What we don't like