African Quest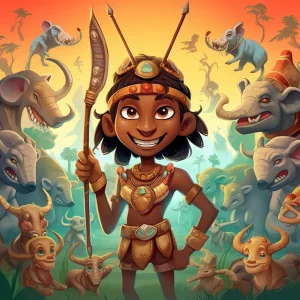 Are you ready to go on an African adventure? African Quest offers a fun and easy gameplay experience with some special features that will keep you hooked.
Firstly, the Hyperspin Feature is a game-changer. It gives you the option to spin a reel again (for a small fee) and increase your chances of hitting a winning combination. Who said you can't buy happiness? You certainly can on African Quest!
The Scatter symbol, represented by the map of Africa, triggers free spins and multipliers based on the number of appearances on the reels. And the best part? You get to choose your free spins! With the potential to increase the maximum value of the multiplier up to 64 times the bet, you'll have a chance to win the $84,000 prize. Now, that's what we call a good safari.
Potential Winnings
While African Quest might not give you frequent wins, it offers decent sums in the long run. As a high-volatility game, it's important to understand that the wins may be a bit sporadic. But don't be discouraged! The prize is worth it. After all, we're in pursuit of the elusive maximum win of $84,000 or 5,600 times the value of the bet.
Starting from just 10 cents and increasing all the way up to 15 $, there are many different betting options for you to choose from. Whether you're an experienced player or just starting out, there's a betting range that's perfect for you.
Now, we know what you're thinking. Is this game worth the time and energy to bring home the big bucks? We think so. Plus, think of it as an opportunity to take a break from scrolling through your feed!
So go ahead, give African Quest a spin or two (or 50). You never know when that elusive jackpot might fall into your lap.
Design and Theme
Get ready to embark on an epic journey to the heart of Africa and witness the wild animals in their natural habitat with African Quest – a slot game that takes you on an exciting safari adventure. The game has an African-themed design that is vibrant, colorful, and very well-executed, effectively developing the safari atmosphere as soon as you load it up.
From the moment you start spinning the reels, you'll be transported to the African plain where everything is up for grabs. The symbols on the reels feature all kinds of African wildlife, such as elephants, giraffes, rhinos, zebras, and more, all rendered beautifully with vibrant colors and intricate designs. The African trees, maps, and playing card icons also add a bit of zest to the game's visuals, making it truly a feast for the eyes.
Overall, African Quest has an immersive and visually appealing design that sets it apart from other slot games. Whether you're a seasoned player or a newcomer to the world of online slots, you'll appreciate the effort that went into creating the game's theme and graphics.
Now, if only we could hear the lions roar and the elephants trumpet as we play. Maybe that's asking too much, but we can always dream!
Bet Range
Let's talk about one of the most important things in a slot game: the bet range. In African Quest, you can bet from 10 cents to $15. It may not be the widest range out there, but hey, quality over quantity, right? And let me tell you, this game packs a punch. Despite the low betting amount, the game offers high volatility which means that you can still bring home some decent winnings. In fact, the maximum win is a stunning $84,000, which is 5,600 times the value of your initial bet. That's a lot of zeroes! I mean, you could buy a small African safari with that kind of money. Okay, maybe not, but it's still a lot of cash.
So, if you're feeling lucky, but don't want to break the bank, African Quest may be the game for you. It's like a value menu item at a fancy restaurant. You get all the perks, without the hefty price tag.
RTP: Is African Quest Worth Your Time?
Are you looking for a high-paying slot machine? Well, it turns out African Quest is just like any other casino slot games out there. Its theoretical return to player (RTP) rate sits at a standard 96.52%. It's not groundbreaking, but it's not terrible either. If you're looking for a game that will offer some decent winnings, then African Quest is definitely worth your time.
But if you're looking for a game with amazing graphics, hilarious sound effects, and top-notch prizes, then African Quest might not quite make the cut. However, if you're like us and you love a good old slot game with simple yet entertaining gameplay, then African Quest is definitely the right choice – and let's be honest, who doesn't like the thrill of the spinning reels?!
Jokes aside, overall African Quest is a solid slot that offers plenty of chances to win big. Plus, it's set in the beautiful scenery of Africa, which will transport you to the Serengeti in an instant – and hopefully to the big wins too!
FAQ
What is the theme of African Quest?
African Quest is a safari-themed slot machine game.
Who produced African Quest?
African Quest is produced by Microgaming in collaboration with Triple Edge Studios.
How many reels does African Quest have?
African Quest has 5 reels.
What is the minimum bet for African Quest?
The minimum bet for African Quest is $0.10.
What is the maximum bet for African Quest?
The maximum bet for African Quest is $15.
What is the RTP of African Quest?
The RTP (theoretical return to the player) of African Quest is 96.52%.
What is the Hyperspin Feature in African Quest?
The Hyperspin Feature allows you to spin a reel again (for a fee) to increase your chances of getting winning combinations.
What is the maximum win for African Quest?
The maximum win for African Quest is $84,000 or 5,600 times the value of the bet.
What we like
Engaging Hyperspin Feature for more chances to win
Free spins with up to 64x multiplier for the maximum prize of $84,000
Effective graphics and well-executed African-themed design
Fair return to player rate of 96.52%
What we don't like
Low betting range from 10 cents to $15
High volatility may not be suitable for players looking for frequent wins