9 Lions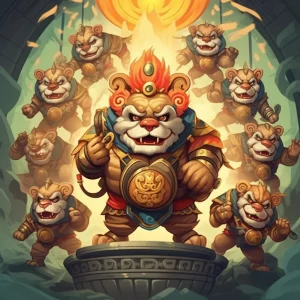 Get ready to be transported to the heart of China with the visually stunning 9 Lions slot game. The game's graphics are so enchanting, it'll make you forget you're actually playing a game! The detailed backgrounds are a feast for the eyes, the elegant user interface is easy on the senses, and the splendid symbols capture the essence of Chinese culture.
You won't be disappointed by the game's high definition, vivid colors, and precise drawings. It's as if the symbols have come to life with impeccable detail that will leave you mesmerized. It's no exaggeration to say that this game sets a new standard for how slot games should look and feel!
Bonus Features
Bonus features make online casino games worth playing. Luckily, 9 Lions has many of them! It's like when you go to a buffet and they offer unlimited food. In this slot game, you get an unlimited amount of excitement. The lion and dragon symbols are like your keys to unlock the bonuses. You can collect them and trigger rounds where you can win big bucks.
Now, let's talk about dragons. Who doesn't love dragons? They're mythical, powerful, and breathe fire. The dragons in 9 Lions, however, don't breathe fire, but they bring you instant payouts ranging from 1,000 to 10,000 credits. All you have to do is launch the picking round by landing three of them on the middle reel. Then, choose one of the three icons that appear on your screen. It's like playing a children's game, but with real cash to win.
And who could forget about the king of the jungle? The golden lion symbol is your ticket to launching 9 free spins and sticky symbols. You heard that right! Nine opportunities to spin and make money without betting a dime. But don't underestimate the power of the lion. You need to collect nine golden lion symbols and place them on the matrix field next to the grid. Once you fill it up, you can trigger the free spins by landing three lion symbols. It's like waiting for a package to arrive, but instead of a package, it's money.
Unforgettable Casino Experience with 9 Lions' Serene Background Music!
9 Lions is a 'roaring' success in the world of online slot games, providing players with electrifying graphics, numerous chances for free spins, and an array of game-winning bonuses.
9 Lions' background music is so mesmerizing that you might forget that you're even playing a casino game at all! It's like taking a stroll through the serene mountains of China, surrounded by beautiful landscapes and exotic animals, all while hitting the jackpot on your favorite slot machine. Who knew that winning big could be such a zen experience?
But don't worry, the music never detracts from the excitement of the game itself. Instead, it adds a new dimension to the experience, making the game feel like a true adventure. You'll find yourself tapping your feet and swaying your head to the calming tunes, even as you rack up your winnings and unlock new bonus levels.
Overall, 9 Lions' background music is an absolute masterpiece, providing the perfect background to a truly captivating online casino game. Whether you're a seasoned player or new to the world of online slots, you'll find yourself swept away by the game's beautiful graphics, lucrative bonuses, and, of course, its unforgettable, serene background music.
Interesting Gameplay Mechanics
Oh boy, have you ever played a game where every decision counts? Well, 9 Lions certainly fits that bill. With 3 reels and 9 paylines, this game brings a new level of excitement to the table. After each spin, the player can decide to start a new spin or hold onto some of the symbols from the previous round. That's right, this game lets you strategize and truly put your gaming skills to the test.
Don't be fooled by the simplicity of 9 Lions; the interesting gameplay mechanics are sure to keep you on your toes. Some symbols will be automatically highlighted as held, but the way the player deselects these symbols and proceeds with a new spin is entirely up to them. The player can then influence the game a lot, and decisions are vital. One move can change the entire outcome, so choose wisely!
As if that wasn't enough, the game also features some pretty impressive graphics and sound effects. The music is exhilarating, and the striking visuals make every win all the more exciting. With a game like this, you're sure to have a roaring good time!
Functional User Interface
If you're a fan of online slot games, you know that a good user interface can make all the difference in your gaming experience. When it comes to 9 Lions, you won't be disappointed. Not only is the interface elegant, but it's also functional, allowing players to easily navigate the game and understand the rules. You can keep your focus on the game and not get lost in a complicated UI.
The gameplay mechanics in 9 Lions is also worth mentioning. One of its interesting features is the ability to hold onto symbols from the previous spin, which increases your chances of winning in the next spin. It's like holding onto your lucky charms, but without the outdated and funky smell.
Overall, I find the user interface design and mechanics of the game very user-friendly which resulted in me being less frustrated and more focus on winning, we all know that can be a rarity.
9 Lions: Exceptionally Popular Slot Game
9 Lions has become a roaring success with its thousands of players worldwide. It's enchanting graphics, special bonuses, pleasant background music, interesting gameplay mechanics, and functional user interface have caught the attention of players around the globe. Not to mention the game's most loved animal – lions. This slot game is perfect for those looking for a wild time.
But if 9 Lions isn't enough for your love of big cats, we suggest trying the 50 Lions Slot Machine, the slot produced by Aristocrat with a whopping 50 paylines. We promise it's not a cat-astrophe!
FAQ
What is 9 Lions?
9 Lions is a Chinese-themed 3×3 slot game from Wazdan, released in September 2018. The game offers interesting gameplay mechanics where you can hold symbols from the previous spin, and it has 9 paylines.
What makes 9 Lions stand out?
9 Lions is known for its extraordinary graphics, Chinese-themed design, and interesting gameplay mechanics. It also offers bonus rounds triggered by specific symbols.
What bonus rounds can you play in 9 Lions?
The Dragons Bonus is triggered when you land three Dragon symbols, and the player can then choose one of the three Dragon icons to reveal a cash prize. The Lions Bonus is activated when you collect all nine Lion symbols and land three Lions, and you'll receive nine free spins with sticky symbols.
How many paylines does 9 Lions have?
9 Lions has 9 paylines.
Can I play 9 Lions on my mobile device?
Yes, 9 Lions is compatible with mobile devices.
Are there any similar slot machines to 9 Lions?
If you're passionate about lions, we can suggest the 50 Lions Slot Machine, a slot produced by Aristocrat with 50 paylines.
What makes 9 Lions' graphics outstanding?
9 Lions stands out for its excellent design that draws on Chinese themes without using excessive red and gold. The symbols are meticulously drawn in high definition and vivid colors, and the animations are impressive. The background offers a welcome relief from all the red and gold too.
How can I trigger the Lions Bonus round in 9 Lions?
To activate the Lions Bonus round, you need to collect nine pictures of a golden lion and put them on the matrix field next to the grid. Then, land three lion pictograms simultaneously when the matrix field is full.
What we like
Enchanting Graphics
Bonus Features
Pleasant Background Music
Interesting Gameplay Mechanics
What we don't like