Mermaid Reef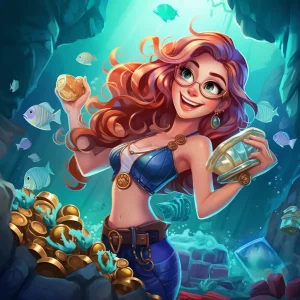 Are you ready to make a splash with Mermaid Reef? This ReelPlay slot game blends simplicity and excitement in a way few games can. With its 5×3 grid and 10 fixed paylines, players can dive right into the action. But don't worry about breaking the bank – bets start at just 10 coins and go all the way up to 10,000. Now that's a lot of clams!
And for those who like to sit back and let the waves wash over them, Autoplay is the feature for you. Set between 5 and 100 automatic spins without any limits. Just sit back, relax, and let the mermaids do their thing.
But let's get to what really matters: winnings. With an RTP of 95.9% and high volatility, you'll be swimming in frequent payouts. So strap on your scuba gear and take the plunge!
Bonuses, Bonuses, Bonuses!
Hold onto your shells, folks – Mermaid Reef is jam-packed with bonus features that are sure to make a splash! The mermaid Wild symbol and the Scatter Pearl symbol are two special symbols to look out for that can trigger free spins with a 2x multiplier.
Keep an eye out for the Scatter Clam symbol, which can activate the bonus game. Here, players have the chance to win multipliers ranging from 1x to 20x by picking open oysters! Be careful though, you might come across a black pearl that will end the game, but if you're lucky enough to discover a golden pearl you can earn a multiplier of 50x to 1,000x.
All we have to say is – the more bonuses, the merrier!
Betting Options
Mermaid Reef's betting range is as flexible as a contortionist in the circus, starting at a lowly 10 coins and going all the way to a high-roller worthy 10,000 coins! And if you're feeling lazy or just want to enjoy the view of the mermaids for a spell, the Autoplay feature allows you to set between 5 and 100 automatic spins without any limits. As if that weren't enough, the internal menu lets players adjust their bets to the best option, making sure you won't have to rob a bank to have some fun.
Visuals and Sound
Prepare yourself for an underwater adventure like no other with Mermaid Reef! This online slot game is set among the stunning Abaco Islands in the Bahamas, where you'll find a treasure trove of rewards waiting to be discovered. The game's visuals are incredibly detailed and immersive, providing a true sense of being underwater. The only thing missing is the smell of saltwater and seaweed!
While Mermaid Reef may not have the biggest special effects, it is still a feast for the eyes and a great option for those who prefer a more chill and relaxing gaming experience. The music is soothing and subtle, making it perfect for players who want to fully immerse themselves in the beauty of the game, without any distracting sound effects.
RTP and Volatility: It's a Balancing Act
As far as Return To Player (RTP) goes, Mermaid Reef is a solid pick with a percentage of 95.9%. That's pretty good in the slot game industry, but don't get too excited – it's not like you've hit the jackpot already, mate.
What really sets Mermaid Reef apart is its high volatility. In other words, it's got a bit of a wild streak. You could say it's like the mermaids it's named after – a little bit unpredictable, but ultimately, very rewarding.
But don't worry, sailors – you don't have to be a high roller to win big. Mermaid Reef strikes a delicate balance between frequent payouts and the chance to net some huge bonuses in both the bonus game and Free Spins features. All in all, it's a risk worth taking!
FAQ
What is the minimum and maximum bet in Mermaid Reef?
The minimum bet is 10 coins and the maximum bet is 10,000 coins.
What is the RTP of Mermaid Reef?
Mermaid Reef has an RTP of 95.9%.
How many paylines does Mermaid Reef have?
Mermaid Reef has 10 fixed paylines.
What is the Wild symbol in Mermaid Reef?
The mermaid is the Wild symbol in Mermaid Reef.
What does the Scatter Pearl symbol do?
The Scatter Pearl symbol can give us 10, 15, or 20 Free Spins, during which all winnings will be multiplied by 2.
What is the Scatter Clam symbol in Mermaid Reef?
The Scatter Clam symbol is a special symbol that rewards with a bonus game that can make us win dizzying prizes.
How can I access the internal menu in Mermaid Reef?
To access the internal menu and set your bet, you need to click the appropriate button.
What is the maximum multiplier I can win in the bonus game in Mermaid Reef?
The golden pearl rewards us with a multiplier ranging from 50x to 1,000x in the bonus game in Mermaid Reef.
What we like
Simple and easy-to-play
Flexible betting options
Frequent winnings
Beautiful visual design
What we don't like
Lack of big special effects
Limited bonus game activation