Medusa Megaways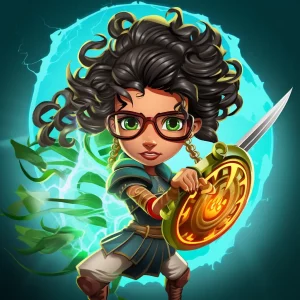 Medusa Megaways is a snake-haired, warrior-stomping good time! Drawing from the tantalizing tales of Greek mythology, this Nextgen slot game is chock-full of Pegasus, warriors, and even winged sandals (so you can fly away to Vegas with your winnings). The game's setting is a modern take on an ancient mausoleum. Thunderstorms and rattlesnakes enhance the player's immersion in the game's dark and mystical atmosphere. But let's get to the real meat (or grapes if you're more of a Dionysus fan) of the matter – the graphics! They are stunning, mesmerizing, and offer players a visually captivating experience that's almost as good as turning stone into gold (almost).
Megaways: The Unpredictable Way to Play
In Medusa Megaways, the Greek mythological monster breathes fresh air into the traditional slot game. With each spin, the number of symbols shown changes with variations in paylines. And it's not just the grid that's shaking, as wins are obtained, symbols are petrified by Medusa's piercing gaze then they shatter to reveal new symbols, opening up the potential for chained wins. The thrill is in the chance to hit tens of thousands of paylines with colossal combinations, making an unpredictable and exciting gameplay experience.
It's the gambling equivalent of a box of chocolates, you never know what you're gonna get, but with Medusa Megaways, it's always a pleasant surprise (well, except maybe for getting turned to stone). So if you're fed up with stale, traditional slots, Megaways provides an alternative that is anything but predictable.
Winning and Chained Wins
If you're tired of playing boring slot games that don't offer any excitement, then Medusa Megaways is the perfect choice for you! With the chance to trigger chained wins, you'll never get bored as symbols involved in a win are shattered to make way for others that will fall from above. We're not saying you'll win the lottery, but this feature definitely increases your chances of winning… and that's always a plus!
Just a heads up, the volatility in the game may not be suitable for new players, but if you're a seasoned player looking to win big, then this is your opportunity! With a bit of strategy, you can conquer Medusa Megaways and become the legend you were born to be.
Medusa Megaways: Turning Medusa into a Wildcard
Who knew that Medusa would become so generous in a casino game? In Medusa Megaways, the lady herself is transformed into a Wild symbol that can replace any of the other icons in the game. It's pretty ironic, we know, but we're not complaining. After all, it increases our chances of triggering some massive wins and chained wins too!
We love the added layer of excitement this feature brings to the game. It's like you're in Medusa's lair, and you never know what kind of surprises this mythical creature has up her sleeve. So go ahead and use Medusa as a wildcard – it's worth the risk!
Similar Slots and Recommendations
Looking for a game with a twist? Medusa Megaways is for experienced players who crave excitement. Don't get too intimidated, though! We all have to start somewhere. Maybe try playing Medusa by Nextgen first and work your way up. Just promise us you won't turn us to stone if you can't handle the megawatt Megaways!
If you're still in the mood for a mythological adventure, give Medusa – Fortune and Glory by Dreamtech or Artemis vs. Medusa by Quickspin a go. Who knew the gods and goddesses could be so much fun?
FAQ
What is Medusa Megaways?
Medusa Megaways is an online slot game based on the myth of the serpentine-haired gorgon, developed by Nextgen.
What is the theme of the game?
The theme of the game revolves around Ancient Greek mythology, featuring symbols of various characters and deities from the tale of Medusa.
What are the gameplay mechanics of Medusa Megaways?
The game grid shows a varying number of symbols depending on the number of paylines assigned for each turn. Winning symbols are shattered, and new ones fall from above, with the potential for chained wins. Medusa acts as a Wild symbol, substituting for any other symbol in the game.
What is unique about playing a Megaways slot?
Each spin in a Megaways slot has the potential for tens of thousands of paylines, resulting in colossal combinations. This unpredictability adds to the excitement and thrill of the game.
Who would enjoy playing Medusa Megaways?
The game is ideal for those familiar with online slots and enjoy surprises without necessarily waiting for a bonus round.
What is the design of the game like?
The slot is embedded within a Greek mausoleum, with symbols referencing the myth of Medusa and Greek culture. In addition, thunder occasionally rumbles through the sky, adding to the immersive experience.
What are some similar slots to Medusa Megaways?
Other slots that feature Medusa include Medusa by Nextgen, Medusa – Fortune and Glory by Dreamtech, and Artemis vs. Medusa by Quickspin.
Is Medusa Megaways a high-risk game?
The game's volatility level is not explicitly stated. However, given the Megaways mechanic, players can expect high variance and high risk gameplay.
What we like
Stunning Greek mythology-inspired graphics and design
Unique and exciting Megaways gameplay mode
Chained wins offer the potential for repeated wins
Medusa as a Wild symbol increases chances of triggering wins
What we don't like
May be too volatile for new players
Limited selection of Medusa-themed slots