Magic Stars 5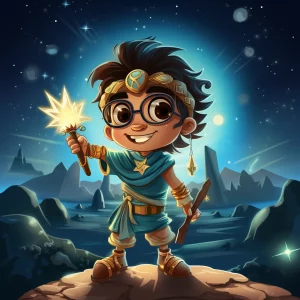 Prepare to be dazzled by the cosmic glory of Magic Stars 5, a 5-reel, 20-payline online slot game that offers a unique and exciting gambling experience. But this isn't your grandma's slot game – Magic Stars 5 comes packed with customizable features that let you make the game your own and play it any way you like.
From the very first spin, you'll feel like you're floating in the vast expanse of space, surrounded by galaxies and cosmic dust. And with each spin, the stakes get higher, making you feel like a high-roller even if you're just a newbie. The simple gameplay rules make it easy to jump in and start winning big, no matter your skill level. So why wait? Blast off into the magical world of Magic Stars 5 and reach for the stars!
Shooting for the Stars with Magic Stars 5's Scatter Symbol
Looking for a little magic in your slot game? Look no further than Magic Stars 5's scatter symbol! It's a star-shaped crystal and let's be real, who doesn't love a good crystal? Plus, the word 'scatter' written in the center just screams 'winning', which is exactly what this symbol will do for you. Just wait for it to land anywhere on the reels and boom – cash prize. Talk about reaching for the stars!
Land three or more scatters in one spin and you're in for an even bigger payout, because why settle for just a little glitter when you can have the whole constellation? Don't be afraid to shoot for the stars, because with the scatter symbol in Magic Stars 5, the sky's the limit.
Customization Options
Are you tired of playing slot games that don't cater to your personal preferences? Look no further than Magic Stars 5 by Wazdan! This game offers so many unique features, it's like a choose-your-own-adventure book. Want higher potential cash prizes? The Volatility Levels feature has got you covered. Want to conserve your energy while playing? Energy-Saving Mode is the way to go. Need to pass the time quickly? Ultra-Fast Mode will have you spinning those reels in no time. Double-Screen Mode, Ultra-Light Mode, and Large-Screen Mode are also up for grabs.
It's like having your own personal slot game butler, catering to your every whim and desire. Want to adjust the loading time or speed of the game? You got it. Need to enlarge the reels? No problem. With Magic Stars 5, the world is your oyster, and the customization options are endless.
Exploring Other Space-Themed Slot Machines
Looking for something out of this world? Wazdan has got you covered with their space-themed slot machines, including the fan-favorite Magic Stars 5 and Magic Stars 3 – that's right, it's a whole constellation of slot games!
But it's not just the space theme that makes these games stand out. With high RTP percentages, jaw-dropping graphics, and innovative features, Wazdan's games will leave you feeling like you're floating amongst the stars (without the whole oxygen deprivation thing).
FAQ
What is Magic Stars 5?
Magic Stars 5 is an online slot game developed by Wazdan that features 5 reels and 20 paylines set in a space-themed background.
What unique features does Magic Stars 5 offer?
Magic Stars 5 offers unique features including volatility levels, double-screen mode, energy-saving mode, a gambling feature, ultra-fast mode, ultra-light mode, and a large-screen mode.
What is the scatter symbol in Magic Stars 5?
The scatter symbol in Magic Stars 5 is a multicolored star-shaped crystal with the word 'scatter' written in the center.
How do I trigger the gambling feature in Magic Stars 5?
The gambling feature is triggered often in Magic Stars 5, and you can choose to play the card gamble or ladder gamble to increase your winnings.
What is the advantage of using the volatility levels tool?
The volatility levels tool in Magic Stars 5 allows you to change the frequency and amount of potential cash prizes based on your personal preference and strategy.
Can I play Magic Stars 5 for free?
No, Magic Stars 5 is not a free bonus game but offers generous payouts and unique features to enhance your gaming experience.
Are there similar slot machines to Magic Stars 5?
Yes, Wazdan has designed many space-themed slot machines including Magic Stars 3, all with high RTP percentages.
Who is Magic Stars 5 suitable for?
Magic Stars 5 is suitable for both high-rollers and beginners because of its simple rules, potential for generous payouts, and exciting innovative features.
What we like
High-quality gameplay with unique gambling features
Customizable options to enhance the gaming experience
Suitable for both high-rollers and newbies
Exciting gambling feature with the option to double winnings
What we don't like