Magic Rewards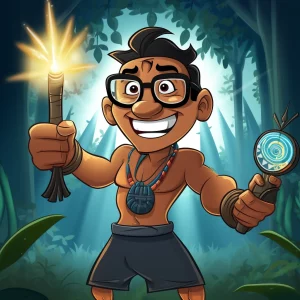 Get ready for a magical adventure with Magic Rewards! This game features a 5×3 slot grid with 15 symbols in the mix. With an RTP of 94.59%, the game offers an average level of volatility, making for a fair and fun gaming experience.
The magician Wild symbol is here to lend a helping hand by substituting all other symbols (minus the Scatter symbol) for even bigger rewards. Speaking of Scatters, finding three magic wand symbols is your ticket to bonus mode, where you can cash in on those coveted free spins.
During free spins, a mysterious drape covers the middle reel, hiding three symbols. As the drape is dramatically pulled back, it's like the Great Reveal – adding even more excitement and anticipation to gameplay. Keep an eye out for at least two Scatter symbols, as they'll keep the free spins coming. And don't forget about the magician symbol – with just one wave of his wand, regular symbols can be transformed into Wilds. With three magician symbols, your gameplay could even turn into a wild, Wild, WILD time.
Experience the Magic of Game Design and Graphics
Prepare to be dazzled as you enter the provincial theater of Magic Rewards. The game design is as unique as a unicorn sighting and sets the stage perfectly for a magical performance. Picture yourself sitting in the front row as the curtain draws back to reveal the majestic reel grid, and the magician himself at the bottom, looking directly at you. It's like you're really there! What's more, classic magic show elements like the rabbit in the cylinder, the magic wand, and playing cards complete the enchanting picture.
Okay, so the game may not have a groovy soundtrack to boogie to while you spin the reels, but there's still plenty to keep you occupied. Although be warned, the sound effects can be a little loud, so if you're the type of player who likes to keep things hush-hush, maybe invest in a decent pair of headphones.
The graphics are of such high quality that you'll feel like you're operating in a completely different reality altogether. You want to know about immersion? You won't find another online slot game that will transport you into the magical world quite like this one. Prepare to be spellbound.
Bonus features
So, you want to know about the bonus features in Magic Rewards, do you? Well, let me tell you, it's all about finding those magic wands – aka, the Scatter symbols. Get three or more of those bad boys, and you'll trigger the free spins mode.
During the free spins, the middle reel gets covered by a fancy drape. Ooh, how mysterious! But the real fun comes when that drape is lifted and reveals three symbols. It's like playing peek-a-boo with a magician! Speaking of magicians, there's a special symbol in this game that can transform regular symbols into Wilds, which can lead to all reels becoming Wilds with just three magicians. So, if you're a fan of magic, you're gonna love this game!
And the best part? You can earn even more free spins by finding at least two Scatters during the bonus mode. It's like a slot game within a slot game! The bonus mode happens pretty frequently, but I gotta be honest – the rewards might not be as big as you'd find in some other games. But hey, who needs big rewards when you've got magic and free spins?
You Can Also Try These Magic-themed Slot Games
If you're still craving for some enchantment and excitement, then do check out these other magic-themed casino games:
It's Magic by IGT – Because it's never too much magic in the slots world, am I right?
Magic Fruits Deluxe by Wazdan – It's not just about unicorns and rainbows, you know. Sometimes fruits can also be magical.
Magic Wilds by Red Rake – If you're like me and love to hunt down big wins in the company of some mythological creatures, then this game is definitely for you!
Who knows, one of these titles may just turn out to be your new favorite slot game. Happy spinning!
Return to Player and Volatility
Magic Rewards may not have the highest RTP at 94.59%, but don't let that discourage you. Let's face it; every game has to keep some edge. Think of it as the casino giving a little tickle under the chin before taking away your milk bowl. However, the game makes up for it with its average volatility, which is like that friend of yours who's always up for something exciting, but you never know exactly what that may look like.
When it comes to bonus action, Magic Rewards is more generous than your great aunt Sallie with her famous blueberry pies. The rewards are lower in comparison to some other games, but the frequency of the features more than makes up for it. If you're the type of player who thrives on frequent bouts of winning, then this game is perfect for you — kind of like that colleague of yours who always brings donuts to work.
FAQ
What is Magic Rewards?
Magic Rewards is an online slot game developed by Ainsworth with a magic show theme.
Is there music in Magic Rewards?
There is no music throughout the game, except for a short jingle after a win.
What is the RTP of Magic Rewards?
The RTP of Magic Rewards is 94.59%, a bit lower compared to the market average.
How many reels and symbols does Magic Rewards have?
Magic Rewards is a 5×3 type slot with fifteen symbols at each play.
Are there any special symbols in Magic Rewards?
Yes, Magic Rewards has a Wild symbol that can replace all the others and a Scatter symbol that allows access to the bonus mode.
What happens during the free spins mode?
During the free spins, the central reel is occupied by a drape, and by finding at least two Scatters, more free spins can be won. The magician can transform the reels into Wild symbols.
What is the volatility of Magic Rewards?
Magic Rewards has an average volatility.
Are there any similar slots to Magic Rewards?
Yes, other online slots with a magic theme include It's Magic by IGT, Magic Fruits Deluxe by Wazdan, and Magic Wilds by Red Rake.
What we like
Unique design and immersive gameplay
Frequent bonus mode
Magician symbol that can transform regular symbols into Wilds
Additional free spins available through Scatters
What we don't like
Low RTP compared to the market
Rewards in the bonus mode tend to be low