Lightning Leopard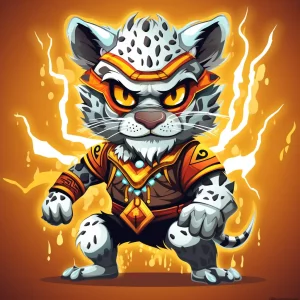 Get ready to embark on an electrifying adventure with Lightning Leopard – a slot game developed by Lightning Box Gaming. This wild game takes place in the snowy mountains of Nepal where you'll come face-to-face with the magnificent snow leopard and bolts of lightning.
You won't be alone in this epic journey. Joining you on the reels are other iconic animals of the Himalayan region like brown bears, white wolves, and ibexes. Don't be alarmed if they start dancing with joy when you hit the jackpot!
Gameplay and Rules
Get ready to unleash your wild side with Lightning Leopard! This game keeps it classic with a 5-reel, 3-row grid and 40 fixed paylines. And with a minimum bet of $0.40 and a maximum bet of $50, you won't have to break the bank to play.
But don't let the simplicity fool you. This game packs a punch with a theoretical return to player (RTP) of 95.52%. And with winning combinations achieved by 3 or more consecutive symbols from left to right, you're sure to hit the jackpot (or should we say 'paw'pot?). And who could forget the Wild symbol – a majestic snow leopard that pays out the most.
The Respin Lightning function will have you feeling like Zeus himself. Collect 6 to 13 lightning bolts and you'll get 3 free spins, during which the lightning bolts will lock in place while everything else spins. It's electrifying!
Graphics and Soundtrack: Like A Rolling Thunder
If you enjoy sharp, detailed designs, and animations that pop, then Lightning Leopard is perfect for you! This online slot game has graphics that are visually impressive. Winning and bonus games come with several animations that will leave you in awe. There are mountains with snowy peaks in the background and Nepal-inspired soundtrack played by an eight-tube pan flute to transport you right in the middle of the action.
It's no surprise that Lightning Leopard offers a typical sound of the reels spinning. But let me tell you, that sound is not just your average sound. It's the sound of a thunderstorm hitting the mountains. It's like a musical composition made just for online slot games. It's easy to access the menu, which has all the essential options. You can increase or decrease the value of your bet as you prefer. And the auto-spin button is there to help you take it slow and steady.
With all this sensory stimulation, it's no wonder the game is called Lightning Leopard! It's a feast for the senses that you wouldn't want to miss. Even if you're playing on the smallest screen, these graphics and soundtracks will leave you mesmerized.
Experience the Shocking Special Features and Bonuses
Lightning Leopard is a game that keeps the excitement going with its electrifying special features and bonuses. Collect 6-13 lightning bolts to trigger the Respin Lightning function that grants you 3 free spins. During these rounds, all the lightning bolts remain fixed in place while other positions continue to rotate, so you can amp up your chances of winning big!
Keep your eyes peeled for the lightning bolts that will appear during the free spins, and they will reward you with three additional respins. Once all the respins are complete, the lightning bolts will transform into prizes. And if you manage to collect 15 lightning bolts during Respin Lightning, brace yourself for Flippin' Lightning. This bonus feature will shock you into winning a prize for every single position!
That's not all – During these bonus games, there is a chance for you to hit one of the jackpots randomly: Mini, Minor, Major, or Grand. Talk about a shocking twist of fortune, am I right? So, plug in and let the Lightning Leopard take you on a shocking adventure packed with fun and rewards!
Lightning Box Gaming – Thunderously Good Online Slots!
Lightning Box Gaming is a game-changing software provider responsible for the creation of the electrifying Lightning Leopard slot game. These guys have been lighting up the industry since 2004 and have consistently produced high-quality and exciting slot machines.
At Lightning Box Gaming, they certainly know how to make you feel like a winner. So, if you're feeling lucky and want to take a shot at winning big, why not give the Lightning Leopard game a spin? With stunning graphics, thrilling gameplay, and of course, a lightning-fast leopard, this game is sure to give you a shock (in a good way!)
FAQ
What is Lightning Leopard?
Lightning Leopard is a slot game produced by Lightning Box Gaming with a focus on speed and featuring the snow leopard and lightning as the protagonists.
What is the minimum and maximum bet for Lightning Leopard?
The minimum bet for Lightning Leopard is $0.40 and the maximum bet is $50.
What is the theoretical return to player (RTP) of Lightning Leopard?
The theoretical return to player of Lightning Leopard is 95.52%, which is within the average of slot machines produced by this provider.
How many paylines does Lightning Leopard have?
Lightning Leopard has 40 fixed paylines.
What is the Respin Lightning function in Lightning Leopard?
The Respin Lightning function in Lightning Leopard is triggered when 6 to 13 lightning bolt symbols appear, and it assigns 3 free spins during which the lightning bolts will remain fixed while all other positions will rotate. The lightning bolts that appear during the free spins will entitle you to 3 more respins, at the end of which the lightning bolts will be replaced by prizes.
What is Flippin' Lightning in Lightning Leopard?
Flippin' Lightning in Lightning Leopard is activated when 15 lightning bolts appear during Respin Lightning, and it guarantees a prize for each position. During these bonus games, it is possible to receive one of the jackpots entirely by chance: Mini, Minor, Major, Grand.
What symbol is the Wild symbol in Lightning Leopard?
The Wild symbol in Lightning Leopard is the snow leopard, which replaces all symbols except the Scatter and is also the symbol that pays the most.
What is the Scatter symbol in Lightning Leopard?
There is no mention of a Scatter symbol in the review of Lightning Leopard.
What we like
Impressive graphics and animations
Exciting special features and bonuses
Attractive theme set in Nepal
Variety of animals and symbols
What we don't like
Limited betting range
Lower RTP compared to some other games