Lightning Horseman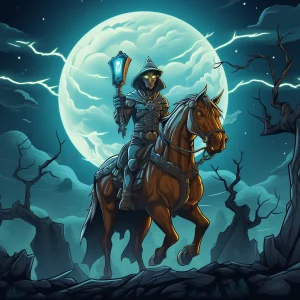 Giddy up for a wild ride with the Lightning Horseman slot game by Lightning Box Games! This electrifying game features 5 reels and 40 paylines, and is inspired by the spooky and mysterious tale of Sleepy Hollow. So, saddle up and let's unravel the secrets of this thrilling game!
With various intriguing features such as galloping wilds, lightning jackpot, and a creepy Sleepy Hollow bonus round, you won't be able to resist the urge to play this exciting slot game. Watch out for the Headless Horseman who may try to spook you along the way!
Headless Rider Gallops in as Wild Symbol
Hold your horses! Lightning Horseman is taking the online casino world by storm with its breathtaking graphics and spooky features. One such feature is the headless rider symbol, holding a glowing pumpkin that acts as the high-paying wild symbol in the game.
This ain't no mannequin challenge – this wild symbol gallops in to help you win big! Boasting a payout of 600 times the line bet, this elusive symbol is one you'll want to keep your eye out for.
And if you're lucky enough to hit bonus spins, you'll have the headless rider on your side to help you claim those massive jackpots. So saddle up and give Lightning Horseman a spin – you never know what kind of wild ride you'll end up on!
Lightning Respin Feature: Shockingly Fun!
Are you ready to feel the thunder with Lightning Horseman's stunning Lightning Respin feature? This electrifying bonus game will give you three free spins if you manage to land at least six Lightning Bolt symbols on the reels. And the best part? These symbols will lock in place throughout the feature, giving you more chances to hit that jackpot – talk about a bolt of good luck!
But it doesn't stop there – every additional Lightning Bolt symbol that appears will also lock in place, extending the feature until your last free spin. Think you can handle the power? Once the feature comes to an end, all Lightning Bolt symbols will turn over, and you'll reveal your electrifying prizes!
So next time you're playing Lightning Horseman, be sure to keep an eye out for those Lightning Bolt symbols – they could be the key to a shocking win. After all, this feature is truly electric – we were almost shocked to hear about it, too.
Get Ready to Flip Out over the Flippin' Retrigger Feature!
Hold on to your seats, folks, because the Lightning Horseman slot game is about to blow your mind!
The Lightning Respin feature is already super exciting, but it gets even better with the Flippin' Retrigger feature. That's right, when you fill all 15 positions with Lightning Bolt symbols, things start to get wild. All the symbols flip over, and you get prizes from all of them. It's like a game of slot machine whack-a-mole, and we're all for it!
After all that flipping and winning, you could also potentially score a Mini, Minor, Major, or Grand jackpot. How's that for a cherry on top?
This feature is so fun and exhilarating, you'll forget you're even playing a slot game. So go ahead, give Lightning Horseman a spin, and get ready to flip out over the Flippin' Retrigger feature!
Eerie Graphics!
Buckle up, folks! The graphics of Lightning Horseman are straight out of the terrifying tale of Sleepy Hollow. With twisted trees looming in the background and a spine-tingling gothic soundtrack, this game is sure to give you the chills.
The visuals in this game are absolutely stunning. But, let's face it – some of you slot game aficionados may be used to more modern graphics. Don't worry though, just pretend you're playing an old-school classic and enjoy the creepiness!
Get Rich Quick! Lightning Horseman Offers Fantastically Large Jackpots!
Hold on to your hats, folks – Lightning Horseman is here and he's bringing big jackpots during bonus spins! No need to look over your shoulder for the headless rider, because he's a wild symbol that you actually want to see. Score a big win by triggering the Lightning Respin feature (it sure beats real life lightning) or try your luck with the Flippin' Retrigger feature.
The chances of winning a huge jackpot in this game are higher than an actual lightning strike! You'll be feeling electrified when you hit the jackpot and rake in the cash. Just don't forget to high-five the headless rider on your way out of the bonus round.
Lightning Strikes with Lightning Box Games
Get ready for an electrifying experience with Lightning Horseman, the newest addition created by Thunder from Down Under, aka Lightning Box Games.
Known for delivering top-notch games that will leave you wanting more, Lightning Box Games is an Australian developer that keeps players coming back for more. With hits like Dolphin's Gold, Super Happy Fortune Cat, and Lost Temple, they definitely know how to stand out from the herd.
Similar Slot Machines
So you've finished playing Lightning Horseman and want more? Look no further than High 5 Games' Haunted Horseman! It's like the spooky story got split into two slot machines! You'll get the same 5 reels, plus 99 adjustable paylines and a Tumbling Reels system to keep things interesting. Enjoy seeing Ichabod, Katrina, Pumpkins, and the Killer Rider once again, and if you're lucky, you could snag some free spins or wild substitutes!
FAQ
What is Lightning Horseman?
Lightning Horseman is a 5-reel and 40-line video slot based on the classic tale of Sleepy Hollow. The game features the headless horseman, treasure chests, crows, and covered bridges.
How do I trigger free spins?
Free spins are triggered by lightning symbols. If you see six to 13 lightning bolts simultaneously anywhere, the Lightning Respin feature is activated.
What is the Flippin Retrigger feature?
If you manage to fill the reels with 15 Lightning Bolts, then you get the Flippin Retrigger. All Lightning Bolts are flipped over and you receive prizes from them all.
Can I play Lightning Horseman on my mobile device?
Yes, Lightning Horseman can be played on desktop PCs, iPhones, iPads, and other Windows- and Android-powered mobile devices.
What is the role of the headless rider symbol?
The headless rider is the wild symbol and the symbol paying the highest to regular customers (600 times the line bet).
Is Lightning Horseman a progressive jackpot game?
No, Lightning Horseman is not a progressive jackpot game. However, during the Flippin' Retrigger feature, you may be randomly awarded a Mini, Minor, Major, or Grand jackpot prize.
Who developed Lightning Horseman?
Lightning Horseman was developed by Lightning Box Games, a company based in Sydney, Australia.
Are there any similar slot machines to Lightning Horseman?
Yes, High 5 Games' Haunted Horseman video slot is based on the same story and has similar features such as free spins and wild substitutes. However, it has 99 adjustable paylines instead of 40.
What we like
Thrilling gameplay based on the classic tale of Sleepy Hollow
High-paying wild symbol with potential for big jackpots
Exciting Lightning Respin feature with locked symbols and potential prizes
Eerie graphics and atmospheric soundtrack
What we don't like